THE PRITCHARDS
Thanks to Mrs. Adeline Whitford, granddaughter of John Pritchard, and her son Joe of Lloydminster, we have this picture of Mr. and Mrs. John Pritchard and two of their children. By checking Solomon's birthdate we find that the old photo, from which this one was made, was taken in the 1860's. John's wife was the former Rose Delorme. According to the Gowanlock - Delaney account, there were nine Pritchard children in 1885. Besides his part in saving the women's lives at the massacre, John often served as an interpreter. An old Battleford newspaper clipping contains a picture entitled East Meets West. On the left is the palisade of a fort, and in front of it Indians in a line. They are shaking hands with a white official. Back of him are members of the N.W.M.P. and John Pritchard acting as interpreter. Joe told that as the handshaking went on the Indians were told not to make trouble again with a gun. Since then Indians cannot be conscripted, but if they meet all requirements for service, they can be accepted as volunteers Solomon, of Scottish, French and Cree stock, was born on January 31, 1862 at Rocky Mountain House. At the time of the massacre he was assisting the priests at the church. In 1939 he was in a photo of a meeting of the Regina Historical Society. Mrs. Gowanlock or Mrs. Delaney was also pictured with her children. There was a lot of history to be told by the group in that photograph.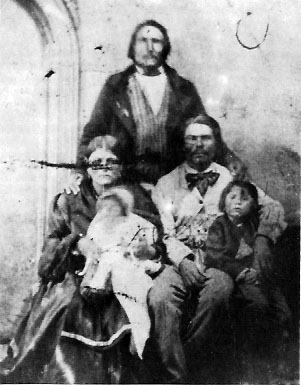 Standing: Abraham Lalwary, Seated: Rose and John Pritchard Front: Mary Rose, Solomon (Sam)
When Solomon was past the century mark, he returned to the Frog Lake massacre site. With him were his grandson, Joe and Clayton McLain of Cut Knife. He told of his family's escape from their captors. The horses were tied in a bluff and the wagons were pushed by hand so the Indians wouldn't hear them. He spoke of life at the settlement where saws at the mill were pulled by hand. As he scrambled around, extremely active for his age, he searched for the pit dug for his family in the days following the massacre, and attempted to point out the locations of different buildings and places where the victims fell. Mr. McLain took pictures and made notes as Solomon reminisced. More can be learned of this outing by visiting the Museum started at Cut Knife. Solomon had the men drive up the Fishing Lake road in an attempt to discover the priests' graves. The map that W.B. Cameron assisted in preparing tells that the two churchmen were moved to St. Albert. Solomon also recalled Indians and Metis camping at Alma Lake, near Clyde Resler's, to pick berries many, many years before.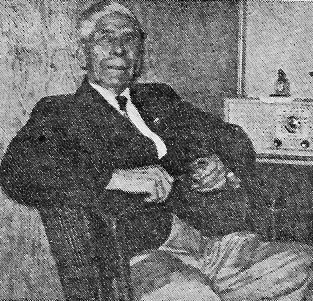 Solomon at age 101
In 1965, the old gentleman was asked to unveil the cairn at Frenchman's Butte to commemorate the battle fought there. A lady present at that unveiling says that he needed no assistance in mounting the steps, although a helping hand was offered by those who thought he would need it. On Solomon's 101st. birthday Mrs. Mary McConnell of Cando, Saskatchewan said, "He is a wonderful old man with a keen memory, and has exceptionally good health for his age. Each summer he helps plant and take care of a big garden. We feel proud to have this fine old gentleman for a friend and neighbor." The man said to be the oldest eye witness to the Frog Lake massacre died at the age of 105. Two scarlet-coated mounties were present at his funeral in Cando. He was buried there.