HARRISON AND IDA BOTTING
as told by Thelma, George and Chester
Harry Botting was born in 1862 near Portland, Maine, U.S.A. By the time he was old enough to seek employment his mother had remarried, and they were living in Minnesota. He worked at logging and operated a store at Bemidji. A salesman for Blue Willow Baking Soda offered a pendulum clock as a premium for buying a whole barrelful. Harry took advantage of that offer, and the clock he received has been in the home of his son, Chester since 1944. It is about sixty-six years old and has been in use for all but a year of that time.
Ida Kvigstad was born in Oslo, Norway in 1882. The family name in Norway was Anderson, but in America they used the name of their farm. Although the rest of the family retained the original spelling, Anton adopted the "Quickstad" version. At the age of four Ida's family moved to Sebeca, Minnesota. When she was seventeen she worked for Grandma Botting, and soon after she married Harry.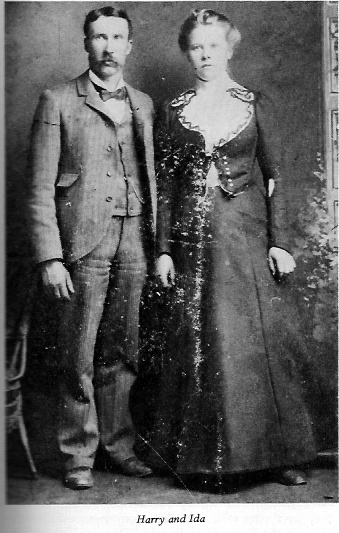 In 1913 Harry came to Monitor, Alberta. Andrew and Carrie Kvigstad were already at Cairns. The next year Harry returned to Minnesota, and in 1915 he brought Ida and the five children (Lizzie, Thelma, George, Chester and Ernest) to Canada by railroad. With them was a carload of cattle, two carloads of horses, a piano and other furniture, and hardwood for floors, doors and windows. All immigrants were supplied with cots and mattresses at the Winnipeg stopover. You supplied your own lunch, and coffee was served.
The homestead (W1/2-30-36-4-W4) was in the Neutral Hills School District, on the west shore of Sounding Lake. It was here that Lawrence, Doris, Hazel and Marvin were born. In 1918 all the family had the 'flu. Ernest was the most seriously ill, suffering from very severe nosebleeds. The early 1920's saw the barn destroyed by fire. A Belgian stallion and a calf, the only animals in the building, were saved. The Bottings lost 65 head of cattle during the winter of 1924-25. The feed was poor quality and weather severe, with sudden blizzards. Dead animals were skinned and the hides sold for four or five dollars each. In 1929 Harry was kicked in the chest by a neighbor's horse when he went to feed her a forkful of hay. He managed to walk to the house. His last words to the younger children were "Get off my bed." He then lay down but was soon dead. He was buried north of Cadogan in the Lutheran Cemetery.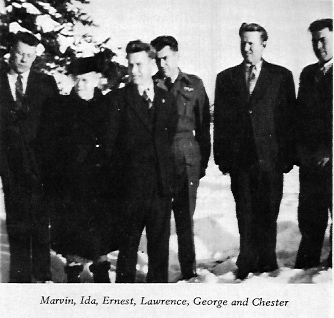 Thelma had married Exie Sharkey, and when they came to the Heinsburg area in 1934, Chester accompanied them. He went back south the next year, and in 1936 married Bertha Quickstad, Anton's daughter. They came to Heins- burg with daughter Grace and spent the winter of 1936-37 with Thelma and Exie. Later they spent some time with Lizzie and her husband, but in October 1937 they moved back to the Norway Valley district, onto the Gunder Enger place. Ida, George, Hazel, Marvin and Doris also came up. Clarence Quickstad and Marvin drove the 35 head of cattle from Cadogan to Lea Park. The other belongings were shipped by rail to Wilkie, Saskatchewan, back to Lloydminster, and then to Marwayne. There they unloaded wagons and racks, reloaded, and headed for Lea Park. The ferryman on duty was Martin Grasdal, assistant to Ole Tweed.
In the fall of 1938 Chester and Bertha went back to Cadogan. The rest moved to the Thompson place south of Dave Thomson's in the Primrose district, on the west side of the road. George later rented the Duffin land north of Marwayne. November of 1939 saw Chester moving onto the McCormick place south of Laurier Lake (N.E. 10-56-4-W4). Ernest and Lawrence had remained in the Metiskow-Cadogan area. They, along with George, went into the Army. Marvin and his mother lived for a time with Bertha and Chester, then moved to the Gus Block place. When Marvin married Ella Lorenson, Ida moved into the building in Heinsburg that had once been W.B. Cameron's drugstore. Some of the boards from that building are a part of Chester's house, some are in his yard, and daughter Shirley has had some made into a wall in her home.
Hazel married Leonard Nelson of the North Park district in 1939. She passed away in Elk Point hospital in 1957, leaving three children, Robert, Olive, and Gail. Lawrence spent four years in the Army and later married Margaret Martin of Provost. They have three children, and are still on the farm. On September 30, 1974 his left arm was caught in the baler and most of it had to be amputated. Doris married George Kvill of Marwayne. Their four boys are all on their own. George (Botting) spent a year in the Army. Later he went to cook for the Air Force at Abbotsford, B.C. In 1946 he was back in Alberta working at spray painting and rock blasting. At present he resides in Heins- burg and is on pension. Ida lived with him for a time, then with other members of the family. Finally she went into the home at Bonnyville, then passed away in the Lloydminster hospital in February 1966. She was buried beside Harry at Cadogan.
Ernest, through V.L.A., obtained land at Laurier Lake. For ten years he was caretaker for the Montgomery branch of the Legion in Edmonton. In the late 1950s Vernon (Babe) Sharkey built a booth at Laurier Lake, at what is now known as Ernie's Beach. At present it is owned by Marvin. Ernie operated the Laurier Lake booth for about two years before his death from leukemia in July 1973. Lizzie married Ole Hanson at Cadogan in 1925. After being widowed she married the late Pete Fossen of Metiskow. She and Ole had four girls, including a set of twins. Marvin and Ella were married in 1946. They have four boys and one girl, also including a set of twins, Gary and Sharon (Wenzel) are living in Edmonton. Rodney has combined farming with work on oil rigs, and the twins are still in high school. When the Lake Whitney school was closed Marvin hauled pupils to Heinsburg, using a caboose and team in winter, and a rubber-tired wagon other times. The family has operated the booth at Ernie's Beach for several years.
In 1947 Chester bought the booth and hall at Laurier Lake from Ed Brett. Dances were held there in the summers until 1952. December 1955 saw the family moving to Cadogan. In 1956 Chester took the position of Pest Control Officer and signed on as a substitute bus driver. Bertha operated the Post Office from 1958 to 1964. Their last year at Cadogan Chester drove bus full time and they operated a restaurant. They moved back to the McCormick farm in the summer of 1965. Chester drove the Frog Lake-Heinsburg school bus for ten years, retiring at the end of June 1975.
Their daughter Grace married Alvin Meger in 1954. He is now shipping supervisor at the Salt Plant and has taken over the McCormick land from Chester. Their home is built in the pines close to her parents. Rick, their eldest, began working with Brooker Engineering in Edmonton after training at N.A.I.T. Wesley left school to work for Crystal Glass in Edmonton and Vancouver. Jeff, Bert, Tony and David are still at home. The boys have been active hockey and ball players. Grace has done a bit of song writing and raises saddle horses. Shirley (1943) married Robert Hendriks, her teacher at Cadogan. Bob was in the Air Force and they were married in the East in 1962. Out of the service he taught at Amisk and Edmonton. At present they live on an acreage just off the road into Ross Lake, east of Chester's. Bob is teaching at Heinsburg and holds the position of Vice-Principal. He owns the land formerly owned by Glen Maxwell and Benny Kates, and raises cattle. Their children, Deanna and Rob, are still in school.
Bonny (1945) married Ted Croy of St. Lina in 1966. They have an adopted son, Cecil. Ted has worked at Ashmont, Rocky Mountain House, Leslieville and High Level. At one time they lived in a trailer between Chester's home and the Hendriks' acreage. Henry (1947) married Roxie Burns of Clandonald. He has a welder's license and has worked at Fort McMurray and other places. They have four children. He bought the Sam Waldner farm at Clandonald, and for a time worked at Vermilion Manufacturing. He plays guitar, along with Chester on banjo, Grace on accordian, and Bob on bass, under the name "Family Four." Both Grace and Henry do vocals.
Chester began playing with the Heinsburg Old Timers back in the 1930's, and remained with them until 1956. In those early years George Parsons played guitar with the group, before Ernie Woods joined them. Other members were Harry Jenner, Ross Sanders, Gerald Lawrence, Erling Sand, and Elmer Rushfeldt, for a short time. At present Chester and Bertha are semi-retired, still on the farm, and still interested in old cars and other antiques. Since buying a truck and camper they have been doing some travelling.