PAUL BUCK AND FAMILY
I was born in 1907 and worked with my father on the farm at Primula until October, 1929, when I married Anne Stetsko of Elk Point. We had our own land at Primula, N.E. 35-55-5-W4, where we farmed until 1936. That year we had a sale and moved with our two boys, Walter and Edward, to Heinsburg. I bought a store by the Riverview Hotel and operated it for nine years. In 1942-43 I was employed trucking on the Alaska Highway from Dawson Creek to Whitehorse. When I sold the store to Metro Shewchuk of Spedden, I decided to buy the hotel from Mike Bartoshek. We operated it from 1944 until 1959 when we lost it by fire. Through the years such people as Emil and Margaret Boyer, Exie and Thelma Sharkey, Steve and Jean Palylyk, and Margaret Gregor helped with the cafe and/or bar.
I served as St. Paul M.D. Councillor for six years and was on the St. Paul School Division Board for seven years. While at Heinsburg our son Allan and daughter Paula Anne were born. Ed worked with me; we operated the Imperial Oil Agency at Heinsburg and had the first PSV trucker's license in the area. We hauled grain and livestock. In 1959 we moved to Elk Point where we bought the Esso service station on Highway 41. After five years we sold out to the Fedorus brothers and went into the gravel crushing business. While still at Heinsburg Ed married Marie McDonnell of Elk Point, who taught at Heinsburg for the 1958-59 term. They have two sons and a daughter.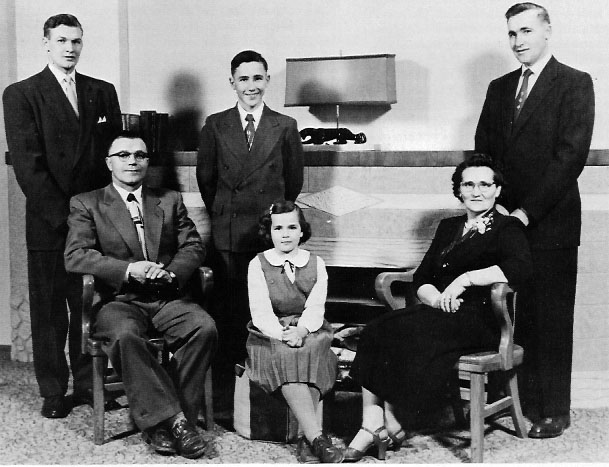 At present Anne and I are retired, living in Elk Point near the hospital. Ed is owner of Buck's Construction, contracting jobs involving the use of gravel crushers, trucks, cats, etc. He is a senior partner in Norbuc Excavation and Gravel Supply Ltd., located at the former Tuplin site in Lloydminster, and in the North East Paving Co. Ltd. doing residential, municipal and commercial asphalt paving. He has played baseball for Heinsburg and hockey for U. of A., Vermilion, Elk Point and St. Paul.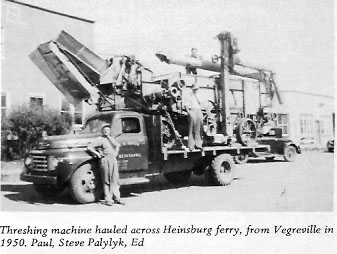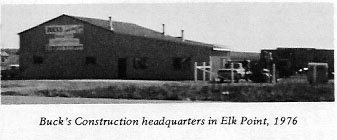 Allan finished his high schooling at Fort Saskatchewan and Alberta College, then attended U of A. He taught a year at Ashmont, went back to U of A a year, was principal at Lindbergh one year, went back to university another year, then taught at St. Paul for three years. For one year he was vice-principal at Bluffton, was principal at Mallaig for two years, and now for the sixth year is elementary principal at Elk Point. His wife is the former Donna Needham of Owlseye; they have two girls and a boy. Donna works as librarian in Elk Point. Allan has played baseball on and off for the last fifteen years for St. Paul and Cold Lake. He also played hockey with Bonnyville, St. Paul and Elk Point. Paula Anne trained as a dental hygienist. She married Dick McAleese of Elk Point. He is superintendent for Niagara Finance at Coquitlam, B.C. They have a son and a daughter. Walter's career has involved dentistry and politics, among other things, but this will be brought out later.
The years spent in Heinsburg were good times, with our children at home. The surrounding lakes provided good fishing, there were prairie chickens and partridge to be had, and a number of people were willing to form a party to go big game hunting. The community could boast of good ball and hockey teams. One of the hockey players, Shang Fong, was the son of Joe, who operated a cafe in Heinsburg until 1940.
Our school was the first one to be centralized in the St. Paul M.D. Marvin Botting had the first bus, a horse-drawn one, in 1944. Two or three years later Exie Sharkey had a motor bus, built by the St. Paul Foundry, and carrying about eighteen children. We had trouble keeping the roads open in winter because there were no snowplows. Later we had rotary plows driven by tractors, but still there had to be men helping out with shovels at times. There were spells when roads were entirely blocked to other towns.