GLEN AND SADIE MAXWELL
by Nellie (Maxwell) Long
Glen Woodman Maxwell, eldest son of Mr. and Mrs. Stewart Maxwell, was born in Greenfield, Iowa in July 1898. He came to Canada with his parents, three sisters, and a brother, John in 1907. They came to the district now known as Elk Point but moved on to a homestead located one mile south of the present hamlet of Lindbergh. At that time it was called Tyrol, later Mooswa, then becoming Lindbergh with the coming of the railroad. He lived with his parents until he went out to work. He took up carpentering with Nels Litchfield of Frog Lake, helping to build up the new town of Marwayne. During this time he met and married Sadie, the third eldest daughter of Mr. and Mrs. George Hall of Frog Lake. They lived in the Frog Lake district where Glen continued to work with Nels until he moved onto a homestead he had filed on back in the district where his parents lived. It was there that their first son, Fred was born in 1922. Two and a half years later a little girl, Valeria, joined them.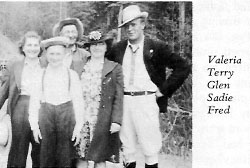 Farming didn't seem to appeal to him so he sold out and moved to the Whitney Lake district. Back to carpenter work with Nels again! As this type of work slowed down with the start of the depression he again turned to farming. This time it was on a quarter section due west of the Borger farm where they had been living. With his change in farms he also changed from horse power to mule power. Because of his total and loudly proclaimed faith in mules one would surely have believed he had been born and raised in Missouri. He stoutly swore (literally) that they could out- pull any so-and-so horse in the country.
It was at Whitney school that the two oldest children got their education. A third child, Terry, was born in that district, with Dr. F.G. Miller of Elk Point in attendance, as he had been with the other two.
In 1940 Glen made a trip to Whitecourt, one hundred and ten miles west and north of Edmonton. Being an avid hunter, he came home fully convinced that it was the only place in the world to live. As he put it, "There was game right on the doorstep." Once again he sold his farm— in the fall of 1940. The family lived back in Frog Lake in "Grandpa" Litchfield's farmhouse until the spring of 1941. The farm equipment (and mules) were loaded and shipped to Edmonton. The animals were unloaded and trailed to Whitecourt. There the family bought another farm. Glen farmed and hunted and used his faithful mules to pack food and supplies to firefighters in areas north and west of the town. When the family grew up he sold out, even the mules.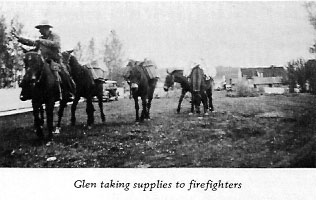 At one time he worked for the Department of Highways. He and Sadie lived in a Department "caboose." Bears were numerous, and one time while there alone, Sadie shot one. Glen passed away in February 1962 at the age of 63, from a heart attack. Sadie continued to live in Whitecourt in their trailer until her passing in April 1969. Both are buried at Whitecourt. A few years prior to his actual death the family was somewhat embarrassed when his death was reported instead of that of his brother-in-law, Luella's husband, Vern Stockwell.
Fred spent several years in the Army. He married Lorraine Austin of Whitecourt. They had five children and now have eight grandchildren. Fred presently resides in Edmonton. He has not fully recovered from a very serious automobile accident he was in years ago. Valeria first married the late Charles Mcllwaine. Their son, Mervin, is married, with two children. Valeria and her second husband, Alvin Ellis, live in Whitecourt. Terry married Edith Dunne and has one daughter, Connie. He worked in a gas plant near Whitecourt and once, while warning his crew to get away, he was overcome himself. Thanks to Bob Walker, Pat Dewey's husband, he was rescued. (Snuff really doesn't interfere with mouth-to-mouth resuscitation!) Terry later operated a motel, then a hardware store in downtown Whitecourt, which he recently sold.