EDWIN AND ESTHER NELSON
by Evelyn (Beck) Nelson and Dorothy (Krider) Nelson
Esther Christina Johnson became the blushing bride of Tore Edwin Nelson on April 22, 1917. The marriage took place in the little United Church on McDougall Hill in Edmonton, Alberta. Though the day was cold with sleet, it was the beginning of a warm, happy union for two pioneers of the Frog Lake district.
Of the five boys and one girl born to this couple, two were dead at birth, John lived only a few days, and Alice was taken from them at eleven years of age with a ruptured appendix. Two sons remain: Frank Theodore, born January 6, 1919 and James Albin, born December 1, 1932. Frank, a carpenter lives in Brandon Manitoba. He married Evelyn Beck on March 15, 1951, and has two boys and five girls. Albin is employed by the Nelson Homes factory in Lloydminster and is living in the Frog Lake district. Dorothy Krider became his bride on November 25, 1955, and they had four boys and two girls. Rebecca Lynn died on January 24, 1958 with Pneumonia.
Edwin was born in Godfrey, Minnesota on June 23, 1885, the youngest of eleven children. Seven years later he came to Wetaskiwin, N.W.T. with his mother, three brothers and two sisters. His father had died that year. Esther was born on August 7, 1891 in Worchester, Massachusetts, and two years later came to the Malmo district of what would later become Alberta, with her father and mother. There were five boys and five girls in the family.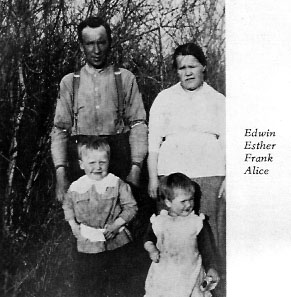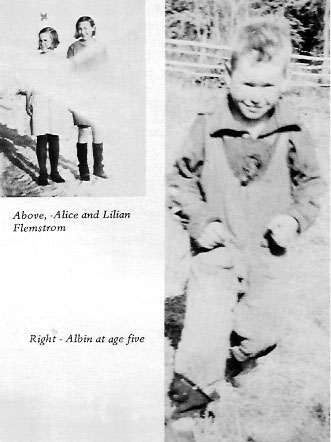 In 1909 Edwin took up a homestead in the Frog Lake district, S.W. 6-56-3-W4. He came by ox team with the Benson family from Gwynne, Alberta. It took them twelve days. A small log cabin had been built by a former homesteader who had abandoned it. Because of his height, Edwin had to take off the roof and add four more logs to the walls so he could walk upright comfortably. He then moved it near the creek under the shade of the tall spruce trees growing there. One day he noticed how tall and green the grass grew behind his cabin, and that there was always water standing there. Upon investigating he found a spring. He dug around it and put in a wooden barrel with a spout for the water to flow through. The stream of water is clear and cold and still continues to run. Many made use of it then and some still do today.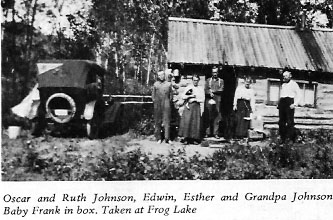 After Edwin and Esther were married they worked at Viking, Alberta until July, when they moved onto the homestead at Frog Lake. He bought a team of horses from a neighbor, Abe Lawrence. Esther's parents had given her a cow as a wedding present, and it was brought from Wetaskiwin later on. Edwin hired someone to break the required thirty acres of land. When Frank was nine months old they drove the team and wagon to the Wetaskiwin area, where they remained for six years. Edwin worked for different farmers, staying in Edberg for four of those years.
They came back by train, as they no longer had horses. By now they had another family member, Alice, four years old. During the winter of 1927-28 Edwin cooked for Pete and George Bosvik who were fishing at Cold Lake. In the falls he helped others with their harvesting. He also spent a lot of time hunting, trapping, snaring, and fishing. He got coyotes, skunks, muskrats, rabbits, deer, badger and moose. The sale of one winter's furs paid the taxes.
Edwin worked for neighbors in exchange for work done in his fields. They raised big gardens and picked all the various kinds of available wild fruit. Esther canned fruit, made jam and jelly, baked bread, churned butter, made her own soap, and canned fish. Besides cattle they raised pigs, chickens, turkeys and ducks. Clucking hens hatched eggs every year. Cream, butter, bread, and eggs were often sold to Indians passing through.
On October 17, 1947 the cabin was moved back on the hill and two years later a room was added. The following fall they purchased a building that had been Harold Franks' first house. Because of his health Edwin took Esther and went to Wetaskiwin to spend the winter of 1954-55. The next fall they again returned to Wetaskiwin and spent a year and a half there. During this time their house had been moved from the farm to Elk Point. Two rooms were added; hydro, gas and water installed. They moved in April 1957 but this blessing was short-lived. Three months later Edwin had a stroke, which took his life on July 4.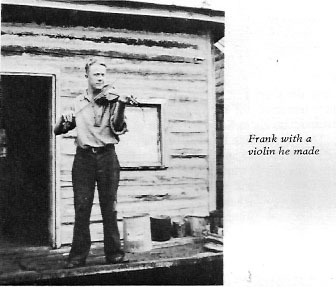 A year later Esther started crocheting rag rugs as a hobby. They are used and appreciated by friends from B.C. to Manitoba, and also in several foreign countries. She also enjoys reading, meeting new people, and visiting old friends. In October 1974 she moved into the Bethany Senior Citizens' Home in Camrose, Alberta, and still resides there.