KNUT AND MARRY RINDE
by Agnes (Rinde) Sanders
Knut Rinde was born in Sannidal, Norway on April 29, 1888 - one of six children. He was raised on a farm and attended Agricultural College in Norway. In 1911 he decided to come to Canada along with his friend, Jens Vaasjo, who later settled at Cold Lake. They came to the Camrose area, and both attended the Lutheran College to learn the English language. While attending school there Dad helped build the "Old Main." He spent some time working in the Wetaskiwin district. He took out a homestead at Winfield, sight unseen, but later, walking out there to look it over, he decided not to take it.
In 1913 he took out a homestead in the Heinsburg area - N.E. 24-55-44. Dad worked with elevator crews building elevators throughout Southern Alberta and Saskatchewan. In the winters he fished for trout in Cold Lake and freighted fish all the way from Cold Lake to Viking. There was many a cold trip that he made. There is one place on the east side of the island on the north shore of Cold Lake that was called Rinde's Point, and is still referred to as such. It was there Dad and Halvor Snaunes had their camp and fished several winters.
My mother Marry Lofthaug, one of nine children, was born January 17, 1893 in Sannidal, Norway. In August of 1918, she and her friend, Asborg Farsjo, came to Canada to marry Dad and Jens Vaasjo. They arrived in Kitscoty after a long, tiresome trip by boat and rail. Dad was there to meet them with the team and "democrat." The horses were very lively, and where Leonard Nelson now lives they met a car driven by Sander Barstad. The horses bolted, the neck-yoke dropped, the pole broke and dug into the ground, scattering everyone. They stayed overnight at Barstad's after the mishap. August 25, 1918 was the day of the double wedding in the North Park School. The four of them had their wedding dinner in their new home with a borrowed stove and borrowed dishes. They had roast, with cranberries that they brought over from Norway.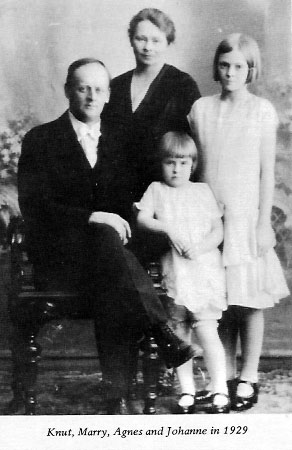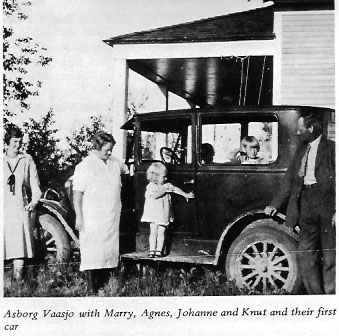 Mother was a great help; she milked, churned and sold butter. She had orders for her butter from as far away as Ranfurly. She planted and sold potatoes, also stooked many an acre. On June 4, 1919 a daughter, Karen Johanne was born. Often Mother would have to leave her alone in the house, while she went for the milk cows. There was open range, and the cows pastured as far away as Heinsburg townsite.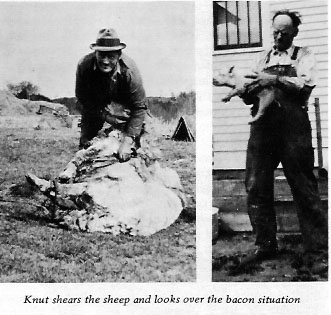 Mother was a sure shot with the gun. She brought in partridges, prairie chickens and jack rabbits. She also hunted muskrats. These helped to purchase the much needed saddle and cream separator. Christmas Eve of 1924, I was born. Dad had said to Grandma Signe Barstad that if the baby was a boy he'd wear high heels. So what was he wearing the next time she saw him - moccasins!
In 1931 he started building a new house. The logs and lumber used in the house were the payment he received for threshing for the neighbors. He had his own sawmill and planer, so he had a good supply with which to work. In August of 1934 we moved into our new home. In 1932 when Mr. and Mrs. Wm. Smith and family moved into the district to teach at the Martin School, Dad remembered seeing Mrs. Smith before. It happened that she was on the same boat as he was, coming to Canada in 1911. It was a British liner that they came across on.
Dad served on the local school board for several years and for the municipality when the office was in Lindbergh. He also served until 1944 on the council in St. Paul when the municipalities were centralized. In 1951 they moved into a smaller house that was built in the yard. They lived there until Dad's passing on June 28, 1971. Mother stayed there as long as she was able to. She has been in the Nursing Home in Vermilion since December of 1973.
On April 3, 1943 Karen Johanne Rinde married George McGowan. They farmed the McGowan farm in Frog Lake district. They sold the farm to Emmanual Meger and moved to Benalto in 1945, where they farmed until 1961, when they moved to Nanton. They live there at the present time. They have raised six children: Ardis Karen married Larry Stafford of Nanton; Barbara Alice married Lyle Smith of Nanton; Douglas married Gloria Roberts of Pincher Creek; Margaret Anne married Van Greig of Nan- ton; Stuart McGowan, and Gwen McGowan.
Footnote: Mrs. Rinde passed away on Monday, January 12, 1976 at the Alice Keith Nursing Home in Vermilion, Alberta.