WILLIAM BLEASDELL CAMERON
William Cameron was born in Confederation year, 1867. He first came west in 1881 to become an employee of Alexander Macdonald of Winnipeg. His assignment was to a Battleford trading post. With savings of two hundred dollars he purchased land and began farming. After two years of homesteading, he sold out for forty dollars and headed for Swift Current with a freighting outfit. He traveled by rail to Maple Creek, the end of the line. From there it was west, and then north to Frog Lake in 1884, where, as his story told, he became George Dill's trading partner, and later Hudson Bay Company clerk.
Following the massacre he worked as journalist in St. Paul, Minnesota and in New York, where he edited "Field and Stream" for a time. In 1899 he was again back in the west. When Vermilion, Alberta came into being, William was there. Accompanying him were his wife and family, and his mother-in-law. A young lady of Vermilion, who admits she'll never see eighty-five again, described Mrs. Cameron as petite and very lady-like; a woman who may have come into a pioneering situation that she was not used to coping with. If memory is accurate, it was at this time that William confided to Harry Bowtell that, although it had been rough, he had been able to complete his training in pharmacy.
In that same year Cameron started The Signal, Vermilion's first newspaper. S.R.P. Cooper, who had had newspaper experience in Manitoba, worked for him from 1907 to 1909. In 1909 Mr. Cooper founded the Vermilion Standard, which was later taken over by his son Ashley. For a short time in that first decade Vermilion had two newspapers. The Cameron family then moved to Bassano, the press being freighted by team and wagon, in 1910. The next fifteen years are virtually unaccounted for as far as our research went. It is reported that Cameron was with the Buffalo Bill show for two years, but nothing more was found on the subject.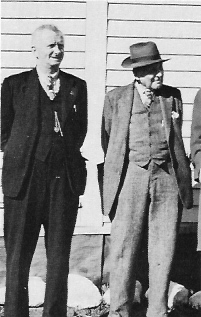 Dr. Hill and Mr. Cameron visit Frog Lake
In 1925 he was asked to unveil the stone cairn at Frog Lake in memory of those slain in the 1885 massacre. He was now in the process of writing "War Trail of Big Bear", later re-named "Blood Red The Sun." He was camped around our area here at Frog Lake - by the lake of the same name, at the massacre site, and at Harry Bowtell's. While he was in our country, Frank Bristow provided mechanic's service to keep the Cameron Model T running. In the early 1930's Mr. Cameron started a drug store in Heinsburg after having worked in a drugstore in Derwent for a time. His building was located on the east side of the street, on the hillside across from the present Gregor home. By that time Dr. F.G. Miller and Dr. Ross had been in Elk Point for a number of years. Cameron's building was occupied by him for a short time, and was then sold to the Chartier family. Their son, Ernest, had a bakery there prior to World War II.
Later, the Bayracks, who operated the cafe, lived there. Then, Mrs. Ida Botting and son George moved in. George lived there by himself for a number of years. The building has since been torn down.
For the next part of Cameron's life we are indebted to the R.C.M.P. Museum in Regina. They very promptly sent a copy of a story by Mr. Cameron, from the R.C.M.P. Quarterly, Vol. 13. No. 1. Along with the story was a bit about his life. In 1943-44 he held the position of curator of the R.C.M.P. Museum. He resigned his position there to take up mink ranching. That venture he also gave up, and in the late 1940's lived at the Pacific coast, occupied with his writing. William Cameron was invited as a guest to the Elk Point bridge opening in June, 1950. That day he related some of the events of that fateful April 2, 1885 to Paul Stepa, one of the planning committee for the bridge - opening festivities. He again gave credit to the Frog Lake Indians for their part in saving his life. The following year, 1951, William Bleasdell Cameron died at Meadow Lake, Saskatchewan. Thus ended a very colorful and varied career.