LOUIS RIEL AND THE METIS MOVEMENT
John Kinsey Howard died in Montana in 1951. He had just finished the book Strange Empire. He was a historian who loved the West and its people. At death he was almost "the spokesman of the West." His manuscript had been revised but not prepared for the press. Bernard De Voto had spent time with Howard discussing the book. Later he and several others did the necessary remaining work.
The book is a first in many ways. For the reader it creates a vision of the empire that Louis Riel envisioned. You will find that the author has not only covered his subject in great area, but also great depth. Much more of the Metis cause is brought out. He has written not only the Metis history, but also Indian history in three dimensions. A tense and illuminating work.
In his introduction Joseph Howard quoted a number of persons and brought out some of his overall views. P.R. de Trobriand in 1867 had said, "The destiny of the White race in America is to destroy the Red race", yet the native cause was not as hopeless as the statement suggests. After Custer's defeat, the Sioux crossed into Canada's northwest. If a native state had existed here, the Indians would have experienced these "3R's" - rest, reinforcements, and return. And, if the native races had united, North America today could have had semi-primitive tribal societies side by side with more modern states. But, as Mr. Howard noted here and later in his book, smallpox, whiskey, prostitution, and slaughter of the buffalo did more to win an empire than bullets ever could.
The New Nation was quickly and crudely conceived. A new term "genocide" was coined. It means the destruction of a race; treason against the human spirit. But what was termed as treason on the part of the Metis was "unable to defeat a crude machine gun and a half-finished railroad."
History has never concerned itself too much with the possibility that some people could discover the true meaning of life through personal communication with "nature." But people with a sure and definite loyalty will fight until the spirit is dead. In the heart of the North American continent was the Red River Basin, a land of deep loam, abundant grass, numerous rivers, and many furs. The forty-ninth parallel could not stop the movement of buffalo, men, or ideas. French voyageurs were willing to marry into Indian tribes, while English and Scotch merchants believed they were dealing with "subject races." The British already had an empire and the American money men were willing to gamble in order to build themselves an empire. Pembina, in North Dakota, is the oldest community in the American Northwest. It was the Hudson Bay Company's first headquarters, first capital for the new race, and the site of their first church in 1818.
The Metis devised a highly successful freighting system through their extensive knowledge of the landscape. Their endurance was demonstrated by the fact that they could make thirty miles a day on snowshoes and as much as twice that distance in a day on foot or by dogsled. Few could read or write, but most knew at least two languages.
The Metis could not understand the border line. Few had proof of citizenship. These born on a buffalo hunt were recorded at the home mission of the priest travelling with them, regardless of which side of the border that mission was located. Red River carts knew no boundaries. With ten carts and three drivers to a brigade, a thousand miles per season was made on foot. A cart was worth four horses, since it could haul what five horses could carry. A pony pulling five hundred pounds could make fifty miles per day; an ox pulling nine hundred could make fifteen to twenty miles daily. The wheels were removable when it was necessary to float a cart across water. The unpeeled poplar axle made an offensive, nerve-racking screech. It could not be greased, because the grease mixed with dust to produce a cement- like product. The wheels were so high that the carts seldom upset. Wood was used even if metal was available, so that repairs could be made on the trail. Travel time per day was about ten hours. Anyone who ever heard a cart screech knew that you never sneaked up on anyone.
About 1830 the flow of goods shifted from east and west to north and south. 1869 saw peak freight traffic - about 2500 carts. The advent of the steamboat and railroad in the next decade, however, spelled an end to the carts' usefulness. After the Civil War in the U.S. ended, the Americans seemed to be winning the battle for the West. The Union Pacific railroad was completed in 1869. The Hudson Bay Company could not hold the British Northwest. Canada, said William McDougall, needed to expand to the Pacific Ocean. The transfer of Company land was to follow.
In June, 1866, Fenian troops raided the Niagara area of Canada. Their aim was to free Ireland from Britain by harassing Britain or her colonies. The U.S. interfered, but Canada's Lieutenant Colonel J.S. Dennis was blamed for the capture of Fort Erie. He gladly took an assignment in the West under William McDougall. In the U.S., James Wickes Taylor, a geographer, led detailed studies of natural resources of the American prairies, the British Northwest, and even the Mackenzie Basin. As early as 1860 he urged a customs union between U.S. and British possessions. He favored annexation of the British Northwest to the U.S., but never by military conquest. In 1869 the Senate authorized inquiries regarding annexation. The U.S. talked of paying a great deal more than Canada, and of building a Northern Pacific railway. Enos Stutsman, lawyer and journalist, was appointed U.S. customs agent in 1866 to check Red River smuggling. He provided newspapers with stories of McDougall's bungling. But, when the Red River colony faced starvation in 1868, McDougall had his chance. He offered "work relief" to men, mostly on the Dawson Road, surveyed from Lake of the Woods to Fort Garry.
Construction was under John A. Snow. Clearing jobs yielded fifteen dollars a month, paid in purchase orders on the Oak Point store. This business place was reportedly owned by Dr. John Schultz. The Metis workers proved to be most efficient. An assault on Schultz was led by Thomas Scott, who was to become famous in Canadian history by getting shot. Snow's assistant was poet Charles Mair. Snow tried to obtain rights from Indians to land which was as well or better claimed by the Metis or the Company. The Metis feared aliens trying to take over their land. Bungling was inevitable because of social attitudes toward the West. Many believed that there was no need to keep the "natives" informed, and that the lords of London and Ottawa could decide what was best for them.
Schultz controlled the paper Norwester, anti-Metis and anti-Company. In 1868 he sold his interest in the paper and broke with the Company. Four years before he became leader of the Northern Light Lodge, the first Masonic lodge in the Northwest. A number of the American troops at Pembina were members. When the troops withdrew the lodge was moved to Fort Garry. Most of the Masonic colleagues were also Orangemen. Opposed to Catholicism, their presence created social tension. Masonry alienated many settlers because its aim was to set up an elite social group. New West standards were based on achievement and skills, not wealth, social standing, or breeding. This new concept at Red River confronted a combination of free, tradition-loving people, ambitious and foolhardy men seeking fame and fortune with many different languages. The stage was about set for things to get out of hand. The moves of McDougall and Dennis in connection with the land survey would provide added fuel and spark.
Col. Dennis and his survey party disregarded Metis hay privileges, two miles back of the river on open prairie. The trespass occurred on Andre Nault's farm. A party led by Louis Riel Sr. stood up to the surveyors. Col. Dennis advised them to avoid Metis neighborhoods in the future.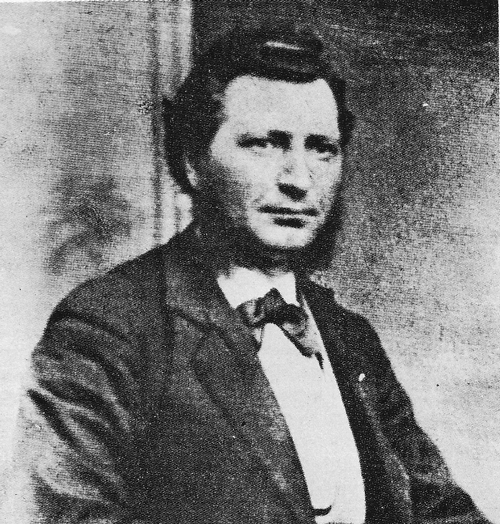 Louis Riel
Louis Riel Jr. was one-eighth Indian, five foot ten, with brown, wavy hair. He spent ten years in Montreal. His teachers seemed relieved when he left priesthood training, although they had never discouraged him from continuing. When he got back to his mother, born Julie Lajimodiere, daughter of the first white woman in the Northwest, she was amazed at how moved he was by his own words.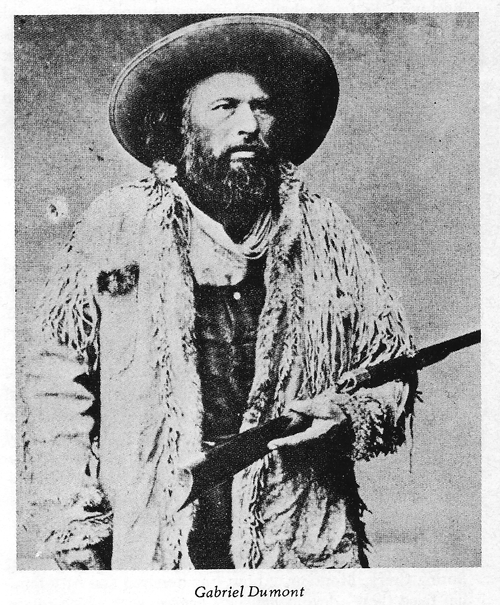 The Nault incident of October, 1869 brought a warning to the government from Bishop Tache. When Lieutenant- Governor McDougall came to Pembina, Howe, Secretary of State, also warned of hostilities. A note, dated October 21, 1869 at St. Norbert, Red River, stated that McDougall was ordered by the National Committee of the Metis not to enter the Territories without that committee's permission. It was signed by president John Bruce and secretary Louis Riel. On Riel's twenty-fifth birthday he was chosen to lead five hundred armed men.
Once the Hudson Bay Company signed away its authority a new government did not exist. On November 2 Lepine ordered McDougall back across the border, and Riel seized Fort Garry. He exacted an oath from his troops to avoid liquor, instituted a ten-man night watch, and censored the mails. He also invited the English-speaking residents to send twelve representatives to sit with twelve French-speaking men in a joint council. On November 16 the first Convention of the People of Rupert's Land met in the Fort Garry courtyard. The unprepared Metis refused the English request to let McDougall hear their demands. On December 1 they adopted a bill of rights. Where the Indians had acknowledged defeat, the Metis offered alliance. They asked for the following rights: to elect a legislature able to override the Executive's veto, to approve or reject, through representatives, any Dominion legislation affecting the Territory, and to elect sheriffs, magistrates, and other local officials. The list included requests for free homestead law, land grants for schools, roads, and public buildings, a guaranteed connection by rail to the nearest line (then a U.S. line), payment of the Territories' governmental expenses from Dominion Treasury for the next four years, any military force in the Territory to be recruited from local people, peace treaties to be made with Indians, two official languages (French and English), respect for previous local customs, and full fair representation in Canada's Parliament.
That same December 1 night McDougall and six men crossed the border from Pembina in severe cold to a Hudson Bay post two miles beyond. They raised the Dominion flag, and McDougall read a proclamation of his own wording to the prevailing wind. He had appointed himself Governor of Rupert's Land and forged the Queen's signature. The next day McDougall, in a second proclamation, authorized Colonel J.S. Dennis to raise and equip a force to disperse rebels, confiscate or purchase supplies, and enter private homes. After this, Ottawa got his report, and Dennis, with recruited Indians, seized Lower Fort Garry.
December 8 the Metis Declaration of the People set forth the rights of the people as British subjects. It said that when there was no government, the people were free to adopt a form of government they preferred, and that they had the right to give or refuse allegiance to proposals. The Metis felt they were free of allegiance to a government that had abandoned them, and that they were within their rights to drive McDougall out. They would oppose the establishment of Canadian authority and repel all invasions from any area. They esteemed their ProvisionalGovernment to be the only lawful authority, and held forth a readiness to negotiate with the Canadian Government. The Bill of Rights declared the moral justification of the Metis movement, while the Declaration stated its legal right.
In early January 1870 the Council was divided. Some favored annexation with the U.S., many were tired of being armed and on guard, and there was resistance among the English-speaking element.
Later that month Riel accepted Donald Smith's commission as genuine. He called a convention of forty - twenty English and twenty French. When the convention met on January 26, Smith represented Canada. A 3/3 committee was to draft a more detailed Bill of Rights to submit to Smith. Riel's motion that Rupert's Land be admitted to the Dominion as a province, not a territory, was defeated, as was his second motion. He moved that the Dominion deal with the Hudson Bay Company sale of land be renegotiated. Legal status was needed for the Provisional Government, so its delegates would be officially accredited.
A legislative assembly of 12/12 was established. Three delegates to Ottawa were chosen. Riel released sixteen prisoners, but there were still encounters with an armed force under Boulton and Schultz. Schultz left for Ontario via Duluth to stir up a crusade against Riel and the Metis.
Thos. Scott was shot, and feelings ran high. Fr. Richot and Alfred Scott, two of the Provisional Government delegates, were imprisoned for their part in Scott's murder. The delegates were released, recognized officially, and their Bill of Rights became the basis for the Manitoba Act, whereby Rupert's Land and the North-West entered the Dominion.
A new Lieutenant-Governor, A.G. Archibald, and 1200 troops headed west. The Wolseley Expedition arrived first, and the Colonel said they represented no religious or political party. Riel wrote he would remain as leader until he could resign to a proper government.
On August 23, as the troops approached Fort Garry, in the open they were defenseless, but Riel had dismissed everyone. He, O'Donoghue, and Ambroise Lepine crossed to Pembina. There was a verbal amnesty, but none in writing. The troops began looting and searching for liquor. Many went back east, but some wanted to collect Ontario's $5,000 reward for Scott's killers. They entered Metis homes, assaulted unguarded women, and occupied staked- out Metis land. Bishop Tache intervened, but the land was never regained. When Archibald took a short cut through government "red tape", he was accused of exceeding his authority.
The fall of 1870 brought challenges to Riel's leadership, and a petition asking the U.S. to intervene with the Queen. It asked for an investigation of Metis grievances and reparation by Canada for "violated pledges." The document was to be taken to Washington by O'Donoghue, but he, a few Americans, and Metis made additions and deletions. In the U.S., O'Donoghue met with the press, and the annexation bloc. He got no support from the Fenian Council. On October 5 he joined three I.R.A. officers and thirty-five men to take the Hudson Bay post where McDougall had read his proclamation. After being jailed in Pembina, O'Donoghue escaped, but was re-taken.
Governor Archibald's past actions were endorsed by the Metis. But, in 1872, Sir John A. Macdonald had problems. If Riel was freed, Ontario would be provoked. If he was tried for Scott's murder, Quebec would be up in arms. The solution, as he saw it, was Riel's exile. He stated that if Riel and Lepine were gone, amnesty would be speeded up. In February the two left, each man with $1600 in gold. Louis was back in September, and was nominated as Member of Parliament for the County of Provencher, Manitoba. Clark, Attorney-General fo the Provisional Government, opposed Riel. Both resigned, and Sir George Cartier, defeated in Montreal East as new candidate, was elected. Metis at the polls were beaten, and two pro-Metis newspaper offices wrecked. Sir John denied he had promised amnesty.
Cartier died in May 1873. In October Riel was not in Manitoba but was elected by acclamation. In February he won over another Metis. Macdonald and his Conservatives were out. The Pacific Scandal (railroad) and their handling of the Metis situation led to their downfall. Alexander Mackenzie was in as Prime Minister. In Manitoba, although Riel was elected, the Metis situation worsened. Lieutenant- Governor Archibald was replaced by Alexander Morris, less sympathetic to the Metis cause. Warrants (for Scott's murder) went out for Riel and Lepine. Riel crossed the border, while Lepine was arrested in September. Indictments were issued against Andre Nault, Elzear Lajimodiere, Janvier Richot, and Joseph Delorme, who had been in on the Scott court-martial. Nault and Lajimodiere were caught. In October 1874 Lepine was convicted, although there was evidence to prove that he had voted against Scott's execution and had been absent when the time came to carry out the sentence. Nault ended up with a "hung" jury; the case against Lajimodiere was dropped. Lepine was sentenced to hang, but in January, 1875 the Governor-General reduced the sentence to two years. Lepine moved to Saskatchewan, then to the Red River, where he died in 1922.
In November, 1873 Riel was ill in New York. But, in early March 1874 two Quebec M.P.s asked that a third be sworn in. This the clerk did, not realizing who Riel was. Louis, in Ottawa only four days, had support there from young Wilfred Laurier. In February 1875 Riel was sentenced to banishment for five years, and later was promised amnesty if he stayed in exile. The man who had once formed an armed guard to protect the Union Jack, and who was an M.P., elected, sworn and registered, now had no country, no franchise, and was in exile.
The idea of union came too late to the Metis and Indians. If a Metis state instead of Manitoba had been formed in 1870, it might have unified many factions in the West. 1870-1885 were crippling years for the two groups.
The Manito Stone, sacred to most Plains tribes, sat on a hill in what is now eastern Alberta. In 1869 whites moved it into the yard of the Wesleyan Mission at Fort Victoria (Pakan). The missionary there wrote that the Indians predicted dire results when Manito retaliated for the vandalism. Smallpox, omikewin, the scab, struck. Many Indians died, and the missionary buried three of his own family. The epidemic of 1837-38 had wiped out one-third of the Plains Indian population. It had again struck in the late 1840's.
In January 1870 Major Baker and men of the 2nd U.S. Cavalry rode into a Blackfoot camp in Montana in search of one man. Most of the Indians were ill, but the troops proceeded to kill one hundred and seventy-three and wounded twenty. A historian wrote, "the first great lesson in good manners taught the savage of this Territory." Baker was exonerated, and in the records the account was named "The Piegan War of 1870."
A small band of Crees in Canada entered a Blackfoot camp and proceeded to take scalps the easy way - from black, swollen, decomposing bodies of smallpox victims. They went to meet other Crees on the Saskatchewan River. Fifteen of the seventeen-man party died. One symptom of the disease, delirium, was greatly feared because it resembled insanity. Medicine men had no myth concerning smallpox, therefore no cure.
Tribes lost many people, and the last Cree-Blackfoot battle took place in 1870. The next year a peace treaty was made. Now there was room to spare in the west. The Metis had obeyed Archibald's quarantine at Red River. From Montana, whiskey traders moved north, seemingly bent on finishing off a race of people.
The author stated that there is no biological reason why the Indian cannot handle alcohol as well as a white man, but he felt that drinking habits that were established were at fault. By 1860 the Hudson Bay Company had almost ceased using spirits in trade, but from that year until 1875, when the Mounties cleaned it up, Fort Benton did a booming trade. One whiskey post could easily make $20,000 profit in a year. Two posts sent 9,000 robes worth five dollars apiece to Fort Benton in one single year. Standard payment was one pint per robe. "Injun" whiskey consisted of one gallon of raw alcohol, three gallons of water, and one pound of tea or black chewing tobacco, Jamaica ginger, and a handful of red peppers. For northern tribes, who were accustomed to Hudson Bay Company rum, molasses would be added. The Cree word for the whiskey was iskotawapoo, "fire liquid."
In 1871 Captain W.F. Butler, sent to the Territories by Archibald, recommended the formation of a civil authority backed by a mobile enforcement agency, semi-military in discipline, not connected with any political, religious or economic faction. The proposal was endorsed by Colonel Ross, Adjutant-General of the Dominion. His plan was for a mounted force of 550 men in scarlet, as opposed to the green of the Winnipeg garrison. Later, when treaties were signed with Plains tribes, the chief was given a scarlet coat.
When the May 1873 report of the Cypress Hills killing of forty Indians during whiskey trading was received, Parliament created such a force. The original name, Canadian Mounted Rifles, was changed, so as not to alarm the U.S., and to present a civilian character. The crest chosen was a buffalo head. The original force had three divisions of fifty men each. The same height standard for police horses is still used - fifteen and one-half hands.
The men of the N.W.M.P. were to be the only law officers in 2,300,000 square miles. Major J.F. Macleod (Stamixotokon - Buffalo Bull's Head) was in charge of the area between Cypress Hills and the Rockies. The purchase price of Fort Whoop-Up was too high, so he built Fort Macleod. Fort Walsh was built in 1875, and in a few months the whiskey trade was wiped out. A guilty trader was fined $200 or six months in jail. A protest served to double the sentence.
In 1876 and '77 fugitives were fleeing to Canada from the U.S. because treaties there were not being honored, and names of chiefs were being forged. In Canada in 1877 a treaty with the Blackfeet and associated tribes was signed. Button Chief, a minor Blood leader, felt that since the firewater trade was ended, it was safe to go to sleep. Eagle Tail, head chief of the North Piegans, said he would never forget the advice and help given by the police. Red Crow, head chief of the South Bloods, vowed that Macleod had never broken a promise to him. Crowfoot spoke of the good advice he had been given and wondered where his people would have been had the police not come. He then made his oft-quoted statement, "The police have protected us as the feathers of a bird protect ji from the frosts of winter."
In the spring of 1877 there were about 4,000 Sioux on the plains of Southern Canada between the Cypress Hills and Wood Mountain. Custer had been defeated the year before. The Sioux were well-armed, but hunted with bows and arrows to save ammunition. They had some guns with telescopic sights taken from Custer's men. The added mouths to feed caused buffalo herds to dwindle, which antagonized the Blackfoot and Cree.
Major Walsh and two Metis convinced Sitting Bull to meet with General Terry from the U.S. Surrender terms included giving up horses and guns, and moving to a reserve in southern Indian country. The Sioux refused to leave. The Nex Perce people had sought refuge in Canada, but after battles with U.S. forces, had finally been forced to surrender. Instead of the promised Papwai, Idaho reserve, they were taken south. Malaria killed nearly half of them. Later they were returned to the Northwest and split into two reserves.
Chief Joseph's statement of the North American Review in 1879 said in part: "I know that my race must change. But could not the same law apply to all men, regardless of race? Let me be a free man -- free to stop, to work, to trade (etc.) Give me that freedom, and I will obey every law, or submit to the penalty."
Freedom of movement was not compatible with private land ownership. Without that freedom Indian tribal organization, religion and economic processes couldn't function. Smohalla "The Preacher" explained it. The Earth was the Mystic Mother. How could he plow the ground and put a knife in the Mother's bosom? Digging for stone would be like digging under her skin for her bones. If he cut grass or hay and sold it, he would be cutting the Mother's hair.
Indians could not comprehend the buying, selling and fencing of land. They believed the land to be "rented." They, as firstcomers, had first title to use it. This they had relinquished except for reserved portions. Poverty following giveaway ceremonies after a death was deemed honorable. The destitute soon had belongings which were given as gifts by others.
The Indian was forced into a new scheme of things. He no longer got furs for himself but for trade. His very freedom was curtailed by that trade. The buffalo were going, and there was no way to go back - or ahead.
General Miles and his men patrolling the border caused the buffalo herd to reverse its course. Prairie fires destroyed the forage, fires that in numerous cases started at several place simultaneously. After 1879 there were virtually no buffalo north of the border. At one time a group of people in the Qu'Appelle Valley reported approximately one million buffalo crossing a ford at the rate of several hundred per minute for twenty-four hours. By 1890 there were fewer than 1,000 buffalo in North America.
The whites seemed to be set upon systematic extermination of buffalo, and many Indians were wasteful. The use of pounds killed many calves and damaged carcasses. An Indian scout, reportedly, could put his ear to a gopher hole and detect a herd up to thirty miles away. There were hazards involved in any hunt, such as trampling, goring, stray bullets, and buffalo that played possum and charged men and horses on the return ride. A well-placed saskatoon or chokecherry-wood arrow could be counted on to kill a buffalo, in some cases passing right through the body. The worst waste was the killing for hides and "pot- hunting". The latter was aimed at obtaining choice tidbits - like tongues, the thirty-pound hump, and the strips of flesh along the ribs.
A Metis hunt was made in June and again in September or October. After three days of travel south from Red River they would meet with the Metis of Dakota at Pembina or St. Joseph. Here, at the great camp, organization took place, and leaders were chosen. Voting was done to choose ten captains, one of which was chief of the hunt. Each captain had ten soldiers to assist. There were ten guides, and a flag was placed on the cart of the captain whose guide led the march for the day. When the flag was taken down, the captain took over. Proceedings went like clockwork, and camp was usually set up in a half hour.
In camp a crier read the regulations and announcements. The 1840 rules stated: No buffalo run on Sabbath Day, no one to go his own way without permission (ahead, behind or branching off), no running of buffalo before the general order, and every captain and his men to take a turn at camp guard and patrol. For a first trespass against the rules the penalty was having your saddle and bridle cut up. A second offense saw the offender's coat removed and cut up, and a third offense meant a flogging. Theft of so much as the value of a sinew meant that the guilty party was brought to the middle of the camp. Then the crier called out his or her name three times, each time adding "thief' after the name. At the end of the day the chief and captains met together to plan. The six-mile procession moved in staggered rows one mile wide to minimize dust. In June of 1840 a two-month hunt saw 620 hunters, 650 women and 360 children on the move, along with 1210 carts, about the same number of pulling horses, and 403 hunting horses. Necessary supplies included 740 guns, 150 gallons of gunpowder, 1300 pounds of balls, 6240 flints, and hundreds of harness sets, knives and axes. Some amunition was kept for the return trip, in case the Sioux were encountered. A hunting horse was valued as high as $250.
When a herd was found, the captains promptly assembled the hunters. The priest blessed the venture, and the women emptied carts to be filled with meat. The chief, through a telescope, studied the herd, then gave the signal. He was an old man on a gentle horse. No man passed him until the buffalo took flight and the run was on.
The first night, in 1840, the women brought 1375 tongues into the camp. Meat slabs 1/4" x 2' x 4' were cut for drying. After two days in good sunshine these were baled and tied with sinew. Pemmican was packed into buffalo-hide bags and, when cooled, the bags were sewn shut. One pound of pemmican had the food value of four pounds of fresh meat. Free "runs" were made by riders during the kill for those families who had no riders of their own.
The Metis returned to Red River with only a month or so to rest and prepare for the second hunt. Besides what they had eaten, 1,089,000 pounds of meat was brought back, about 200 pounds per capita. Meat and robes sold to the Hudson Bay Company brought aboutk1200 sterling. In 1870 thirty to forty Metis families settled between Saskatoon and Prince Albert. The community along the South Saskatchewan was named for the mission, St. Laurent. Another church, built six miles to the south, meant another village (St. Antoine de Padua). Finally it was named Batoche, the nickname of Xavier Letendre, who built a large store and a two and a half storey house.
In 1874 Gabrial Dumont was thirty six years old, a "born leader" and professional sharpshooter, who had the ability In 1874 Gabriel Dumont was thirty-six years old, a to call buffalo. He performed doctoring services in the camp, broke horses, was an accomplished swimmer, and was known for his generosity. Although he could not speak English and understood very little of it, and could neither read nor write, he spoke several Indian tongues and French. As chief on a hunt he was a severe disciplinarian.
Prior to 1875 Fr. Andrê and the Metis had organized a local government with a simple code of laws, penalties for breaking those laws, and made provision for free ferry service for those travelling to church.
In 1875 a small tax was collected for school support, and new laws of the hunt were written. Dumont arrested a group of guilty hunters, confiscating their wagons and horses. The property was returned, but the leader, a H.B. Company man, was fined twenty-five dollars. Lawrence Clark, the Company factor at Carleton, had complained against the laws.
Fifty mounties came out and reported the trouble had been exaggerated. They deemed such regulations necessary on the prairie. Even the Secretary of State for Colonies in England commended the Metis for their efforts to maintain order. The little community of Batoche came to the attention of officials. It also became the new capital of the Nation of the Metis.
Ultramontanism held that the laws of the Roman Catholic Church were binding on all, even heretics. Bishop Bourget had taken over leadership of the authoritarian movement in 1872. Riel was caught up in this crusade, and in 1874 returned to Montreal, where he began to dream of a new French Catholic state in the West.
In December that year Riel announced that the same spirit that had come to Moses had said to him, "Rise up, Louis David Riel. You have a mission to fulfill." He called himself King of Jerusalem, and signed his name Louis David. He believed in signs and portents, and built prophecies around natural phenomena. He maintained that there were sights and sounds his people were aware of that white men were not. But, being closer to Nature did not mean being closer to God than the white man. (said the author).
Riel became irrational and, in December interrupted Mass. In March 1876 he was confined to the asylum at Longue Pointe under the name Louis David, and later, at Beauport, as La Rochelle. Showing symptoms of paranoid schizophrenia, he felt that because he had so many enemies, his mission must be divine. Drs. Roy and Clark diagnosed Riel's affliction as megalomania, the mania of ambition. Louis took the wording of letters from Bishop Bourget as a basis for his plans. Released in January 1878, he went to the home of his friend, Fr. Barnabê.
In the fall of 1879 Riel came West. The railroad ended the day of the steamboat, and Red River Cart. Gone were the Metis freight business, the buffalo, and the timber supply on the Red River. Louis chided the people for taking up an easy way of life.
He moved to Carroll in the badlands or "breaks" on the Upper Missouri, downstream from Fort Benton, Montana. There he worked as a wood chopper, a trading company sub-agent, and mediator between the Indians and the whites or Metis.
In 1880, on behalf of his people, Riel asked General Miles to forward to Washington a Metis appeal for a special reservation to be set aside in Montana, also financial help for implements, livestock, and seed. In 1950, when Howard was writing his book, they were still asking. Riel emphasized that they were standing between two races. He promised all Metis would obtain valid land titles, exclude liquor, and, if possible, help in negotiations between Indians and whites.
In the early 1880's the largest Metis settlement was at Spring Creek, Montana. About one hundred and fifty families lived there - devout, religious people, with a high educational standard, but Riel chose to live at Carroll, a brawling, lawless town. In April 1881 he married Marguerite Bellehumeur "prairie style", and in March 1882 the religious ceremony was performed. Such "prairie" marriages were simple, verbal contracts, to be solemnized later in the Catholic Church, which deemed them legitimate. Louis became an American citizen on March 16, 1883 at Helena, Montana. On his way to a teaching job at Sun River he had visited Donnelly from whom he received legal advice. With Donnelly's suicide and the death of the other two, the Pembina plotters were gone.
During the cold months of 1883-84, about six hundred Blackfeet perished in the "Starvation Winter". The following June four Saskatchewan men rode in to ask Riel to return to Saskatchewan to lead the Metis. As Louis left, he told the priest that he had seen a cross on a hill, with himself swinging from it.
The Riels spent the first few months in the home of his cousin, Charles Nolin, Batoche justice of the peace. Louis addressed meetings of Metis and dissatisfied whites, who had no land security either. His plan, a moderate one, asked for free title for Metis land then held, provincehood for the districts of Alberta, Assiniboia, and Saskatchewan, or at least parliamentary representation, and changes in land laws. This would avoid confusion and fear of losing holdings, and boost immigration. Among his supporters were land speculators hoping to buy up landscrip for a fraction of the actual value. A list of Hudson Bay Company prices angered trappers, when they compared prices they received to those the Company received for the same items.
Big Bear was sympathetic to the cause. He assumed the Metis would present Indian grievances, too. A December petition asked for a settlement of Indian claims, land scrip to Metis, patents to presently-held river-front farms, representation in Parliament, responsible local government, with jurisdiction over natural resources, and a railroad to Hudson Bay.
All petitions to Ottawa from 1873 on had been delayed or put aside. The Government was warned of trouble by Colonel Dennis and Charles Mair. In September 1882, when it was asked that river-front lots remain, Sir John said the land would be surveyed "according to the system now in force." He asked the Metis to submit their grievances, hoping things would subside during the cold weather. He decided to increase the N.W.M.P., and asked the H.B. Com- pany to lend the Fort Carleton buildings as emergency quarters for them.
Only a fraction of the total population of the Canadian Northwest was involved in the Metis movement. Riel was not as militant as Dumont, the Blackfoot numbers had been depleted, and those left heeded Fr. Lacombe's words. Riel had frightened some of the English, alienated the priests, and in many instances held Dumont back. The backing of whites around Prince Albert did not continue to the end. In addition the publication The Saskatchewan Herald was hostile to the cause.
Crozier of the N.W.M.P. wrote very early in 1885 asking why the surveying couldn't be done and the claims settled. The government said, eleven years after the first Metis claim, that they would set up a commission to look into things!! No one had faith in Sir John, nicknamed "Old Tomorrow." When the promised commission finally got its orders on March 30, it was four days too late.
According to the accounts of Metis, survivors, and Riel's testimony, responsibility for touching off the conflict was placed on Clarke, the Fort Carleton factor, and member of the Northwest Territorial Council. On March 18 rumors had it that Clarke had told freighters that 500 more Mounties were coming, and that Riel and others would be arrested.
A council of twelve was formed. The church, along with arms and ammunition from two stores, was taken over and the telegraph wires were cut. The ultimatum to Crozier on March 21 said to have the police abandon Carlton or be attacked. The attack would not be made until the Lord's Day was over. That first document from the Councilors of the Provisional Government of Saskatchewan (Exovidat) was signed by Riel. After his name he wrote Exovede, translated "from the flock."
Louis became dictator, believing that he was an instrument of God and of his people. The priests told the Metis that no sacraments would be administered to them if they took up arms. When they refused to renounce the Pope and become chaplains in the new religion, Riel announced that he would be the priest.
Macdonald made light of the situation, but at Duck Lake the police were put to flight. A volunteer force was sent to the border, positioned between 32,000 Indians and Metis, possible allies, and Riel's forces. The Dominion Government appealed for help from U.S. troops. At Edmonton a man said everything was O.K. so long as you could hear the Indian drum. Next day there was no camp and no drum near that fort.
Meanwhile, back in Saskatchewan Crozier and the Metis met in an encounter in which the police were outmanoeuvred. Riel refused to allow his men to pursue them. Anyone coming to pick up the dead would not be harmed. When the police left Carlton, Dumont wanted to ambush them, but Riel vetoed the idea. At one time he was crying, "Reply to that!", but later said, "Let them go; there has been too much bloodshed already!"
Pay for the militia was fifty cents a day. There were supply problems and no integrated field command. Morale was poor, especially in the command. Men and money were wasted, and many succumbed to ailments such as pneumonia and tonsillitis.
Dumont was intercepting militia telegrams and knew their every move. He wanted to launch a guerilla campaign: disrupt supply lines, raid lone posts, and demoralize the troops with night raids. Riel called these tactics "too much like those of the Indians." He was concerned with the psychological needs of his people; Dumont wanted to take the young men and get on with the war.
Riel designated Fr. Bourget as Pope of the new church, using letters from Bourget as lines of conduct. Council abolished eternal punishment, and Fr. Vegreville was imprisoned. Louis issued a series of military-religious orders.
Poundmaker joined the cause, his men looting and destroying at Battleford, while settlers fled to the fort. Property damage there, including a judge's $75,000 home, was estimated at about half a million dollars.
Following the Frog Lake massacre, looting, including theft of furs, cost the H.B. Company approximately $70,000. Prisoners from Fort Pitt were taken to Frog Lake, back to Fort Pitt, where the buildings were burned, and then to Frenchman's Butte.
Gabriel Dumont was out of patience with Riel, who each morning at Batoche, gave his prophecies to the Exovidat. He knew that Middleton, Otter and Strange were on their way. Jerome Henry, a Middleton teamster, as well as Metis spy, reported the militia supply line was vulnerable. When supplies on the Northcote were late coming, Middle
ton split his force. Dumont knew of the plan and felt this was their chance. A force moved out, but when police scouts were reported arriving at Batoche from Prince Albert, some men were sent back.
At the Fish Creek ambush the buffalo pound system was employed. No signs of Metis presence were to be left, but it happened anyway. The Canadians had somewhat of an advantage, but Middleton couldn't rout an invisible enemy, and no all-out attack was made. Metis losses were 6, the militia's 50. That same day Otter relieved Battleford.
Many militiamen began to see the Metis in a new light; tough, intelligent fighters, who thought they had something to fight for, and who had been wronged. The soldiers did not condone alliance with the Indians or insurrection, but felt sympathy. It appeared Riel's leadership was at fault.
On May 4 the Metis, who had lost faith in Louis' command, chose Fr. Vital Fourmond as their leader, and challenged the new church to prove itself. In a face to face confrontation with Riel, Fourmond said, "It is a crime to take up arms against the constituted authorities." It was, he said, a Christian's duty to "render to Caesar the things that are Caesar's, and to God the things that are God's." Riel used phrases like "my sacred mission" and "a sacred cause". Foumond thought, "This man is Antichrist, and he is mad." Louis still was able to influence people when he spoke. The priest left. He was helped by Riel when he stumbled, the wild look gone from the eyes of the man who had verbally attacked him.
The militia was caught between sympathy for the Metis cause and government propaganda. Only a few men bore grudges. The troops held church services in the field, there was virtually no problem with liquor or women, and no hospital record of venereal disease.
Strange was an Alberta rancher, retired from the Army, and now back in uniform. Middleton refused his advice to join forces. Major Irvine of the N.W.M.P. came under Middleton's command but received no acknowledgement of his letters to the general. The Mounties received orders to join him, then they would be sent back. The troops and newspapers referred to the police as "gophers." When the uprising was all over, it was the police who had to co-ordinate the situation left behind by the militia. It took them years to regain the respect of the Indians, and they never did with the Metis.
As for Middleton, he had never commanded a volunteer militia and was unacquainted with the country and the enemy. The politicians he served were more interested in lost votes than strategy or losses. He seemed to lack moral courage to make decisions and, like Custer, his reputation was at stake.
Lieutenant A.L. Howard, an excellent machinist of a large U.S. business firm, offered his services in the deployment of Dr. R.J. Gatling's guns. Batoche was to be his laboratory - for scientific killing. The gun shot 1200 bullets per minute, and Howard was the man to operate it continuously at top speed.
The Metis cried out against his intervention in what was none of his business. The U.S. government and Gatling, himself, protested, but Howard acted on his own. One song, sung by the troops, praised music "by Handle" that lulled Riel's half-breeds to rest - from which none would awaken. When the steamboat Northcote arrived at Saskatoon one
machine gun was taken ashore, and one remained on board. The "gunboat" was under the command of S.L. Bedson, Manitoba Penitentiary warden, with fifty armed men. The boat proceeded to Batoche, where a complicated system of whistle signals was used to communicate with the troops ashore. Middleton's plan was that the steamer and the troops would meet at Batoche at 9:00 a.m. on May 9. He had failed to recruit added help from the mounties at Prince Albert.
When Dumont surveyed his supply of manpower and arms he knew the Metis couldn't win, but he wanted to upset the English applecart. They knew every inch of the territory, and they did have their prophet, Louis Riel.
Leading the Canadian attack were seventy-five of Major Boulton's scouts followed by the Gatling gun. Dumont's men on the riverbank were firing at the Northcote, and for a time it was out of control. The Gatling gun aboard prevented the Metis from boarding, so they left for Batoche. They dropped the ferry cables, which damaged the North- cote and started a deck fire. The gunboat passed Batoche and remained in midstream there. The "warship" sat out the battle.
Under a white flag Middleton conferred with the priests at Batoche. It appears that they revealed Metis strategy. This they denied, but they were blamed in Dumont's testimony and in militia reports. Because of this some Metis survivors were never reconciled to the Church. Dumont hated the clergy the rest of his life and tried to nullify their influence on his people.
Howard and his gun allowed the militia to retreat, after meeting with a surprise volley from the Metis, who used numerous pits, logs with loopholes, and camouflage. For four days many of the troops never saw the enemy's face. The Metis started grass and brush fires on both sides of the militia column, and the troops were forced to admit that, with enough food and ammunition, one rebel was as good as ten volunteers.
The militia improvised a stockade, called a zareba, with men and animals inside. Its location in the center of a ploughed field was a disadvantage because of heavy dust. Once the Midland Battalion dug in, as the Metis had, they suffered no losses all day. Earthworks were built up for better protection of the camp.
In Poundmaker's camp decisions were being made only after long discussions. On May 12 Riel told his people that particular day would decide the fate of their race. Clear skies meant Batoche would survive; cloudy skies meant the Metis were doomed.
Middleton with 150 men made a wide sweep around the rebel flank. A planned infantry attack on the center of the line did not take place, but the abortive move caused the Metis to move men to the flank at the expense of the center. Middleton's men then disregarded his orders and forged ahead, before the Metis could reload. As the Metis retreated, they noticed the clouds and beginning rain.
Middleton sent a note with Moiese Ouellette, Dumont's brother-in-law, saying that he would receive Riel and the Council and protect them until their case was decided upon by the Dominion Government. On May 16 Dumont and Dumas headed for the border. In dodging militia and police they travelled 600 miles (275 miles by direct route). Riel and three companions surrendered to three scouts, who
released all but Louis.
Riel, guarded, but not chained or manacled, lived in a tent beside that of Middleton. He was later sent by steamboat to Saskatoon, by wagon caravan to Moose Jaw, and by special train to Regina, where he entered his cell on May 23.
Three days later Poundmaker surrendered. As Middleton recounted the chief's achievements, Poundmaker said, "If I had known I was such a great man I would have made them recognize me as such."
When an Indian woman expressed a desire to speak to Middleton, he said he didn't listen to women. How was it, an Indian said, the government of this country Came from a queen? Middleton answered that her councillors were men.
Big Bear's band was still at large. Middleton's forces joined Strange at Fort Pitt. A skirmish took place at Loon Lake, but on July 2 Big Bear surrendered at Fort Carlton. An unidentified Cree speaker reminded Middleton that we borrow the earth from God, and were put here to help each other. The author noted at this point that historical significance is not gauged by the number of people involved. Sometimes a few, even one, can change the course of history.
The outbreak had cost the Canadian nation about $5,000,000 which it could ill afford. Traders profited in rentals and freighting, but some services were poorly paid for. One woman washed 890 blankets, for which she was paid $23.
At Riel's trial the judge was Hugh Richardson, a barrister of five years' experience. He knew the problems of the region and the historical significance of his assignment. Riel claimed he was being charged as a citizen and as an alien. The defense asked for a month to get Metis witnesses and doctors, but these would not be guaranteed immunity from prosecution.
Defense counsel was F.X. Lemieux. Prosecuting counsel was Christopher Robinson, assisted by D.L. Scott and B.B. Osler. Defence laid the groundwork for a plea of insanity. Dr. Willoughby told of Riel's plan to divide the Northwest Territories among seven peoples, with separate portions to each. Some testimony was dismissed as hearsay, but much was admitted. Once he realized his lawyers were trying to prove insanity, Riel would not put questions through them. He spoke on his own behalf, saying his attorneys were not acquainted with the circumstances and were losing three- quarters of their opportunities. The attorneys replied that if Riel was allowed to question the witnesses, they would abandon the case.
The final part of the prosecution case was based on Riel's letter to Poundmaker, which included the words, "if possible - take Battleford." Fr. Andre then testified on Riel's behalf. Louis was justified in taking action because Ottawa gave either no answer or an evasive one. The Crown immediately objected to Defense justifying armed rebellion, but there was enough in testimony given to show that the Government shared responsibility for the uprising.
After Fr. Andre testified that Riel lost all control where religion and politics were concerned, the Crown, in cross- examination , elicited information regarding the priest's talks with Louis. He had offered to leave Saskatchewan for Montana if Ottawa gave $35,000 indemnity. In regard to
Fr. Andre's statement that Riel had control over the people, the Crown contended that Louis "assumed" eccentricity in order to carry out a brilliant, immoral, but sane scheme.
Fr. Fourmond's testimony of the change in Riel's behaviour at the boat landing strengthened defense claims that the prisoner was unbalanced. The Crown attacked the testimony of Dr. Roy, who was certain that megalomania had recurred and that Riel was insane when the rebellion broke out. Osler tried to prove that the alleged insane acts were part of a fraud. Crown, doctor and police witnesses testified that Riel seemed sane as far as their relationships with him.
Fitzpatrick, in summing up, said if Riel was insane they were right to try to prove it. If, on the other hand, he was sane, they had humiliated him, and in spite of his protests, had tried to make him out a fool. If he was sane, he hadn't tried to escape and leave others to their fate.
Riel, in his statement, gave a history of the Metis movement and his role in it. He blamed the whites for demoralizing Indians and clergy. "Mild words only serve as covers for great ones to do wrong." He felt he had the unique gift of prophecy. He respected the jury, though it was only half a jury. There had been no pay for his fifteen years of service to the people of the Northwest.
Judge Richardson charged the jury with two questions. First, was Riel guilty or not guilty? Secondly, if he was guilty, was he answerable mentally?
Charles Nolin had testified of conversation with Riel in December of 1884. When asked if those plans were for "taking up arms" Nolin said, "Yes." This answer was not challenged. In actuality, in December Riel's plans were for leaving the country and starting a newspaper. Plans to take up arms were made in March. The charge under which Riel was tried was from medieval law, and imaginings were part of the medieval concept of treason.
Richardson asked (although it was not his place to do so) that, if their leader was insane, why didn't the Metis go to a magistrate and have him committed? He reminded the jury that they must think not only of the accused, but of society at large. "Can such things be permitted?" he asked.
The verdict was Guilty, with a recommendation for mercy. No mention of sane or insane. After the execution date was set for September 18, clemency pleas came from all over the world. One petition carried 1850 names. Other petitions urged that the sentence be carried out. One from Regina had thirty-eight signatures; three were those of former Big Bear prisoners. The hanging date was changed several times.
Will Jackson, Riel's aide when the movement began, was acquitted on the grounds of insanity, when charged with treason-felony. The Judge instructed the jury to free Jackson, which they did on the spot, in the jury box. Dr. Jukes testified that Jackson had peculiar religious ideas, and was greatly affected by even a little excitement. The originator of those religious ideas was, a few days later, judged sane by the same Dr. Jukes.
During the rebellion and on into the trials, the appointed commission had settled many land grievances. Such a resolute act was unusual for the government.
Riel's last writings revealed a need for pride among his
people. Regardless of blood being partly European or Indian, we are Metis, he said. The Metis role in society had been one of good relationships with the Indians, helping to reconcile them to the inevitable.
A commission was appointed to ascertain if Reil was sane at that time, November 1885. Dr. Valade reported to Sir John that Riel was "not an accountable being, who could not distinguish right from wrong in political or religious matters." He considered these well-marked typical forms of insanity.
The telegram appearing in the Canadian Sessional Papers said, "he (Riel) suffers under hallucinations on political and religious subjects - but on other points I believe him to be quite sensible, and he can distinguish right from wrong." All three doctors' reports were censored, and paragraphs were deleted.
London heard that Ottawa wanted no interference in the matter. Queen Victoria left the power of pardon in the hands of the Governor General of Canada. President Cleveland of the U.S. declined to interfere.
Dumont and Dumas crossed into Montana June 1, and surrendered to U.S. troops at Fort Assiniboine. President Cleveland was wired, and he ordered their release as political refugees. The two then went to Spring Creek to gather supplies and money to help Riel escape. Relay stations with fresh horses, food, and armed men for escort were set up.
The plan for a Regina jail break was said to have been betrayed to the Mounties by a prominent Metis, but author Howard acknowledged that even rumor could have foiled the plan. The Regina barracks guard had been increased. Many Metis believed that Government would connive in his excape to settle a political crisis, but they knew the Mounties would never go along with any such scheme.
On the gallows Riel viewed the cool, crisp morning, and to a wagon man it was a "good morning to start a trip." Jack Henderson, a Scotch freighter, was said to have been a prisoner with Thomas Scott in 1870, although his name was not found on any list. For three days he was a prisoner of the Metis in the Rebellion. He protested being fed bannock and water (the only food of his captors), and boasted to Riel, "I'll be the man to put the hangman's knot under your ear. " That November 16 morning the hangman whispered, "Louis Riel, do you know me? You cannot escape from me today!" The pay was eighty dollars, but Henderson declined the money.
When Louis reached "deliver us from evil" in his recitation of the prayer, it was to be a signal to spring the trap door. When he had said, "deliver us", his body dropped nine feet, and he was pronounced dead in two minutes.
Uniformed dignitaries chatted by Colonel Irvine's quarters. Many people complained because the execution had not been public. Mounties laughed and exchanged crude jokes. When the thud of the body was heard, one remarked on it. The other man laughed and said, "Yes, the s.o.b. is gone for certain now!"
Father Andrê asked for the body, which he did not get for about a week. Funeral mass was held at St. Mary's Church on November 25. Some locks of hair were gone, but there was no disfigurement of the body. It was placed in a pine box and loaded on a railroad car. Requiem Mass was held on December 12 at St. Boniface. Burial was in the cathedral yard. Quebec sympathizers erected a simple granite shaft with the words: Riel, 16 Novembre, 1885. He lies a short distance from the tomb of his grandparents, the Lajimodieres.
Editor's note - In 1967 it was announced that a statue of Louis Riel would be placed on the grounds of the Saskatchewan Legislature. Ross Thatcher, then premier of Saskatchewan, said of Riel: "He was a leader of men throughout his life and a fighter for his people."