ACROSS THE RESERVE TO RANGELAND (1937)
Howard Hines of Streamstown, Alberta submitted the following pictures for our book.
Howard is shown here on his top saddle horse, Silver, a colt off a mare of Harry Bowtell's. This horse made many a trip across the Reserve to Rangeland.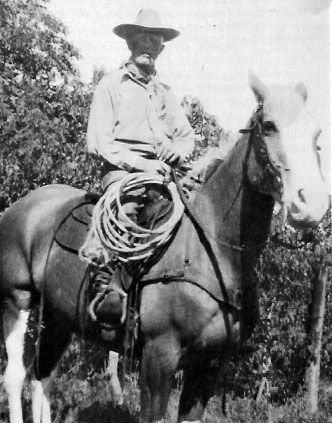 In 1937 approximately seven hundred head of cattle were driven north. The next photo shows the herd at Clearwater Lake. Among the riders were Elmer Haas, summer herder, Claude Patterson of Lloydminster, Bill Shaefer, deceased, Bill and Nooligan Janvier of Cold Lake, and Pete Kaiser. Peter agreed to ride a stray mule for two dollars. After the animal was caught he, said it kicked too bad and wouldn't ride it.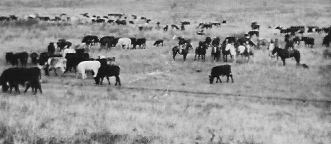 The luxuriant growth of grass, as evidenced by the tracks through it, was near the present site of the Reserve stampede corrals.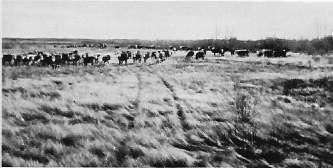 This herd belonged to a number of different owners. Here we see them near Napiou (Chief) Creek.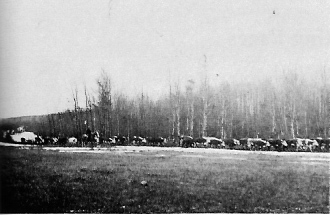 Finally we see their destination - the ranch at Rangeland, near the Le Goff Indian Reserve. If you study the picture closely you will see the "get out and get under (the hood)" technique in operation. Could one car have been more trouble than seven hundred head of cattle - in 1937?