By Grace Meger in 2014
I've read, that the coming of the railroad had the biggest impact of where Heinsburg should be located, because the C.N.R. liked to follow the river. And, so a level area on the river flat was very much to their liking... there was a nice place to bring up water to fill the large water tank that was needed to fill the steam engines that pulled all the freight, and passenger cars into town every day...   then there was the trains, we loved and respected them and oh, how that,  effected our lives, they were the lifeline, of the whole area... lots of memories to write here...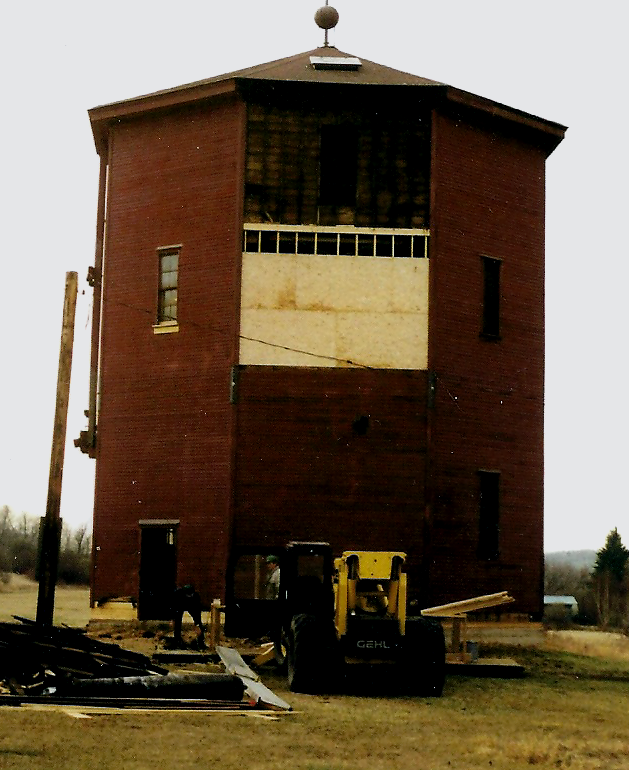 The Water Tower being repaired
People never worried about getting to Elk Point, St Paul, or even Edmonton... just be in town about 7:30 am and off you'd go, if you worked it right you got back to town that evening, and there was never any worry if you were a young child, you were well taken care of. To us kids that train was a big monster that huffed and puffed, and hissed out steam every other breath it took... yes a real live monster...
The train tracks, were rooted up in the 80's and the trains came no more, but sometimes, when we are laying awake in the bedroom here at home, I hear that old diesel pull up the grade from town, to right behind Marvin Botting's place, and it sounds so real...to this very day...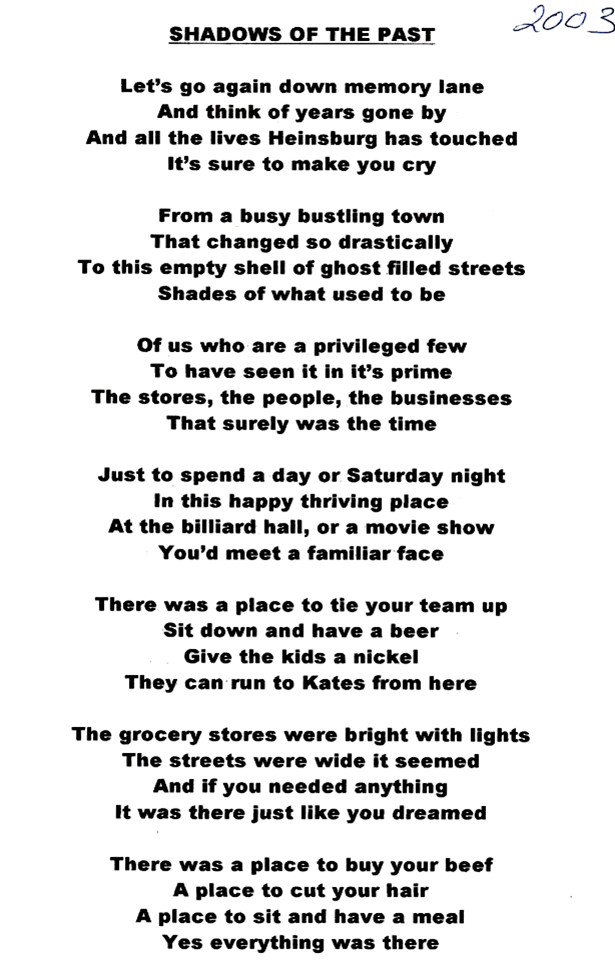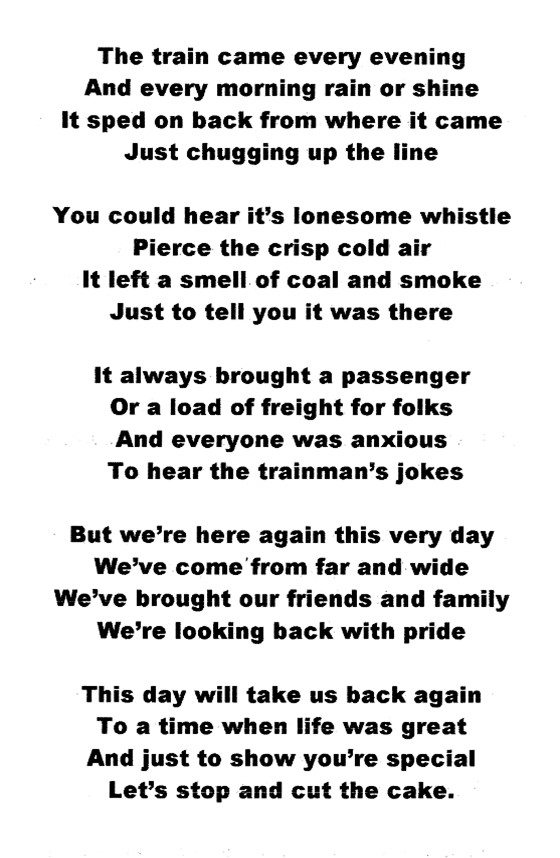 THIS POEM WAS WROTE IN 2003, FOR THE TOWN'S 75TH ANIVERSARY, OF ITS BEGINING, WITH THE TRAIN TRACKS AND THE TRAIN, MAKING HEINSBURG A BUSY, BUSY, TOWN UNTIL THE ENDING IN THE LATE 80s…BY GRACE MEGER…
THE RAILROAD : THE IMPACT AND POWER AND THEN THE DEMISE
I don't know if it was a Government, or a C.N.R. decision to abandon rail service to small community's but it hurt a lot, leaving ghost towns in its wake, but we got lucky in this area, people stepped up to the plate and organized meetings to make the abandoned rail bed a community trail, giving us a well used "IRON HORSE TRAIL" Do not get caught in there with a "4x4" or a car... and that is a good thing... You may ride your horse, drive a team, go biking, quading, sledding, whatever. Just do it.