HISTORY OF OF THE PRIMULA DISTRICT
The original white settlers came to the area in 1909. Farinas and Matlocks arrived first, followed by Bill Makohin, John Kowal and Joe Kuziw, together, in 1910. Our oldest pioneer was Metro Hawryluk's grandfather, who lived to be ninety-two. Place Names of Alberta lists Primula in this way - P.O. 55-5-4 (1913), and suggests that it was named after the primula or primrose flower, as was a district north of the river.
Primula is a farming area adjoining the Gratz district. The big coulee has pretty well been a division point through the years, separating us from North Star and Willow Range. To the south is the Ellsworth district, and the other border is the North Saskatchewan River, the land following it upstream toward the old Lindbergh ferry crossing.
The district was once included in Ethelwyn Municipality, with Mike Kowal one of the early councillors. Our school district became a part of Two Hills School Division and remained so when Ethelwyn joined other municipalities to form Vermilion M.D. No. 77. In the early 1950's Primula was taken into St. Paul M.D., with Henry Lorenson as councillor. Today it is a part of the County of St. Paul No. 19, with Bob Smith as Councillor for Division 1.
The post office document gives all information we have about that service except that the mail was picked up at Greenlawn and brought to our district.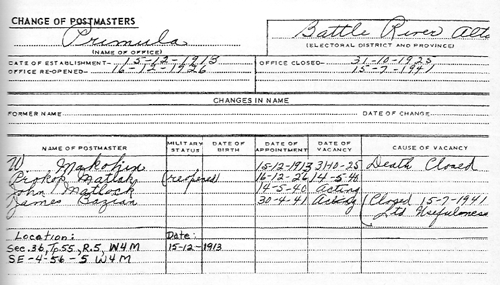 In 1917 a Greek Orthodox cemetery was established on land donated by John Sawak. His wife had died in 1913 and was buried in that corner. Since there was no other cemetery he gave the community two acres. A church was never built in the district.
The first Labor hall was built in 1924 on S.E. 2-56-5-W4. It burned down, was rebuilt, and again burned down. The Primula National Hall, N.W. 35-5-55-4, was built diagonally across from the cemetery in the early 1930's. Although still standing, it has not been used for years. A store, in the Makohin home, was operated from 1913 to 1922. Supplies were brought out from Vermilion. Reasons for its closure can be found in the Makohin story.
The first school was built in 1913 on Nazar Ballas' land. Ten years later it was moved to Hawryluk's land, part of Section 2. The first teacher was Mr. J. Davis. From 1946 on pupils wishing to take Grade IX attended Heinsburg, Ashmont, Elk Point, etc. During the term of office of Councillor Paul Buck the school was closed and all pupils were then bussed to Heinsburg. A controversy over buses having to cross the ferry likely served to keep the local school in operation longer, but as it became increasingly harder to get a teacher, the inevitable time for a change arrived. The last teacher was Eddy Hackman. Later, when Heinsburg no longer had Grade XII, students were allowed to attend Elk Point from Grade IX on, if the parents so desired.
Like other districts there are now fewer land owners, with those remaining having larger holdings. Grain is delivered to Heinsburg or Elk Point, and mail comes through either of those two centres. District residents participate in the Heinsburg Community: Curling and Ball Clubs, and in Unifarm. At one time a few young people belonged to the Heinsburg 4-H Beef Club. Those who have contributed family stories will give readers added information on points covered in this article.