In times past people were as delighted with the lakes in our area as they are today - perhaps more so, for they had neither the time, money, nor kind of transportation to travel to distant places to see "how the other half of the world lived." The lakes not only provided them with food and additional income, but with the type of homemade entertainment so necessary then.
Before electricity made freezers the common means of preserving fish, many people canned them. Tomato juice gave the canned fish the appearance of canned salmon. Vinegar was added to each jar to soften bones. Lastly a half-tablespoon of salt was added to each quart sealer. After the jar lid was tightened to seal the glass lid onto the rubber ring, the metal was loosened a fraction to give room for expansion while the sealers were being processed for about seven hours. Many housewives used washboilers with hay, cloth, or what-have-you to set the jars on so they wouldn't break by the water being sucked from under them in the process of heating.
The white settlers of Frog Lake made their hockey rink between the island and the north shore of Ross Lake. Hockey teams from Elk Point, Mooswa and other places came to join in the fun. Few shin pads and no face masks, etc. were available, but Dr. Fred Miller of Elk Point was an enthusiastic hockey player and oft-times provided free medical aid.
The south-east shore was commonly called "Dewey's Landing" and was the summertime Sunday gathering place. Sunday church services were held on the shore (weather permitting), then the rest of the day was spent swimming, or boating and fishing. Rowboats were never criticized for pollution. The pioneers quickly learned to keep a careful eye on their swimming youngsters at Deweys' Landing, as the lake takes a sudden drop of approximately twelve feet a few rods from shore. The day usually ended with a community supper provided by the ladies of the district, and what a mouth-watering array of food there was! Then, home for chores and bed.
Winter was a time of ice fishing. In the 1960's John Nichols, in approximately two hours time at Ross Lake, caught a 16-pounder, a 13-pounder, and ten other fish of about 4 pounds each, through the ice. A number of "fish coops" can be seen there very winter. Bill Milholland of Elk Point can be found there many a day and provides the fish for the yearly supper held in his home town.
A peculiarity of Laurier Lake was noted by the old- timers who homesteaded nearby. When the lake began to roll on a still day and whitecaps appeared toward evening, it foretold a storm within approximately thirty-six hours. As far back as the 1920's Laurier Lake was the site of summer cottages, when Lloydminster and Vermilion residents thought it a pleasant place to spend their leisure time. However, during the dry years of the '30s, the water level dropped, closing off the inlets and outlets, causing the fish to die. The lake has since been reclaimed and restocked; now fishing and camping once more provide an enjoyable vacation.
The booth run by Babe Sharkey at Ernie's Beach was busy in the early 1960's. For one season Thelma and Exie Sharkey operated it; then Ernie Botting bought it. He continued to run it until the end of the 1972 season. When he passed away in July 1973 the property went to Marvin Botting, who has run it ever since. The boat-launching facility, tables and benches are on privately-owned land. This beach is on the south shore of the lake. Fish derbies are an annual summer event at Ernie's Beach, sponsored by the Fish and Game Associations. Awards are given for the heaviest jack- fish, pickerel and perch.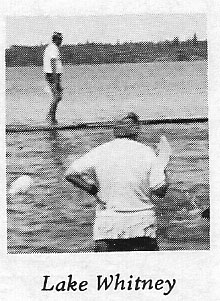 Whitney Lake, in the late 1930's and 40's, was what one might call "a going concern." Unlike today, with countless motor boats, canoes, water-skiing, kite-towing, small sailboats, etc., the arrival of a fast motor boat, or a small pontoon-equipped plane, charging for a few minutes' ride, created quite a stir.
Along the west side the beaches were numbered one, two and three, from south to north. Numbers one and three had a wharf running out into the water, but at number two, where the plane landed, there was none. It was thought to be the best for swimming. The Isert cabin sat on the hill, and below it, on Sundays, many cars would park. There was a log bathing house there, as well as one at first beach.
Third beach was usually quieter, with cabins under the big evergreen trees. Bill Crook's sister, Mrs. Jackson (later Mrs. Jones), lived there with her son Murray. Afterwards Dot (Lorenson) Pankiw and her three children lived in the same house. A cabin located in the vicinity served as living quarters for a few of the Lake Whitney school teachers. In winter the local folks cleared snow off the ice for their hockey rink. At first beach "Grandpa" Fraser lived in a white house on the hill. He had a number of rowboats for rent. He was also the proud owner of a large sailboat and often, when school picnics were held near the beach, pupils were given a ride in it. Carroll Fraser and wife Hazel operated the booth for years. She was a very good cook and exceptionally kind to the helpers they hired. Her kindness was sometimes abused when the helper's family expected to eat free of charge from the booth, thereby diminishing not only the food supply but also the profits.
I wonder how many people know or remember the summer Sunday, between 1939 and 1943. As usual Mrs. Fraser had baked many pies, Carroll had made twenty gallons of homemade ice cream, pop had been delivered, ice was on hand, and countless loaves of bread were ready for sandwiches or hot dogs. There was a great variety of chocolate bars, candies that could be bought in bulk (that is a penny, nickel, or dime's worth and so on), Cracker Jack, pop corn, gum, etc. on display. By 2:00 p.m. that day the ice cream was all gone and thirty-six cases (864 bottles) of pop had been sold. Considering all the other items purchased, beside the picnic food various families had brought with them, it was quite a day! Someone estimated that there were seven hundred people enjoying the beaches that day. The fact that ball games were played at the diamond not far from the booth no doubt contributed to the consumption of "anything cold."
At one time, west of the booth, there was an open-air dance floor. In other areas men pitched horse shoes, and on the hill to the west a large tent housed church services. Many evenings the sound of music by amateur musicians in row-boats drifted back to shore. For years Boy Scout groups have camped at Whitney Lake.
Lakeland Ball Park (the sign was painted by Elmer Bjornstad, an employee of Canadian Salt Co.) is situated on land south of the lake that had been used for many years for little else than cattle grazing. This is a short distance west of the old Lake Whitney stampede grounds. This ball park brings crowds from distant points, and Heinsburg community sponsors an annual ball tournament. Several other communities rent the grounds for their tournaments.
Years ago a golf course was marked out near the site of the ball park. Rudolph Gregor was one of the many local people who enjoyed this sport. However, it was a short- lived activity in this area. A few years ago another course was surveyed by Bob Hendriks' Grade X class at Heinsburg. The south end also boasts a government camp kitchen that was built while the Social Credit Party was in power in Alberta. A well at the east end of this was believed to have a very limited supply of water, and for several years an underground tank was filled by a water tank truck from St. Paul. Later a sandpoint remedied the situation, and since then the well has not been pumped dry.
A booth was built by Don Lorenson in 1962 and operated by him for a year, followed by Gordon Ruthven and Brian Kates for one season. It was then purchased by Vernon (Babe) Sharkey and wife Colleen, who rented it out to Eleanor Bendixen, Ella Botting and George Botting in that order, before Babe and Colleen began to operate it themselves. They continued in business until the end of the 1974 season, having enlarged the building, added a popcorn machine and made other improvements. Keith Sutherland, a retired R.C.M.P. officer, who is an instructor at Vermilion Vocational College, took over in 1975. College courses end in April, leaving his summer free for the family to run the booth. It offers a valuable service to the many camping patrons and cabin owners. A hiking trail map has been put up near the camp kitchen.
Borden Lake lies west of Laurier and a little to the north of Whitney Lake. It is somewhat inaccessible, being quite swampy; however it is surrounded by blueberry and cranberry country. It is a sad fact that mechanical pickers in past years, and cattle pasturing there, have spoiled much of the area for that purpose. Through the years various animals have become mired while walking out far enough to get a drink and some have been found in time to be helped.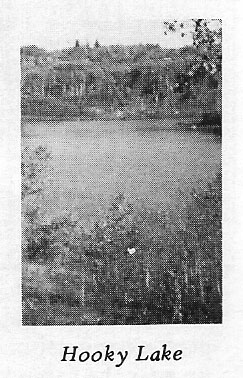 Hooky Lake, also called Little Deep Lake and Little Round Lake, is well described by these names, being fed by underground springs which create undercurrents. The late Sam Dumont, a strong swimmer, tried and failed to reach the bottom near the south end. He said it was the coldest water he had ever tackled. It is not recommended for amateur swimmers. Vina (Anderson) Hostvedt recalls that in the 1920's there was a kind of beach on the northeast side of the lake, and people drove in with Model T Fords, but the road went no further.
In earlier years when the area was still unfenced the Seventh Day Adventist congregation held picnics there on their Sabbath. On one such occasion a group, made up of several families, arrived while four gentlemen were in for a swim. Only one of the four wore a bathing suit. To make a long story short - that man waded out and dressed, then threw the suit out to a companion. Eventually all four were out of the water and respectably attired.
The late Orman Dennison, who purchased the old de Delley homestead, acquired the land around Hooky Lake and fenced it for his cattle. He was approached by a Vermilion School of Agriculture instructor who wished to rent and stock the lake with trout; an experiment to see how the fish would fare in the disease-free water. Marwayne Fish and Game Association had the same idea. However, Orman had no desire to risk having his gates left open, his cattle being let out and perhaps impounded, nor did he wish to become involved in leases and other legal matters. He also feared ecological damage once the fisherman began to come there. After he passed away the land was left to his daughter Debbie, and she upheld her father's viewpoint. Orman did, however, apply for permission to stock the lake with trout for his own use. When a government man came out to check the lake he learned that the underground springs are located close to the south-west corner where the sounding showed the depth to be 74 feet. At a point 25 feet from shore it was 15 feet deep, and another 25 feet forward it was 30 feet deep. The Dennisons did stock the lake for one season but did not fish all the trout out.
Alma Lake, in the Norway Valley district, though quite picturesque, is not a tourist attraction because of its alkali content. It is fed by Alma Creek flowing out of a range of sloughs called Chappell's sloughs, which at one time were apparently joined together to form a lake. The sloughs were named after the Chappell family.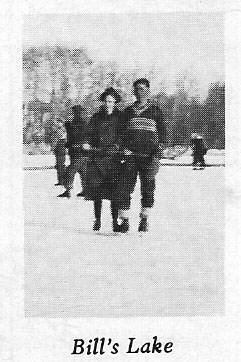 A fairly small lake in the Martin district was named Bill's Lake because Bill Franks chose the quarter along its north shore for his homestead in 1908. The lake, currently surrounded by farms, was not a tourist attraction. In the early days we did swim there but numerous blood-suckers, always welcoming meals from the leg of a fresh young swimmer (ugh), was to say the least, a deterrent to swimming enjoyment. Skating parties were, and still are, enjoyed.
Clearwater Lake, in the Acomb district, is just a short distance north-east of the Cairn that commemorates the Frog Lake Massacre. This lake is only separated from the Chappell's sloughs by a gravelled road that leads to the old Acomb school site. It is recorded in a diary that in 1931 a picnic was held on the south-west side of the lake. Five hundred people were there, and six schools took part in the sports. Frog Lake School won the honors in softball, receiving a prize of $125. Frog Lake picked up a men's team and played baseball against Heinsburg. Heinsburg won 20 to 15. Stampedes were held there in the 1940's.
Last but not least - the importance of Frog Lake and Fishing Lake to the Indian and Metis people must not be underestimated. However, you who have read the foregoing chapters of "Land of Red and White", need no in
troduction to these lovely lakes, and there is little to be added except that Watts mink ranch was located at the north end of Frog Lake. Other lakes to the north and east of Fishing Lake are: Moonshine Lake, in which there apparently are no fish; Little Island Lake, Two Island Lake, and Deep Lake.
It is indeed fitting that the Land of Red and White, marked by these lovely clear blue lakes with their inlets and outlets: Frog Creek, Redwater, Middle Creek, Chief Creek, Alma Creek, and other unnamed brooks, is included in the portion of North-Eastern Alberta that is designated as "Lakeland."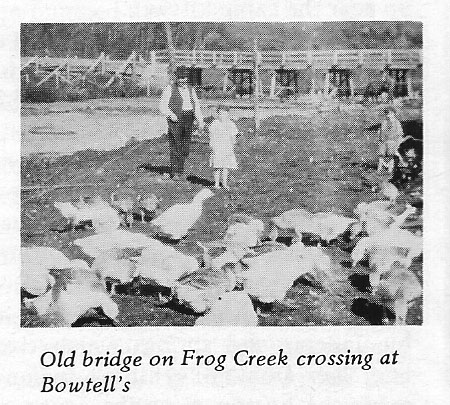 Much mention has been made of Frog Creek, and Alma Creek has been mentioned. Redwater Creek, so named because of the reddish color of the water, flows into the north end of Laurier Lake. Its source is Stinking Lake (the name is self-explanatory) in the Primrose district. The name Middle Creek was chosen because in its course from near Gamier Lake to the Saskatchewan River, it cuts through the middle of each quarter section that it crosses. Chief Creek, sometimes called Napaheo's Creek, was named after Chief Napaheo and runs across the Puskiakiwenin Reserve into Frog Lake. It flows from Rat Lake, to the west.