St . Barnabas Mission
REVEREND JOHN AND DOCTOR ELIZABETH MATHESON
based on Ruth Buck's book "The Doctor Rode Side-Saddle."
John Matheson was born in 1848 in Kildonan, on the Red River. His nickname, John Grace, was so given, because, at mealtime, his father had to quiet him at the table with the words, "John - Grace!" It distinguished him from other John Mathesons.
He was the eldest of Hugh and Leticia's seven children. His grandfather was John Pritchard, Lord Selkirk's secretary, and member of the first Council of Assiniboia. When Pritchard's eldest daughter, also married to a Matheson, died in childbirth, Hugh's wife raised the boy for a time. That child, Samuel Pritchard Matheson, was to attain the highest office of the Canadian Anglican Church.
In 1864, when John's father died, he ran the farm and taught school. Typhus, carried from Hudson Bay ships by York boats, killed two of Hugh's children and affected John's hearing. Four years later his mother married James Cunningham. John took to the Portage Trail, accompanying John Cunningham, James' brother, a free-trader from Lac Ste. Anne, west of Fort Edmonton.
Elizabeth's father, James Scott, came from Scotland in 1834. She was born in 1866. After schooling at Burnbrae, Manitoba, she took matriculation at Winnipeg, and became a teacher at seventeen. Her brother, Tom, got her a position in Sunnyside, Manitoba, a district next to his own. She visited at the Neil Henderson home, where Tom boarded. Neil's second wife was John Matheson's aunt. In conversation once, at that home, John revealed he had loaned his new Winchester to Gabriel Dumont (leader of Riel's warriors) to hunt moose. John explained that if Dumont hadn't lost it at the Batoche battle with Riel, the rifle had probably gone to Montana with him.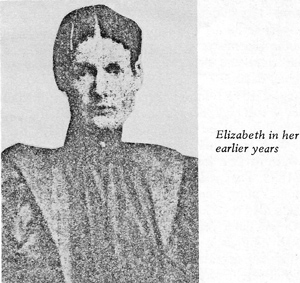 Elizabeth moved to teach at Poplar Point, west of Winnipeg. John's sister and family, the Cunninghams, lived in the district. His brother, Edward, was an Anglican clergyman on the Mistawasis and Ahtahkahoop Reserves. John was busy with railroad contracts, building bridges across the Fraser River in B.C., etc.
Tom now asked her to replace their eldest sister as housekeeper at Marchmont House in Belleville, Ontario. She was released from her Poplar Point contract to go. Miss Bilbrough, who had built Marchmont House for British slum children, recognized Elizabeth's mental capabilities, and she offered to pay for one year at the Women's Medical College at Kingston. John proposed marriage, but Elizabeth decided to go ahead with her plans for a career.
In 1882-83 male medical students threatened to leave and move to Trinity College in Toronto if women continued studying at the Royal College of Physicians and Surgeons, affiliated with Queen's University in Kingston. A Women's Medical College seemed the answer. Besides having no opposition, male students had another advantage- they could earn more money between class sessions. Elizabeth would have to teach for at least a year before she could afford to return to the college. She went back to Poplar Point, but soon resigned at the request of Dr. John M. King to go to India as a teacher for the Presbyterian Board of Missions. When John (Matheson) wrote opposing her plans, she told him not to write again, and she and Jean Sinclair left for India. They landed at Bombay on January 1, 1889, Elizabeth having contracted malaria on the way.
In addition to learning Hindustani, Elizabeth rode Abdul, a stallion, side-saddle. This term occurs in her daughter Ruth's book title. The horse, once an Army mount, ran off with her when he thought a parade-ground bugle meant "Charge!"
By early 1891 she was ordered home because her malaria was acting up. She went to her parents' farm near Tyner, North Dakota. After John wrote, declaring his love again, she went by train to him at New Westminster. She talked of returning to her medical studies. but changed her mind and accepted a wide band of Saskatchewan River gold as an engagement ring. "Ruth 1:17" was engraved on it. Her brother and sister opposed the match, because of the age difference and "Roaring Jack's" ways. He had once boxed against John L. Sullivan in a United States mining camp. They could not believe he had really changed those ways. In spite of all, they were married on December 8, and went to John's "ranch", about forty miles out of New Westminster.
Because of John's fluency in Cree, and through the efforts of his brother , Edward, and Bishop Pinkham, he was hired to go to the Territories as Anglican missionary to the Diocese of Saskatchewan. He was to teach at the Sekaskootch Reserve, northwest of Fort Pitt, on the trail between Fort Carleton and Fort Edmonton. His duties included being catechist and layreader to several reserves in the charge of St. Barnabas Anglican Mission of Onion Lake. The pay was to be three hundred dollars a year. He would replace Rev. Isaac Taylor.
On July 10, 1892 they left Battleford for Onion Lake, following the North Saskatchewan River. At their crossing, made on a heavy, flat-bottomed boat, they could look north to the Onion Lake Reserve hills, and east to the height called Frenchman's Butte. They were to meet the Taylors and trade transportation. The Taylors had a rickety buckboard and a thin, tired colt - a poor trade for a team and buckboard.
George Mann, once the farm instructor, was now Indian agent at Onion Lake. The Agency had moved from Frog Lake to Onion Lake. West was the R.C. Mission, and north of it the Hudson Bay Company- post. The Mission included the Sekaskooch and Makaoo reserves, the area north and west to Island Lake, Frog Lake, Little Fishery, and Moose Creek.
It was from Frog Lake that a Roman Catholic convert, Toussaint Calling-Bull, had run after the Frog Lake massacre to warn George Mann and Rev. Charles Quinney at Onion Lake. He covered the twenty-five miles on foot, as horses would have been heard. Manns and Quinneys escaped to Fort Pitt, but they later surrendered to Big Bear with the McLeans and others.
After the Rebellion, young William McKay partially restored the Fort Pitt post, then moved it in 1890 to Onion Lake. Four generations of McKays had served the Hudson Bay Company. James Simpson retired there. His step-sons were Ben and Louis Patenaude. In 1839 buffalo hunters from Winnipeg made Fort Pitt their headquarters. Their captain, Isador Dumont, was Gabriel Dumont's father.
From those early men of the fur trading companies, names such as Dumont, Patenaude, Trottier, Salois, Amireault, Laframboise, Cardinal, Fortier, Parenteau, Mellon, Dufresne, and Nolin are heard in the area today.
A Roman Catholic Church was built at Onion Lake in 1888. In 1891 four Catholic sisters began a day-school, then a boarding school. The only Anglican beginning had been on Rev. Quinney's part. Samuel Pritchard Matheson had been one of two chaplains at the Stony Mountain Penitentiary after the Rebellion. After conversion, the Reserve leader, Manito-Niknik Nakaykiskis, took the name of Thomas Quinney. He had been imprisoned with other Plains Cree after the Rebellion.
The Onion Lake School was near to the center of the Reserve. There were only six or seven pupils, as attendance was not compulsory. Later Rev. Taylor returned to take over the Anglican school from John. The Agency had a sawmill on the creek, so with lumber from the sawmill, John repaired the house and the church.
In the fall, Elizabeth, with Mrs. McKay assisting, was delivered of a ten-pound baby girl, Gladys Elizabeth, - called Tannie (N'tanis, my daughter). Elizabeth had served tea to the N.W.M.P. that very afternoon, then left. John was called out from his visit with the police, and returned to announce the birth. A black velveteen, beaded mossbag was used for all the babies in years to come.
When Gladys was six weeks old, Elizabeth went teaching, and she began learning Cree from Joe Quinney, one of that family's older boys. John's salary, paid by a government grant, was three hundred dollars annually, Rations of beef, flour, and biscuits were given daily to each child in attendance at school. There were no rations for Sunday, and they were only for Treaty Indians.
The Mathesons visited non-Catholic homes, but only Martha Painter agreed to send children to their school. Her Minnie was five years old. Later, four boys, some from other reserves, and some non-treaty children came. Before winter ended, there were ten to twelve pupils. George Mann provided blankets and rough lumber, the government supplied rations of beef and flour, and the Indians brought fish and meat. John got a hundred rabbits, giving an Indian woman the pelts for skinning them.
The next fall, in her second pregnancy, Elizabeth developed mastitis in one breast. She went to see a Battleford doctor, and stayed with Mrs. Campbell, the mother of a policeman stationed at Onion Lake. Elizabeth drove a horse and buggy that was to be returned to Battleford. The morning after the three-day trip was completed, the Police Surgeon stabbed a scalpel into the abscessed breast. She fainted, but healing began, and in two weeks she came home with a N.W.M.P. detachment.
No other residential schools were provided for non- treaty children, so, when parents heard their children would be accepted by Mathesons, the young came from as far away as Saddle Lake, Beaver River, Battleford, Red Deer, Fort Saskatchewan, Medicine Hat, Long Lake, and Cumberland House. The school was moved from the reserve to the Mission grounds. Girls learned knitting, housework, and sewing; the boys learned carpentry, stable duties, gardening, tanning, and wood-cutting. There was one old horse and a cow that formed the basis of a future herd. The mare dropped dead at the barn door after a ride for Mrs. Ben Patenaude to deliver Elizabeth's second girl. Mrs. Patenaude was too late - John had already delivered his daughter. Her name, Carrie Emma, was shortened to Riema or Rie. Gladys wandered off and fell asleep in some tall grass. Ka-ne-pa-ta-tao (he moves as though with many legs) discovered the child and brought her home. He had been Big Bear's chief dancer.
The spring of 1894 John sold furs at Battleford. Judging freight costs as too high, he planned to deal at Edmonton. He would haul up there and return on the North Saskatchewan. With help from Winnipeg and Eastern Canada, the salary was provided for a Mission assistant, Annie Eliza Phillips, in 1895. That year John took furs and seneca root to Edmonton. Young men were hired to bring the teams home and help load the scows.
At the Onion Lake Telegraph Station, Jack McFeeters reported from Edmonton on John's work. The Dominion Telegraph line had operated less than twenty years in the north-west. McF eeter's successor was Herbert McCleneghan, one of General Middleton's headquarters operators in the Rebellion, stationed at Qu'Appelle. Later, with Dominion Telegraph, he'd been at Battleford, Duck Lake, and Bresaylor. He was nearly blind. His wife and children learned the code, too.
There were medical problems among the people. Ben Quinney's wife, Mary, died of tuberculosis. There was peritonitis and septic throat. The sick needed a sober doctor quickly. Ay-im-i-hos (he who knows misfortune) wanted a frozen, now gangrenous foot amputated. When Elizabeth refused, the man amputated his own foot; and when more gangrene developed, he removed that, too, John decided his wife should resume her medical studies. She agreed to go, and signed the papers. In September, 1895 she left. She hadn't told of her latest pregnancy until the application was sent in. At the mission a per capita basis for payment was begun and set at seventy dollars - per treaty child only. In spite of no provision for non-treaty children, the Mission's policy of accepting them was continued.
The Matheson girls were left in the care of one of John's sisters at Poplar Point, while Elizabeth stayed with another in Winnipeg. She was the only woman enrolled at the Medical College. She was given credit for her first year and the summer courses she had taken. Dr. J.R. Jones, a lecturer in obstetrics, agreed to attend her at the birth of her third child, asking no fee. A third daughter was named Letitia, after John's mother.
Matilda Black came to the Mission to assist Annie Phillips in house-hold service. The two oldest Matheson girls would stay at the Mission, while Elizabeth returned to her studies. At Saskatoon, a Mrs. Stewart offered to keep Letitia, and her offer was accepted. At Winnipeg, with a travel expense donation from W.R. Mulock, John's lawyer, Elizabeth continued to Toronto. She became ill again there, with a recurrence of her mastitis. Dr. Wishart of the Ontario Medical College for Women, thought her unfit to continue her studies. He telegraphed John, who answered with Luke 9:62. After the mastitis was treated, Elizabeth put her hand to the plough, not looking back. Caroline Shaw, whom she met at the Sackville Street Mission, left Toronto in the spring to replace Elizabeth at Onion Lake. She was placed in charge of all school sewing. Before Christmas, Elizabeth's second-year studies were finished off. Her third year was finished in the spring of 1897. In June of that year, matriculation Latin was behind her.
Bishop Young, replacing Bishop Pinkham, was to visit Saskatchewan missions. Coming by canoe from Edmonton to Prince Albert, he was to ordain John Matheson on July 4, 1897. The next day Elizabeth arrived at Battleford. At Saskatoon, Mrs. Stewart had tried to prevent her taking Letitia, but finally had to let her go. The child withdrew from her mother, and regressed to creeping.
In June of 1897 Battleford had celebrated the Queen's Diamond Jubilee. The opening ceremony, on June 22, was held at the Police Barracks, with a royal cannon salute, an address to school children by Major Cotton, sports (including horse races), a picnic dinner, and a barracks dance. Twelve hundred Indians on the flats were given permission to hold a Sun Dance, and the agent gave a feast. In coming from Onion Lake, John had met the campers on their way home. Jimmy Crookedneck was dying of typhoid fever. Each of the dying man's visitors left with a gift, until Mary, Jimmy's wife, was left with nothing. John went through the whole camp and got her possessions back. She returned to Onion Lake with the Mathesons.
Weeks later the Indians were gathering at Deer Creek for a Thirst Dance. These were forbidden by law, because mutilation was sometimes practiced. Because of the deep religious significance to the Indians, it was held secretly. Scouts were set out to warn of police approach, so the dancers would have time to disappear, if necessary. The people came to fulfill vows made, or to offer petitions. Rosalie, who had left several children at the mission, danced until she was exhausted, and died soon after.
The number of children at the Mission increased. Meanwhile, Elizabeth was off to take her last year of studies. Finally, in April, 1898, she received her degree as Doctor of Medicine from the University of Trinity College in Toronto. She left with Helen Marsh, another volunteer, for work at the mission. At Edmonton an ice jam delayed their crossing for two days. They were to drive home with Joe Quinney. At Paradis Crossing, Joe had to cut footholds for the horses in the ice along the river banks. From the Telegraph Station at Moose Creek they sent word of their progress. Delayed by heavy snow, they finally arrived at Onion Lake, where the girls met them with arms full of crocuses.
Not until May could John bring the scows down from Edmonton. Then he spent most of June at the Anglican Synod in Prince Albert. In their six years at the Mission, they had obtained better horses and a small cattle herd. Permission was required to keep them, because they were on part of the Reserve. Government permits were needed to cut hay on land outside. No surveys had been done yet, but John planned a ranch downriver from Fort Pitt, near Frenchman's Butte. He would claim a quarter. section and lease three more adjacent to it.
In 1898 only ten of the forty children at the Mission were treaty. Matilda Black married Charles Trottier, a Metis living on a farm. That year James Brown, trained in carpentry at the Battleford Industrial School, came to Onion Lake to help with building and the outside work.
Elizabeth set up a dispensary, but patients were not that plentiful. The Indians had their own ways, and usually the police, government, and Hudson Bay men would get a Battleford doctor. Elizabeth felt caught between two worlds. In the running of Mission House, Annie was now accustomed to making all the decisions. (In later years she married James Brown, who had completed theology studies at Winnipeg, and was posted to Grand Rapids.) Carrie Shaw was waiting for Don Campbell to finish his term with the police.
The winter of 1898 saw Elizabeth with a fourth pregnancy and sciatica to contend with. One Sunday she was unable to attend church, and thus received a report from the girls. Poor Oonikamoos, the Singer, had smoked her pipe in church. When John told her not to, she proceeded to smash her pipe and her black tea pail with a tomahawk. Now John was busy trying to find a new pipe, a new pail, and tobacco for her.
Elizabeth, in the spring, was occupied with many things. George Mann had sent a lilac from the garden of the "Saskatchewan Herald" in Battleford. For robes, Elizabeth had twenty-eight prime badger pelts and a large number of "cats' paws" from lynx. She needed three hundred paws, sewn together in blocks four inches by six inches. An Edmonton woman sent her one hundred and fifty sewn together. Isabel, the finest needlewoman on the Reserve, had sight in one eye only. She sewed the pieces together with fine sinew and waxed linen thread. The robe was completed with flannel edging and red blanket-cloth lining. John described the "cats' paws" as "bits and pieces." Elizabeth felt the same term could be used to describe her own life as doctor, mother, teacher, and missionary. As Isabel and John lifted the robe to show Muskekesqua ("Medicine Woman" - as she named Elizabeth), the robe was turned over. It shimmered, whole and perfect, in the sunlight - no longer "bits and pieces."
On July 3, Riema, by accident, fell backward into the well, around which a room had been built. James Brown brought her out. The light revealed one broken arm, the other cut, and a head gash. Two weeks later Elizabeth was delivered of a fourth daughter, Helen Grace, by Mrs. Bangs. Her husband, John, was an Agency laborer and interpreter. Her mother-in-law had been the wife of the Hawk, a Cree warrior.
On that July 17, Treaty was being paid. A chief got twenty-five dollars annually, and each officer under him, to a limit of four, got fifteen dollars. During a heavy storm everyone crowded into the mission buildings. John went to the registering table to report a child born on the reserve - a child that couldn't speak a word of English. To Mann's question about the child's name, he said, "Matheson, of course. A daughter, born this morning."
Elizabeth's brother, Jim, from New Westminster, became farm instructor at the Battleford Industrial School. Tom, now a doctor, was in Ceylon. Eleanor Shepphird, a tiny woman, came from the Deaconess Training House in Toronto to act as deaconess at the Battleford School. Elizabeth had met Eleanor during her college Christmas holidays in 1897 - 98.
Elizabeth's first patient outside the school was John Bangs, with a toothache. He and Jim Slater were to take the Agency cattle seventy-five miles northwest to hay and shelter at the winter camp. Bangs sat on a straight-backed chair. The pull on the tooth took all of Elizabeth's strength, and when it finally came out, she fell back to the floor.
Late in October Philip Bangs broke his leg. His father rode out to Moose Creek and telegraphed to Onion Lake. The trail to the Long Lake camp would be made over frozen ground and many "corduroys" along the way. It would be a hard trip for Elizabeth, with her nursing baby, but impossible for a boy with a broken leg. She set out with Albert Fraser, driving a heavy lumber wagon with a spring seat. The new robes would be used. That night, along the Frog Lake trail, they camped at an Indian's house, then went on to Slater's Camp. John Bangs met them there to guide them the last fifteen miles. The travellers viewed northern lights, which, according to the Indians, were the unhindered spirits of warriors who died in battle - moving free above the earth. They said the vivid colors foretold disaster and terror on the earth.
At Bangs' home a hot supper awaited them. John Bangs made splints and was shown how to use the chloroform. The fracture was simple, but there was extensive swelling. Bangs became ill from the chloroform smell, and the mother began to wail, thinking the boy dead. John Bangs returned, hesitant to assist, but was ordered by Elizabeth to do as he was told.
The first day of the return trip took them as far as Middle Creek, where Louis Patenaude and his sons were trapping muskrats. During the night a total of eighteen people came into Louis' home, including two priests and three Indian families. By the time they reached Clearwater Lake, it was snowing. A stop was made at the home of Kamistutim, the Horse, to borrow a sleigh. As she waited for the switch to be made, Elizabeth felt that her depression had lifted. She was now accepted as a doctor.
In 1899 she was not registered to practice in the Northwest Territories. She was told she would have to appear in Calgary for an examination. Then Dr. Seymour, Commissioner of Health for the Territories, appointed her Sanitary Inspector during a smallpox outbreak in February of 1901. The N.W.M.P. were to assist her. The first case was at the home of Charlie Parenteau, a Metis living just off the Reserve. The second case was George Young, a stableman at the Mission. Caroline Shaw was next. Quarantine was difficult. Although forty cases appeared at the school, no deaths occurred, and it did not spread to the Reserve.
On authority from Regina, Elizabeth vaccinated all who did not have a previous vaccination scar. Sergeant Hall and William Sibbald, the new Indian Agent, accompanied her. No new cases appeared until spring, and again these were all off of the Reserve. Baptiste Dumont lived ten miles away. Red Deer was forty miles east, and Island Lake, on Little Hunter's Reserve, was north. Sergeant Hall enforced the quarantine, and the Agent gave out rations. The Mission helped replace burned clothes and bedding.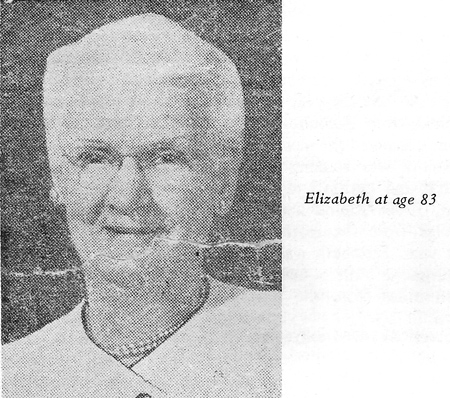 In May, 1901, the Matheson's fifth child, Edith Eleanor, was born. Elizabeth was recognized officially by the Department of Indian Affairs, and was paid three hundred dollars a year for her medical services. Seventeen children at the Mission were Treaty; forty-two were not. The Mission budget had made no allowance for pay for the principal or medical officer there. The other six people got five hundred and forty dollars altogether. On his yearly trip to Edmonton, John brought something for the employees and the children, - a saddle for Annie, - later her holiday passage to England - and college fees for Fraser were all paid for by John. With receipts of less than twenty-five hundred dollars, expenditures were nearly four thousand dollars. The difference John entered in his books as "contributed from private sources." The greater amount would have meant an inadequate share per child, and it may be that each child took one hundred dollars from John's own pocket.
In late summer John brought a carpenter from Edmonton and lumber for the next year's building. Even the material and nails from the scows would be used for the three-storey structure. The first floor would be used for classroom space; above it would be the staff's and boys' rooms.
Fanny Cross, a T.B. victim, came from Toronto. Eleanor Shepphird came with her, and the two taught scripture to the children. Mrs. Sibbald, a gracious lady, visited at the Mission. When speaking of Elizabeth's sixth pregnancy, she said this sort of thing had to stop, using the expression "by George." Elizabeth promptly informed her that George had nothing to do with it!
In February, Mrs. Slater delivered the Matheson's first boy, Selkirk Edward. Elizabeth was now ahead of Sergeant Hall's wife. Hall had married soon after the Mathesons came. He had moved from the barracks to a larger place three miles west. Their four daughters corresponded with Mathesons' second to fifth. Neither family was particularly concerned about a successor at the Police Barracks or at the Anglican Mission, however.
After Fanny Cross died on Easter Saturday, Eleanor returned to Battleford to care for Edward Matheson's wife, who was dying of cancer. Gladys, though only ten, bore heavy responsibilities caring for the pupils. Each morning she put drops in sore eyes and gave cod liver oil. It was decided she would accompany Eleanor and stay at her Uncle Jim's. The driver, Charles Trottier, followed the winter trail along the north bank of the North Saskatchewan. At one place he had to run the horses through a prairie fire to burned land beyond. The sun glinted on remaining snow patches, and, though she didn't complain, Gladys became snow-blind. One crossing was ice jammed, and the girl suffered from bedbugs and fleas where they stopped over. They had to cross by rowboat at Battleford, where they witnessed the Barr Colonists passing through. After a demonstration against Rev. Isaac Barr, Rev. George Exton Lloyd assumed leadership. At Saskatoon the Colonists had set up a five-hundred-tent city. To make their journey somewhat easier, some hills had been graded, and bridges had been built.
With the coming of the Colonists, there were new doctors, and the need to register became paramount. Elizabeth would have to face rigid exams, so she decided to repeat her fourth year of Medicine in Manitoba. Her friend, Mabel Cassidy, on furlough from China, offered to replace her at the Mission. Deaconess Ida Collins came, too. Gladys and Edward accompanied their mother: Gladys to go to school, while Edward was left in the care of a practical nurse at Baie St. Paul. The girl was unhappy away from home, so when a teacher returned from Winnipeg with John in September, Gladys went back to the Mission with her father, too. On the return trip, John fell ill. The women couldn't drive, so Gladys took over the job. At Eagle Hills she negotiated steep banks and a bridge over a creek in a wide ravine. At Battleford John was three weeks recovering from his pneumonia.
At Christmas baby Edward was not well. He was taken to the Henderson's in Winnipeg. Edward Matheson sent Mary Blackstar from his school to look after the sick child. Elizabeth was the only woman in a class of more than twenty at Winnipeg. Dr. Chown, the Dean, was not going to let Elizabeth graduate, but, after a faculty meeting, he addressed her as "Doctor Matheson." She was registered in Manitoba, and now applied for registration in the Territories. The same answer came "Come to Calgary." She called their bluff, mailed the fifty-dollar fee, and received her registration by the next mail. She always gave credit for it to John's signature on the cheque. Now she was not just an unknown woman in the Territory of Saskatchewan.
Edith, not yet three, contracted whooping cough at the Mission. It was still with her on into the summer, and in December she died of pneumonia. The death had a profound effect upon John. The following June Edward Matheson married Eleanor Shepphird at the St. Barnabas Mission Church. Late in November of 1905, Mrs. Slater attended at the birth of Ruth, the Matheson's seventh child. That year there were sixteen Treaty and fifty non- treaty pupils at the school. The church had been rebuilt, and the three-storey building in use for a year. The old school was torn down, log by log, the logs numbered and freighted to Lloydminster by the Indians. There they were used to build St. John's Minster. At the Mission there were also storehouses and a residence for male employees. John hoped to add a third storey to a log building, so Elizabeth would have a hospital. It would be a memorial to Edith.
The Onion Lake Reserve had been surveyed in 1878 and named for Chief Sekaskooch, who signed the treaty at Fort Pitt in 1876. During the Frog Lake trouble, he had kept his band in the north bush. As the Alberta Field Force moved from Fort Pitt to Frenchman's Butte, two of Steele's scouts came to Sekaskooch's camp. They shot the chief as he sat in the doorway of his tent, smoking his pipe. His eldest son was shot while bringing horses from the pasture. As a result, the youngest son and others joined Big Bear, but only in time to retreat to Loon Lake and surrender. Because he was called a rebel, he was denied the right of being chief. Later, when baptized, he took the name of "Robert Chief." His wife was one of Big Bear's granddaughters. Two of her sisters were wives of Kanepatatao and Andrew Sinclair, a boy who went to the Mission years before on his own.
After Christmas 1905 and New Years 1906 were over, the three men and their families went north to trap. About two weeks later Andrew brought back the bodies of two of Robert's children. It might be diphtheria! John was welcomed in their homes, but Elizabeth was resented by the wives, who considered her an intrusion on their grief. She wanted to examine the other children, but they were snatched away and hidden, so she couldn't inoculate. They must accept quarantine, but the choice of Kanepatatao's home was theirs. In all there were nineteen people needing supplies. When Sinclair's girl was ill, the mother said, "It is only out of a black heart that you come to torture us in our grief." Elizabeth left and vowed she would return only if asked. However, her conscience got the best of her, and one morning at daylight, she set out in forty-four degree below weather. A mile out a sleigh was coming. Andrew reported his child was very ill. Elizabeth could see the child was dying as she gave the antitoxin. She examined the other children and began inoculating. When one child objected, Robert Chief took down a brace and bit and threatened to drill a hole right through the child.
The mother of the second ill child had been mourner for the Chief children. Her innoculated child had been wrapped in a shawl given to her. After the child died of heart muscle paralysis, the shawl was traced and disinfected. The Indians now fully accepted Elizabeth. She worked in the dispensary, and made house calls as far away as Frog Lake and Island Lake. Her widowed mother came to help at the Mission.
By November of 1905 the C.N.R. was supplying passenger service to Lloydminster, a town with three hotels, a bank, stores, and its own newspaper. Cable-ferries crossed the North Saskatchewan River, and mail came twice a week to Onion Lake.
When Grace fell and hurt her back, John was away at Saskatoon. He was driving to Lloydminster with a mare - a gift for Elizabeth. He had unhitched, when a telegram came telling of Grace's injury. He drove the mare to Hewitt's Landing, took the ferry across himself, and finished the trip to Onion Lake in less than four hours. The mare had made another thirty-five miles, after having already been driven forty-five.
For the 1905-06 school term, Gladys, aged thirteen, was at Battleford with the Scotts. Riema and Letitia were with Edward, and all three attended school in town. The next year Gladys was to go to school in Ottawa. John would accompany her and talk with Indian Affairs. They left the mission on January 28. At Lloydminster they visited the H.B. Hall family, while waiting for the train. They ran to the station at six-thirty in the evening, but the train didn't arrive until over two hours later. On February 3, a train stuck in the snow delayed them at Radisson. The next day, at Humboldt, at nearly three in the morning, there was no water and no fire on the train. All passengers went to the Windsor Hotel at C.N.R. expense. Very early the next morning they left Humboldt. At Wadena, the last night, Rev. James Taylor, of Emmanuel College, and Gladys sang hymns in Cree.
Gladys enrolled at the Kilburn Sisters' School. Late in October Letitia, accompanied on the trip by Archdeacon Mackay, travelled to Dunham's Ladies' College at Ottawa. Riema stayed with her uncle at Battleford. A year later both Gladys and Riema were at Dunham's, returning to the Mission in July, 1909.
The previous summer, the hospital at Onion Lake had been completed by workmen from the Barr Colony. On the upper floor were an operating room and four wards. The lower floor housed the laundry room and a carpentry shop. During epidemics nurses came from Winnipeg. The first outbreak was measles, against which the Indians had no immunity. The government allowed one dollar per day for an Indian in hospital. But the Indians didn't like to be away from their families, and a dollar a day was too high for whites to pay. That summer Mrs. Slater attended Elizabeth at the birth of her seventh daughter, Kathleen Agnes, named after her godmother and a well-known writer, Agnes Laut.
The summer of 1909 saw all the Matheson children at the Mission. Gladys was to help out for a time - then enter nurse's training. In September Riema and Letitia went to St. Albans Ladies' College at Prince Albert. Next year Riema returned to Edward's, and Grace went to St. Alban's. In September, 1910, their second brother, and eighth Matheson, was born. John Richard was delivered by Mrs. Slater. Elizabeth developed childbed fever and was sent to Dr. Hill. The child developed meningeal croup and died at four months.
Grace began training at Prince Albert, but after six months she returned to the Mission. During a typhoid epidemic, she, Riema, and Manias (daughter of an Indian mother) helped a nurse from Winnipeg. Once when her mother was away, Gladys had a patient come in. Billy Patenaude had had a finger bitten to the bone in a drunken fight. To stop him swearing she threatened to stop treatment. Carbolic and hot water saved the finger.
At the end of 1911, Charlie and Josephine Parenteau had only been married four days, when Charlie developed blood poisoning. Gladys stayed and kept the fire going for hot water. Josephine was the daughter of Ethel Quinney, who had married William Dillon years before. When William deserted her, she lived with her parents, and her girls were at the Mission. A grant for them was not forthcoming because the girls were Roman Catholic and would have to go to a Roman Catholic school. Dillon returned, attacked John, and was thrown out. The Mathesons adopted the girls, so that their father could never cause a similar upset. Four of Rosalie's children were at the Mission as well.
A girl at the Mission, Ellen, feared that she had inherited insanity from her mother. Her mother, the Singer, was working at the Mission and interpreted Elizabeth's English conversations to men working there as unfaithfulness to John. While the family was at church one day, Singer took a bottle of belladonna liniment, drank it, and was poisoned. When Elizabeth tried to administer an emetic, Singer spat in her face. Singer's sister, Martha Painter, must have succeeded, however, for Singer lived.
Granny Wolf was found moaning with her mouth open. Elizabeth brought her to the Mission, and, with chloroform, got her relaxed enough to treat dislocated jaws. Granny immediately filled her pipe and said, by way of explanation, that she was "just yawning."
Alex Stick came many miles from Island Lake on a travois behind a horse. He stayed at the Mission for six weeks until his broken leg mended. When Alexis Cross- arms' horse fell in a badger hole and broke Alexis' leg, he set it himself, strapped it to the good leg, dragged himself a mile to the trail, and was taken to the hospital. He refused to remain at the hospital, and years later, after a broken hip was set, he also remained at home, bedridden and in pain for several years.
Johnny Heathen was shot in the hand when his foot hit the trigger, while working his trapline. Following gangrene, amputation was done above the elbow. David Quinney, married only a few days, took his wife duck hunting in a brush-camouflaged boat. As he reached for his gun, he was shot in the abdomen. David later died at the hospital of peritonitis. Elizabeth administered the anesthetic, assisting a doctor from Lloydminster, who performed surgery in an attempt to save David's life.
An English boy of eighteen rode to Fort Pitt. He had shot and killed a man who had tried to drive him from his land. The man had once lassoed the boy and dragged him behind a horse. Later he had driven cattle over the boy's crop, and then faced the boy, daring him to shoot. The boy was acquitted - self defence was the verdict. A Swedish homesteader, supposedly paralyzed, living in the bush northwest, was jealous of his wife. He killed her brother. He had dragged himself to get a gun and hid it in bed with him. As the brother-in-law came in, he was shot. Elizabeth wanted his wife to stay at the Mission, but she returned to the homestead to prove her claim. Her husband died of a cerebral hemorrhage before his trial.
On John's ranch near Fort Pitt were over thirty horses, a hundred cattle, and some sheep. Napoleon Parenteau, Charles' brother, was ranch foreman. Tom Rivard, a Montana cowboy, was in charge of the Mission's outdoor work.
John established a small day school at Frog Lake, with Charles Quinney as teacher. Charles had been at the Mission as a student, had attended Emmanuel College at Prince Albert, and had been a mission worker at Cumberland House. John undertook to pay his salary of two hundred dollars a year.
When Emmanuel College was moved to Saskatoon, one of its first graduates was a young Plains Cree, Rev. Edward Ahenakew. He came to be John's assistant in 1912. Born at Sandy Lake Reserve in 1885, Edward was related to many well-known chiefs. His people, House Crees, hunted for the Hudson Bay at Fort Carleton. He was named after Edward Matheson.
In 1912, the white day pupils at the Mission were from The families of Sergeant Hall, Laurence Lovell, and Lang, Turner, Agency clerk since 1905. Anson Lewis, a homesteader, had named the Harlan district for his home town in Iowa. Bob Beattie, a rancher from across the river, lost a race to Elizabeth's mare, Minnie B., said to be of the Dan Patch line.
John was now sixty-four. A year before he'd gone to Winnipeg, and on to Rochester's Mayo Clinic to have a lip cancer removed. Now, in the spring of 1912, he planned his annual trip to Edmonton via C.N.R., and back by scow. One night he fell between scows in a deep river channel. During a lull in the thunderstorm, Tommy Slater heard his cries and came to his rescue. John was prone to bring down-and-out people to the Mission on these trips. Those who came helped out until they decided to move on.
In June of that same year John collapsed and spent two days in hospital in Edmonton. In Mid-July he collapsed again at home. Elizabeth diagnosed cerebral hemorrhage. Months later, when the river was freezing up, she was in Edmonton on business. While John was checking fires and lamps for the night, he ran a nail on a post into his right eye. He called Ahenakew, and collapsed, unconscious. Elizabeth came to Lloydminster, - then at Hewitt's landing was met by Ahenakew. After treatment in Edmonton, John went to Winnipeg, where Dr. Harvey Smith removed the damaged eye.
Gladys taught a year, then went to train at Winnipeg's General Hospital in January, 1914. Riema worked with her mother; Letitia was teaching at the Mission school. John's niece, Anne Cunningham, succeeded her, and Mary Robinson came to help in the kitchen.
The Battleford Industrial School closed in 1914. Reserves had only day schools. The Mackay School was maintained at The Pas for children from remote areas. Only seventeen pupils (Treaty) showed on the Mission register in Ottawa. Mr. Sibbald said that nomadic Indian ways did not make day schools succeed. Now, the Indians themselves wanted the boarding school continued. Prospective pupils were from Frog Lake, Island Lake, and Thunderchild Reserve. The Department believed that closing the school would kill John Matheson.
When World War I broke out, settlement men and some Indians enlisted. Herbert McCleneghan had begun a rural telephone line the year before. He read the war news telegraphed from Edmonton. One long ring, and every telephone conveyed the news.
Riema was training in Winnipeg, Selkirk was at St. John's, and Letitia and Grace were at St. Alban's. In January, 1916, Riema had to come home following heart damage from rheumatic fever. John died on August 25 that year. Elizabeth was to stay on for another year. The government built a new, large Indian Residential School seven miles from the old site. Mission House was torn down.
The next year Gladys enlisted as a nursing sister with the Canadian Army Medical Corps in England and France. John would never sign up for the clergy pension scheme, but Elizabeth and Edward had kept the payments made. She was given one hundred dollars a year - later increased to four hundred a year. The cattle and horses were sold. She applied for re-appointment as government doctor, asking a thousand dollars a year. She offered to provide her own residence and transportation. Northwest of the Mission was land she held title to, and she had a log building put up there. She got the appointment eventually, but by that time had already accepted one at Winnipeg. She would be assistant medical supervisor for public schools. She bought a large house there. In June, 1941, Mary Crawford, superintendent of the medical public school inspection, retired, as did Elizabeth, who was by then seventy-five years of age.
For fourteen years she spent winters with Gladys in Texas and summers in Canada. She died in 1958 at ninety- two at Gladys' home. Burial was at the Mission Cemetery beside John and Grace. On the day of her funeral there was a rodeo on the reserve a mile or two from the church. At that rodeo three minutes of silence were observed in her honor. The preacher was Canon Edward Ahenakew, speaking in English and Cree. The overflow crowd had come from many miles away. At the cemetery were Jimmy Crookedneck's daughter, Robert Chief's grandson, Johnny Heathen's son and Ben Quinney, over ninety years of age. Riema had predeceased her mother in 1955.
In 1949 Elizabeth had been interviewed for the C.B.C. at the British Medical Association meeting in Saskatoon. She was asked what she thought as she looked back over the years. Her reply was that she would be willing to go back and re-live them all again. She wished she'd had all the knowledge available in 1949 and all the advances in medicine, so she could have done much more.
Editor's Note: Ruth, M. Buck is the second youngest of the Matheson daughters. She graduated from the University of Manitoba in 1928 and taught school in Winnipeg until 1932. Her husband held a university post, from which he recently retired. They now reside in Regina.
Mrs. Buck's first book "Voices of the Plains Crees" was published in 1973, and "The Doctor Rode Side-Saddle" a year later. She has also contributed articles to Saturday Night, The Beaver, Saskatchewan History Magazine, and the Regina Leader-Post. A portion of her mother's story, entitled "The Making of a Doctor", appeared in the Centennial issue "Century".