Prior to 1908 a bachelor, Jack John, filed on a homestead at Twin Lakes, so called because the lake has a natural divide suitable for a road. Later this lake was taken into the Norway Valley district. When Frank Franks made his first trip to Frog Lake in 1908, Jack John's shack was the only whiteman's residence between Lea Park crossing and Mooswa.
Business ventures in the area with the exception of farming were almost nonexistent. Harry Bowtell opened a store by Clearwater Lake in 1910. Sam Tarrabain and Abdou Saffa opened one in 1917 or 1918 in Norway Valley.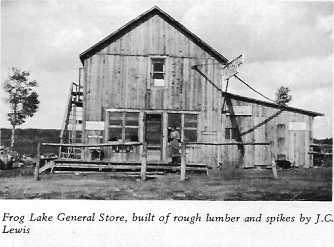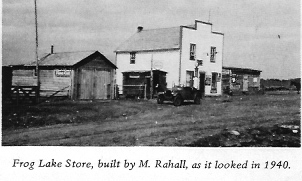 Tarrabain and Saffa were of Syrian descent, but the homesteaders usually referred to the store as the "Jew's store." They kept their store operative until some time in the mid-twenties. Wadia Coutney, who recently visited Syria, reported that Abdou still lives there.
In 1920 Clark and Lewis moved into the district and established their store on a fraction of S.W. 9-56-3-W4th. This store was purchased by Jack Litchfield about 1920. Later it was sold to Mahmud Rahall who had opened a store beside it.
Mahmud Rahall was a Syrian and ran the store until his death. It was then taken over by Alex (Scotty) McLennan and wife Madge (Vaness) who came here from Onion Lake.
The McLennans sold it to Alex Tarrabain and his cousin Kahlill Tarrabain, Syrian immigrants. They, in turn, sold it to Mohammed (Andy) Hamdon who moved it one half mile east of its original site in 1948. It is currently operated by Andy's son, Mohammed (Mo).
Arthur Kennedy and family set up a store located near Fishing Lake, from the spring of 1923 to the summer of 1935. This was before the Metis Colony at Fishing Lake was formed.
These early stores could all be classed as trading posts; they dealt in groceries, dry goods and hardware that were traded for furs, seneca root, berries, farm produce, fence posts and lumber.