A MAN AND HIS MOOSE
This picture was among others which had belonged to Harry Bowtell, who knew people from far and wide. Since we have been unable to identify either the man or the location, we are including information received from interested people.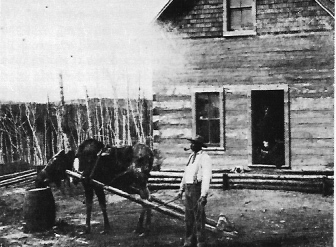 Jennifer Evans, Editorial Assistant for the Western Producer Prairie Books, wrote, "The Western Producer Magazine section once ran a photo of two moose in harness, along with some background information on the team. That particular team of moose was raised by Walter A. Anderson of Makinak, Manitoba, broken to harness by Dougall McKinnon and shown at the Manitoba Provincial Exhibition of 1905 at Brandon. Your photo may be of a different moose, of course. The Glenbow Foundation in Alberta have also published, in the past, a photo of a team of moose which was trained at Lac La Biche and exhibited at Edmonton, so it would seem that in olden days moose in harness were not an unfamiliar sight in the west."
In her letter of April 2, 1975, Mrs. Selma Nyhus of Cold Lake, Alberta wrote, "I have a newspaper clipping from the Edmonton Journal dated March 20, 1954. There is a picture of a moose in harness in front of a teepee, and the following is what is written about it:" - Tame moose trained to haul goods for Indians in early days. Now among the prized objectives of the big game hunters, Alberta moose played a transportation role in pioneer times. Many of these animals were tamed by settlers to transport goods. Some were used in teams to haul wagons or sleighs. This picture, taken in the Edmonton area more than 50 years ago, shows a moose parked in front of an Indian teepee. The animal is standing between the shafts of a travois, which Indians and settlers used to move supplies or merchandise.
"I also have a clipping from the Free Press Weekly, Winnipeg, and on it are a team of moose and the following is the write-up about it" - 'Tom Hay, Makinak, Manitoba, sent along this unusual picture, and tells us that this beautiful team of moose was a familiar sight around Makinak around the turn of the century. They could pass anything on the road in their day. In the photo they are shown driven by an officer of the North West Mounted Police, in plain clothes, while at the Brandon fair. They led the chariot races in 1905 and attracted much attention wherever they went.'
Carl Burns of Vermilion recalled a man at Peace River who worked and rode a moose, but found the animal to be awkward. At a camp in the Swan Hills area two small moose came up, attracted by the light, while the men were eating supper. They were hard to get rid of. Like goslings they "imprint" very easily. Some say if you shut a young moose in for a day or so it's prepared to stay with you from then on. In Billie Lamb Allen's book, "Dew Upon the Grass", the story of her family's life in northern Manitoba, she tells of moose being used in the very early days. Some time after 1896 her father used a moose to travel to Cumberland House to fetch the mail that had come as far as Prince Albert by train. She wrote, "The long-legged creature could traverse the snow drifts which would bog down a smaller animal. It is alleged that this moose, which the men called Billy, eventually ended his days in a park in Winnipeg"