FROG LAKE SCHOOL OPENING (1975)
The official opening of the new Frog Lake School was held on Monday, December 8, 1975. Chief Lawrence Quinney officiated in the flag raising ceremony. Mrs. Dosdall, representing her late husband, Ernie, (former Regional Superintendent of Education for Indian Affairs in Alberta), and assisted by Chief Quirmey, cut the moosehide ribbon with a tomahawk. Later guests were escorted to tables by members of the Frog Lake Life Skills Group, dressed in traditional native costumes. The Frog Lake Women's Homemakers' Club presented Bob Bogle, provincial Minister of Native Affairs, with a beautifully decorated vest and necklace. Mrs. Dosdall was presented with an honorary membership in the Frog Lake band. Special guest speaker was Harold Cardinal, president of the Indian Association of Alberta.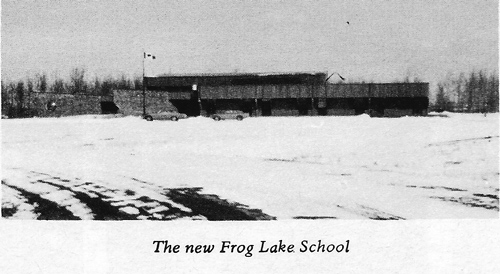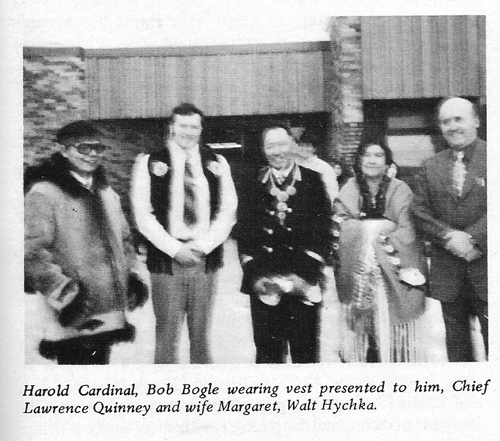 Also attending was Mr. Walkley, (federal) Regional Director of Indian Affairs in Alberta; Walt Hychka, District Manager for Saddle Lake/Athabasca; Vern Berg, Superintendent of Reserve Schools for Saddle Lake /Athabasca; Mick Fluker, M.L.A. for St. Paul; chiefs Joe Dion and Eugene Steinhauer of Kehewin and Saddle Lake, respectively; and Mike Steinhauer, Executive Director of Blue Quills. The evening banquet was catered to by the ladies of the Martin Goodwill Club. Speakers included Mr. Bogle and Mr. Hychka.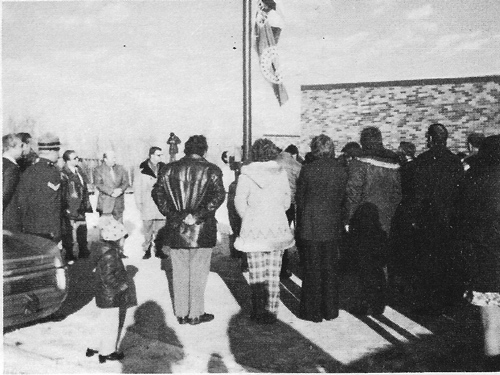 The school is situated north of Chief Creek, on the east side of the road to Cold Lake. It was erected by Valere Construction of Bonnyville, with the help of local workmen. It contains a number of offices, a staff room, classrooms for kindergarten to grade nine, inclusive, a gymnasium, a kitchen, and various other facilities. The principal is Mrs. Beatrice Neumeier; in 1976-77 her staff numbers fourteen, which includes ten teachers, two teacher-aides, a culture-education teacher, and a counsellor-aide. Caretaking is done by the Joe Waskahat family.