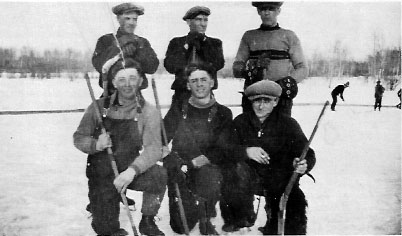 Frog Lake Hockey Team 1921 - 23
Standing - Ernie Vasey, Jack Litchfield, Dalus Peters
Front: Fritz and Trig Kjenner, Johnny Gregor
HEINSBURG HOCKEY TEAM DEFEATED
"Heinsburg hockey club suffered their first defeat of the season at Elk Point on Saturday, Dec. 18th (1937) by a score of 7 to 2. The Elk Point team found the range about half the way through the first period, and got away to a good lead of 3 goals in the first 20 minutes of very slow hockey. In the second and third periods both teams were putting on the pressure, and played good hockey, Elk Point scoring 2 goals in each period, and Heinsburg 1 in the second and 1 in the third.
Line ups: Elk Point--Etherington, goal; J. Miller, G. Johnson, defence; Evans, Cromwell, Andrishak, Stanley, Duncan, Miller.
Heinsburg--E. Jones, goal; Olsen, Kjenner, Evans, Elgie, Fong, Char- tier, Sanders, R. Jones. Spares--G. Evans, B. Womacks
Heinsburg made it two straight wins from Landonville when the two teams met at Heinsburg on Dec. 19th, the score being 4 to 1, in favor of Heinsburg".
(Taken from a forty year-old newspaper clipping)