JOE (JOKER) ANDERSON AND FAMILY
My great-grandfather came to Canada to work at a Hudson Bay post at Winnipeg where he married a Sioux Indian girl. They had seven sons and two daughters. Their youngest son became my grandfather.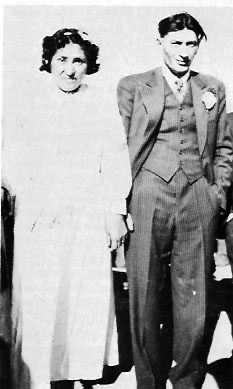 Marie and Joe
He came to Saddle Lake, Alberta to operate a Hudson Bay post there. It was in St. Paul that he met my grandmother and that is where they were married. They had seventeen children. Their oldest son was killed in the Boer War around 1902. Their second son, Joseph Anderson, married an Irish-Polish-Metis girl from St. Paul. Her name was Sophia Cardinal. I was born to them in 1918 and in 1919 they separated.
My mother's aunt, Mrs. Jim Potrais, took me to live with them at Spruce Lake (Angling Lake). That was the year of the hard winter. We lived there until 1926 when we moved down to Jack Pine Creek, about four miles north of Frog Lake (Puskiakiwenin) Reserve. I don't know when it was, but someone started to call me Joker and that is what I have been called for a long time.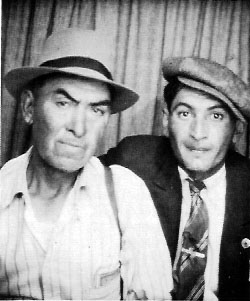 Marcel Cardinal Joker 1938
In 1933 we moved to Fishing Lake Metis Colony and farmed there. My Uncle Jim passed away in 1938 and I kept the farm going until 1944. That year I started a store on the west side of Fishing Lake where the creek runs from that Lake into Frog Lake. The Government bought me out in 1958.
On October 20, 1949, I married Marie Moosapew (pronounced Moosapaew, English translation - Bachelor). One son and three daughters were born to us. After I sold the store I got a job as janitor of the J.F. Dion School at Fishing Lake. I kept that job for twelve years until my health gave out on me. My wife is still janitor there.
Editor's note - The above article was submitted in 1975. In January 1976 Marie passed away very suddenly and in a few days Joe who had been hospitalized at Elk Point for some time, followed her.