MORLEY W. NEIL
I arrived in Heinsburg from Phippen, Saskatchewan in the third week of May, 1932. I pitched my tent near the town well. My stove was a lid from a barrel perched on the top of a few stones in front of the tent. This is where I cooked my pancakeS, bacon, and 5cents per dozen eggs. I came up to build the first garage in the hamlet. With the kind help of Jack and Bill McMullen, Jack's two mules and a scraper, we levelled off a piece of the hill just south of Gregor's store. In about a month I had the building up and gas pumps in.
You could hear hammers and saws going all over the settlement. As it was the end of the steel, with lots of water for the steam locomotives, there were high hopes of Heinsburg being a divisional point whenever the railroad would be extended to Frenchman's Butte in Saskatchewan. However, this has not come about to this day.
In the fall I installed a small lighting plant and gave lights to the business places. My tent blew down one cold fall day and Raymond Reishus, the Federal elevator agent, who was boarding at the hotel, said "Let's move into the elevator office and batch." It was sure good to get out of that cold tent. The next summer (1933) I built a lean-to on the end of the garage. It had just a small living room and bedroom with an old wood-burning cook stove to heat it. There was thick ice on the water pail in the winter mornings.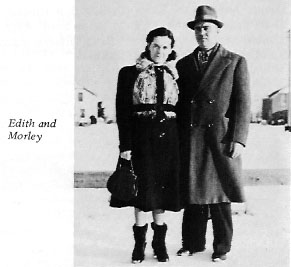 On the 20th of December in Edmonton I married my old girlfriend Edith Millar. She had been teaching at my home town in Saskatchewan. We made lots of good friends and enjoyed going to the local dances. Business kept increasing slowly through 1934 in spite of money being very scarce.
On April 20, 1935 our baby boy Mervyn was born in the Elk Point hospital. Our doctor was F.G. Miller, a wonderful man. This was a new life in our house, which made us both very happy. Business progressed favorably through the summer of 1935.
In October the Mathison brothers bought our business. We then moved to Edmonton and bought a grocery and confectionery business from Fritz Kjenner and Harvey Castel (former Heinsburg residents). Mervyn is in business in Regina. Edith and I had a happy thirty-three years together. Then in 1966 she passed away during heart surgery. I will never forget the wonderful years we had in Heinsburg. I remarried in October, 1969 and live in Edmonton.