ALBERT AND MARY NELSON
This family helped to make up the colorful history of the district from Vegreville to Fishing Lake. It is known that Albert Nelson was born in Quebec in 1900, but not much more of his early life is known. None of us know when he came to Wattsford district, which was located nineteen miles north of Vegreville, Alberta. There he met his future wife, Mary Taylor. They were married at the age of seventeen, in 1917, at Wattsford, where Mary was raised and educated. Her parents ran the post office at Wattsford for nearly thirty years.
Mary, who was born in 1900, had quite a history of her own. Her mother, a Metis lady, Christobel Taylor (nee Monkman), was a niece of the discoverer of Monkman Pass in the B.C. Rockies, and Mary's grandfather was a factor and guide for the Hudson's Bay Company. Her father, Robert (Bob) Taylor was of Metis-Scottish descent. These two old timers, Christobel and Bob, were well known in the Frog Lake district. They must have been quite devoted to each other as they lived to the age of ninety-two and passed away only four hours apart on April 4, 1966.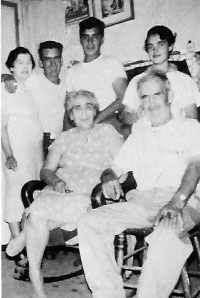 Front: Mary and Albert Back: A friend, Dave, Chester, and Lynn Parenteau, 1962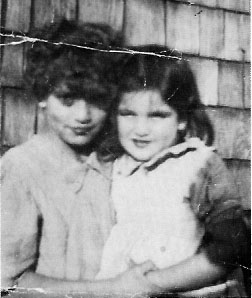 Glenna and Theresa
The 'two young people, Albert and Mary, settled down to farm in the Wattsford area. They shared a love for farm life and farm animals, so they tried hard to build up a herd of cattle and horses. While there a girl and boy were born to them but died in infancy. I, Floyd, was born in 1920, Harvey in 1924, Edward (Chub) in 1926, Pearl in 1927, and Dave in 1929. Then the family moved the short distance to Beauvallon and spent three years farming there, building up their livestock.
In the spring of 1933 they loaded children, household effects, and machinery into wagons and, with the stock trailing behind, began the long move to Fishing Lake where land was still open for homesteads. I can't recall how many days the trip took. After we had crossed the river on the Heinsburg ferry we camped in the hills north of town. That night a really bad snowstorm overtook us. This held up the move for three days as the stock had to be rounded up out of the hills. Mother recalls that eight horses were hooked to each load and we moved into the Martin schoolyard where there was some shelter for children and adults. Young Billy Dewey helped round up the rest of the livestock into the schoolyard. Feed was bought from George Dewey to tide the animals over.
The day after the weather cleared we moved out again, bUt disaster struck. Edward, driving one team with a load of machinery, ran into his father's outfit. Albert was driving a team on a hayrack loaded with pigs, sheep, turkeys and chickens. The rack was partitioned to keep the animals and birds separated. The impact broke the rack, letting them all escape. Once more we had to stop and gather up the animals and fowl. It took the rest of the day and part of the evening as we had to wait for the fowl to roost in the nearby trees.
At last they reached the homestead; then came the job of building shelters for the family and livestock. Brushing and breaking as well as fencing had to be faced before the snow flew again. They got through the winter, but in the spring the horses began to die off with swamp fever and within two weeks Albert had lost nearly all his horses including the six palomino, of which he was so proud. When the fever had run its course there were only four yearling colts left, but the cattle had done exceptionally well. Some of our new neighbors included Bill Nelson (no relation), Maas bros., and Anderson.
After Glenna was born in 1933 and Donald in 1937, Albert once more moved his family, not because they wanted to move, but because the Provincial Government had finally agreed to make the area into a Metis Colony, and paid the homesteaders for the land. The price paid was apparently not very much. Mary and Albert could have remained in the Colony but they chose to leave. They moved to the Whitney Lake district. Here their last child, Theresa was born in 1941. The war had started and in 1940 I (Floyd) enlisted with the Reconnaissance Corps and saw action in the Pacific Command. In 1941 my brother Harvey, enlisted in the Princess Pat's Canadian Light Infantry. He was killed at Casino Castle, Italy in 1943. I was discharged in 1945, but while home on leave I had married Nellie, Abe Granger's youngest daughter.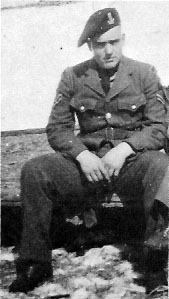 Floyd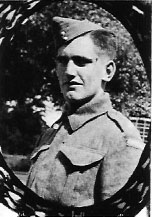 Harvey
In November 1945 Albert and Mary had some heartbreak when little Theresa passed away, and in January 1946, just two months later, twelve-year-old Glenna was taken. The oldest daughter, Pearl, marrried Lester Rainboth and they settled on a farm near Heinsburg. Shortly after the loss of their two girls, Albert and Mary moved with the rest of the family to St. Paul. Albert got a job in the St. Paul Foundry, where he worked for nearly twenty years before retiring. In 1966 Pearl passed away in Edmonton of cancer, and in 1973 Albert passed away, also of cancer. Mary still lives in St. Paul in the same home she and Albert had built. She spends her time caring for her house and playing bingo. Edward, Dave and Donald (Sandy) also live in St. Paul. My family and I settled by Whitney Lake on the old Leonard Coombe farm, S.W. 17-56-4-4, which had become the Carroll Fraser home.