HALVOR SNAUNES
This article is a combination of bits of information received from
several people. Apologies are offered for any statement that may
have been improperly interpreted - Lois Nichols
Halvor Snaunes was a bachelor who came to Alberta from Telemark, Norway, the same area as the Lundens. His land in the Norway Valley district (S.W. 28-55-3-W4) cornered the Atlas quarter in the Lake Alma area. It has already been told in the Harry Bowtell story that his assistance during the "killer flu" was invaluable. Halvor himself was not ill, and he gave the credit for that to the continued use of skunk oil.
A year or so later he was Knut Rinde's fishing partner at Cold Lake. Mrs. Rinde spent one winter up there cooking for the men. She had crossed the lake by dog team with a driver named Pinske, who was also a fisherman. The fish were hauled out to Kitscoty. Sometimes Halvor was assisted in the hauling by Walter Johnson, who lived at Elk Point for years. Around 1930 Halvor fished with August Kjenner.
Halvor was part of the bridge crew under Mr. Blackstock, responsible for putting in the steel bridge at the crossing at Harry Bowtell's. He then moved on with the crew and came back to spend his winters fishing. He also worked on the bridge at the Johanson crossing, where Pop Sanders once lived. His homestead was sold to Oscar Gunderson. He made his home in Edmonton when not out on the job with a government bridge crew. He retired there, and died there in the 1960's.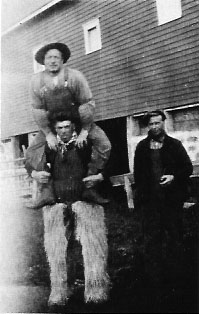 Dalus Peters carrying Halvor, Billy Jamison looking on.
Picture taken beside Harry Bowtell's barn