THE SHARKEYS
as told by Exie Sharkey
I am the youngest of four Sharkey boys. My brothers Willie, Edward and Joe, and my sisters, Elmere, Mrs. Walter Shinness; and Lily, Mrs. Norman Delorme, have all passed away. This leaves only my sisters Julia, Mrs. Anton Quickstad of Landonville; Emma, the former Mrs. Al Carlson, of Langley, B.C., and Bertha "Toots", Mrs. Dick Ingersoll of North Edmonton.
I was born in 1905 in the Duhamel-Donalda area. of Alberta. My father, Joe, and Willie worked on the railroad and helped build the trestle across the Battle River. We moved into Stettler, but then, in 1914, moved onto a homestead in the Sounding Lake district, twelve miles from Monitor. We attended Neutral Hills School. When I finished school I went to work for the Botting family and in 1927 married their daughter, Thelma. We farmed at Cadogan for three years, and during that time our sons were born, Lawrence in 1928 and Vernon (Babe) in 1930.
In the fall of 1934 I hired a truck to haul the cattle up to Heinsburg, so Thelma and the boys accompanied the driver. The cattle were unloaded on the south side of the river and my family stayed at the Bill Crook home. Chester Botting and I drove up with loaded wagons. Although the Heinsburg crossing was unsafe the one at Lindbergh was said to be alright. We heard that Johnny McLaren had crossed safely. However, we were not to be so fortunate. The wagons broke through and the hayracks rested on the ice. Al Carlson and Bob Maxwell came to the rescue, and because there was snow on the ground, the loads were transferred onto sleighs and the trip to Heinsburg completed.
Our first home in Heinsburg was the old police barn, sitting next to Imeson's, that had been moved in from Harry Bowtell's yard. I took over the livery barn and dray business formerly operated by Jack McMullen. The barn was purchased from Imperial Lumber. For eleven winters I drove Bob Braithwaite around the country buying cattle. We were in town about eight years, during which time our daughter, Lila (1936), was born. We lived back of the livery barn from 1935 to 1937. In 1942 Gus Block left the Fogel quarter in the Lake Whitney district, Marvin Botting, and I bought it. We lived there two years, then bought Harry Jenner Sr.'s place and moved onto it. When I sold if to Fred Bristow two years later I bought the poolroom in Heinsburg from Steve Sawak. I sold it to George Botting several years ago.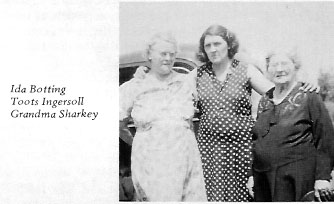 I started driving school bus while on Jenner's. My vehicle, a homemade body on the back of a 3/4-ton truck, was named the "Dogcatcher." It was the first motor bus in the St. Paul School Division. My route was Frog Lake - Heinsburg, the one which I was to travel for twenty-five school terms. On many occasions I also transported a busload of Indian people to Lac Ste. Anne, as well as taking pupils on school field trips. In 1967 we purchased the house that Bob Maxwell built, from the grain company. At one time we operated the hotel cafe for Paul Buck. Through the years I have also worked in a logging camp at Meadow Lake, Saskatchewan, on an oil drilling rig at Black Diamond, and at an Edson logging camp. In 1943 Chester Botting and I worked as assistant ferrymen with Gib Evans.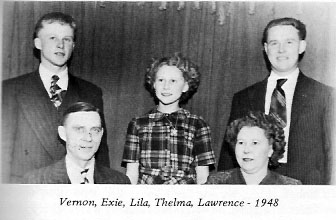 Lawrence married Olga Haveruk of Lindbergh in 1947. They have three girls and two boys, three of whom are married. He once operated the service station about a half- mile from the Heinsburg bridge, and drove the Norway Valley school bus. He drove for both City Cab and Barrel Taxi in Edmonton. He now operates a bus carrying workers to and from Wabamun. He played banjo with the Heins- burg Old Timers for several years. Babe has been involved mainly with the school bus and trucking business. He once had thirteen buses, but now has seven on routes and two spares. Of the seven, one operates at Fishing Lake Colony, with four to Heinsburg from the Lake Whitney - Vee Day, Frog Lake, Fishing Lake and Norway Valley areas. The other two are on the Lindbergh-Elk Point and Cascade (north of Elk Point) routes. He also has two large livestock trucks.
In 1952 he married Colleen Hunt. They have a daughter Lora, who lives at Fort McMurray with her husband Gary Meiklejohn and their baby daughter. Their son Rock works with his father when not on shift at the Salt Plant. He has played Jr. B. hockey, two years each with St. Paul and Vermilion. He won the "Most Gentlemanly Player" award for the 1975-76 season. Colleen has also driven buses and shared in the operation of the concession booth at Whitney Lake. For a number of years Babe played violin with the Heinsburg Old Timers orchestra. He has played baseball, also played and coached hockey.
Lila attended school at Martin and Heinsburg. Later she took a secretarial course at Alberta College, then worked a year in Edmonton for an oil company. She worked at the Salt Plant prior to her marriage to Laverne Wilson, and many times since, when needed. At her death in December 1973 she left a son and a daughter. Thelma and I are retired, still living in Heinsburg. Occasionally I drive truck for Babe. We enjoy card games held at homes of various friends, and in summer spend time at the nearby lakes. We have nine grandchildren and three great granddaughters.