HANS KECK STORY
by Gertrude (Keck) Blacklock
Johannes (Hans) Keck was born on February 7, 1890 in Hermaringen, Germany. He was the second son of George and Margareta Keck. His mother passed away when he was nine years old and he along with his two brothers was raised by a kindly aunt. In March of 1913, at the age of twenty-three, he arrived in Edmonton, Alberta. From there he journeyed to Anselmo to join his brother George who had come to Canada a year earlier. That first summer he and his brother worked on the railroad that was being put through the mountains in the vicinity of what is known today as Mt. Robson, B.C.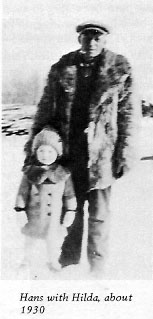 Later he filed on a homestead at Mayerthorpe, Alberta. He never did prove up on it but worked at whatever jobs were to be found. Then in 1924 he came to reside in the Heinsburg area. He purchased N.W. -10-56-4-4 from Joe Hartman and he farmed continuously until 1959. He worked very hard on his land digging and blasting rocks. He never took a holiday that I can remember. He remained a bachelor all his life and always grew a garden along with flowers and shrubs. Roses were his specialty. He baked his own bread, always brown bread and very good indeed. He also canned his own fruit. He was very fond of children and his favorite charity was the Crippled Children's Fund.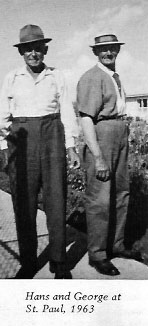 My sisters, brother and I remember our uncle as a very kindly man. He was very good to our family and helped us out in many times of need. He was the only relative on either side of our parents' families that we ever knew. We were indeed very fond of Uncle Hans and have many treasured memories of him. In February of 1960 he suffered a severe stroke from which he almost totally recovered, by sheer determination I am sure. He then made his home for two and a half years with Gordon and I at Dewberry. Here again he was a great help in the garden and with whatever else he was able to do. In July 1962 he moved to Sunnyside Manor at St. Paul, Alberta, where he still carried on with his favorite hobby of gardening and growing flowers. He passed away April 9, 1964 in the St. Therese Hospital, St. Paul, at the age of 74 years. He was laid to rest in the Frog Lake Cemetery.
NOTE: Hans kept a light burning in a window every night of the year. This was a practice on the prairie but whether he owed his life to someone else's light we cannot say.