LUNDEN-BARSTAD STORY
by Mrs. Gudrun (Lunden) Barstad
My family story begins in Kvitseid, Telemarken, Norway, with my mother and father (Anne and Olav Lunden), six brothers (Halvor, Aslak, Olav, Ingvald, Harold and Gunder), three sisters (Sigrid, Lily, and Gundild) and myself, Gudrun.
My dad was a blacksmith by trade and two of his sons, Halvor and Alex took up his trade also. My other older brothers and sisters found themselves different jobs but Norway was a small country, times were hard and opportunities were not too great. America, on the other hand, sounded like the land of milk and honey, with golden opportunities. Thus my oldest brother and sister, Halvor and Sigrid, left home for Appleton, Minnesota in America. Halvor worked as a blacksmith and Sigrid cooked in St. James Hotel. Shortly after, Olav, Alex and Lily left for Appleton.
In 1908 Mother and Dad, Gunhild, Ingvald, Harold, Gunder and myself left Norway to join the rest of our family in Appleton. We landed there on my twelfth birthday, July 29, 1908. Alex met us at the depot and took us to Mother's brother, Olaf Aakre, where we got together with the rest of the family. It was sure nice to be together again. Sigrid and Halvor, who had been the first to leave home were now married. Sigrid had become Mrs. Gerhard Gunderson and was the mother of two. Halvor and his wife Dora also had two children.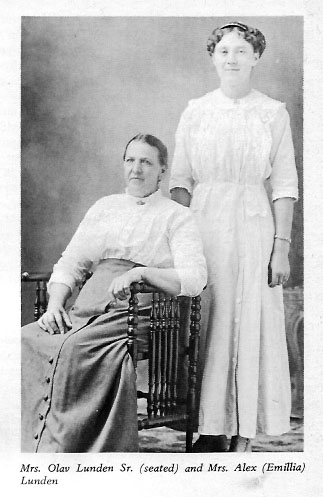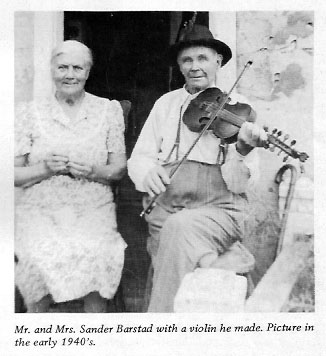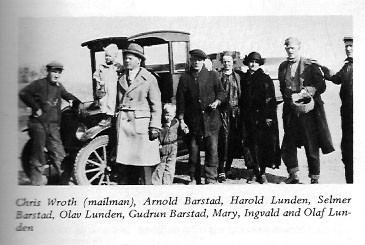 My dad got a job as blacksmith in Appleton where Alex was already working. They worked there until they set up their own shop which they operated for several years. In the meantime Sigrid and Gerhard Gunderson had left Appleton, U.S.A. for Alberta, Canada. Olav was now married and he and his wife Hilda also left for Canada. Letters from Olav and Sigrid and their families told us how they liked this new country, how beautiful it was up there, and that you could homestead a quarter of land for ten dollars.
In the spring of 1914 my mother and dad left home for Alberta and in August of the same year my brother Gunder and myself followed to join them on their homestead in Norway Valley. This was a beautiful country with wild flowers blooming all over the countryside, but it was quite a change from what I was used to in Appleton. In the States we had running water, electricity, good roads and automobiles, whereas up here they only had kerosene lanterns, wagon trails for roads and horse and buggy for transportation.
I still remember when we arrived at Kitscoty on the train; it was dark and the station agent met us with a kerosene light. As we stepped from the train I was surprised to find that the sidewalks were made of wood. Alex met us at the station and transported us by team and wagon to my folks' new home. I sure thought that was a long trip. Even though life here was difficult and there were many hardships, we all seemed to enjoy ourselves.
Shortly after I arrived in Norway Valley I met Olaf Barstad. He had a homestead in Lea Park but was living with his folks, Sander and Signe, on their homestead. Barstads had come from North Dakota to Wetaskiwin and then to Lea Park in 1909. Olaf and his dad worked their homesteads together and in the winter they worked on the sawmill at Minard's Lake, which was owned by Sander and Pete Eidsvik. They also had a threshing machine with which they did custom threshing. Mrs. Barstad served as midwife in the community. She delivered the first white baby in the district, Lyle Open.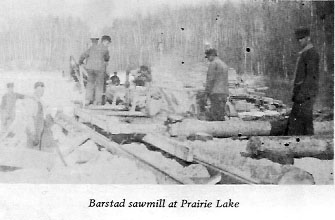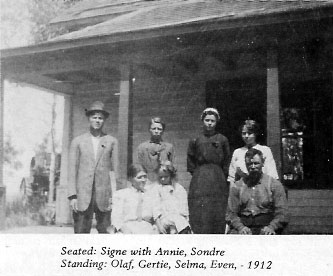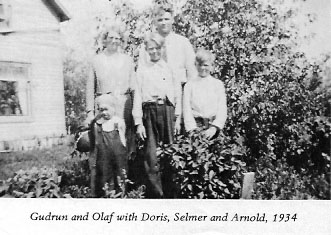 On January 21, 1918 Olaf and I were married in Vermilion, Alberta. When we were married he built us a new home on his homestead and we lived here for the next few years. It was here that our two sons, Selmer, in 1919, and Arnold, in 1921, were born.
In the meantime Olaf s health began failing and he was bothered with arthritis. Therefore in 1923 we left our home in Lea Park for the coast, hoping the different climate would help his health. Unforturnately the change of climate didn't help, in fact his arthritis seemed to get worse down there, so in 1928 we moved back to Alberta and stayed with my brother Olav Lunden, in Frog Lake. On December 12, 1928 our daughter Doris was born. She was the second baby born in the Elk Point Municipal Hospital.
We stayed with my brother until we were able to purchase our second homestead, which joined Olav's farm on
the west. Our new land had been formerly homesteaded by the George Thompson family and therefore there was already a house for us to move into. Our new house had originally been the old Church, located on the sand plains south of the Hans Keck farm, and had been moved by Thompsons. It had been left vacant for some time and was pretty run down but Olaf, with the help of Martin Reitan, fixed it up so it was comfortable.
In 1930 we moved into our new home and then we brushed and broke ten acres of land. Olaf had bought a tractor with which he did our own breaking, also custom breaking. In the fall he teamed up with Olav Lunden, who had a threshing machine, and they did custom threshing.
Then in 1932 Olaf's arthritis got the best of him and he was bedridden for the rest of his life. The next few years involved many hardships but Olaf's high spirit and wonderful outlook on life encouraged the rest of us to carry on. From his bed he taught the boys how to hunt and trap and as they grew older he taught them how to go about farming. It seemed like they always had something in the bedroom for him to help them with. If they weren't building a bobsled they were fixing a wagon or overhauling an engine. Under Olaf s supervision, Selmer and Arnold put together the portable chopper and wood saw which they traveled around the neighborhood with, doing custom grinding and sawing firewood for many of the surrounding neighbours. There were very few tractors in the district at this time so there was quite a lot of work for an outfit like that.
In 1943 we sold our farm in Frog Lake to Olav Lunden and moved to the Norway Valley district. Selmer had joined the army and was away at war at this time. Arnold had stayed home to keep the farm going. In 1944 Selmer returned home from the army and he and Arnold farmed together for the next few years. Shortly after we moved to Norway Valley Sander and Signe Barstad, who were at retirement age, built a small house in our yard and left Lea Park to come and live with us. Sander loved carving woodwork and therefore he spent many hours carving ornaments of wood. He also made high quality violins from native wood.
On December 26, 1947 our home was the scene of a double wedding when Arnold married Edna Kinshella, daughter of John and Thelma Kinshella of Hazeldine and Doris married Iver Gunderson, son of Oscar and Vena Gunderson of Norway Valley.
In July, 1957 Sander passed away and shortly after, in November of 1957 Olaf passed away after being bedridden for twenty-five years. Signe left Norway Valley then to live with her daughter Mrs. Pete Eidsvik (Gertie) in Vancouver. She lived there until she passed away on December 7, 1966, at the age of one hundred years.
At present I still reside in Norway Valley with my son Selmer at home. Arnold and his family, and Doris and her family also live nearby in the Norway Valley district. Times have surely changed since I came to this country and I am now enjoying life with modern conveniences along with my children, grandchildren and great granchildren.
Note: Gudrun Barstad passed away in the summer of 1976.
Did you hear about the man who gave a loud speaker to the church in memory of his wife?