ERIC AND VELDA THORNE
Eric Howard Ford Thorne was born and raised on a farm near Fort Saskatchewan, Alberta. His parents, Charlotte (Ford) and Albert Thorne, were early settlers and came from Parry Sound, Ontario to the Fort in 1899. In 1935 Eric and I, Velda Skaggs (raised in Edmonton), were united in marriage. In 1939 our daughter Valerie was born. Our little family moved to Heinsburg in 1940 when Eric took over the U.G.G. elevator from Gerald Lawrence. This was quite a move for us. We had never heard of Heinsburg, but when the superintendent of U.G.G., Lorne Campbell, came to our farm and asked Eric if he would consider this offer, he accepted. Farming was not very good at that time, and we were prepared to take on something a bit more lucrative.
Eric went to Heinsburg immediately. Baby and I remained on the farm to see the crop taken off. Eric slept in the U.G.G. office and boarded with the Lawrences. Valerie and I came by train in the first part of November. Eric and George McMullen, the drayman, met us and took us across the river on the ice. Eric had rented a very old log house from Bill Crook. It was south of the river. Many years later it burned. There was just no house to rent or buy in the hamlet of Heinsburg. Gerald Lawrence had gone, but his family were waiting for him to get a place for them. Things in 1940, and for quite a few years, were primitive. The nearest hospital and Doctor (dear Dr. Miller) were 26 miles away. The trail was through sand and very winding.
Now I am ahead of myself. The night Valerie and I arrived we were crossing the river and George McMullen said, "Mrs. Thorne, do you see that light away up on that hill?" He was pointing south. I said that I did. "Well, that is your new home," he told me. At that moment I wished I'd remained at Fort Saskatchewan. In the morning I looked north to Heinsburg. There was the little place, and I looked (or tried to look) beyond, but the hills kept me from seeing further. I kept wondering what was beyond, if in fact there was anything. To me it looked like the jumping-off place. We found everyone very friendly. Valerie and I had been to the stores in town and to some homes, but that was as far as we got until about February. We had been ill with 'flu, both baby and I. Eric had Doc Miller come. He was driven in a cutter. He made me feel much better. It was a case of pleurisy, and soon we were well.
Then Eric came home from work one Saturday and told me the Ben Bendixens had invited us for Sunday dinner. I was so happy to get to go some place. "But how can we get there?" was all I wanted -to know. Eric told me that Frank, one of their boys, would come for us. He came with a sleigh and took us. At last I saw what was beyond that hill. It certainly was no jumping-off place, but miles and miles of beautiful farmland. This we did not see at the time, but could later on when everything turned green and lush.
In early summer we bought the Lawrence house, which was two granaries joined together, and were happy to move into Heinsburg proper. We made some wonderful friends there whom we have to this day. We tried to be active and help promote things in town. We bought a new car in 1941 (a Mercury) and that served us well, as it did many others. It was transportation for many to hospital in Elk Point. We did have some close calls! Just to name a few: Mrs. Roy (Doris) Jones had been in Elk Point waiting for the birth of Delbert (a false alarm). She decided to come home until she was really ready to be confined. She stepped off the train, realized "this is it", and came to our house. It was a Tuesday, I believe, for I was washing clothes. Bill Lorenson hauled our wash water in a barrel. I had a gas- powered washing machine. The electric power was only available on Mondays. Alma Rainey shared our wash house and her machine was electric. Anyway, Doris found me and told me she had to get back to Elk Point. Mrs. Jack McMullen came over and finished my wash while I rushed Doris to hospital. The road was very poor, only a trail, but we got there just in time for Delbert's arrival. He was born before I got the car turned around.
Then there was the day when a young girl came to our house just as I was washing lunch dishes. I believe her name was Sawak. Anyway, she told me in no uncertain terms that Grandma Scheidel had torn some fingers off and to come right now. Again dear Anne McMullen came to my rescue and finished up. I took Mrs. Scheidel in the front seat with me while Joe Block had Valerie to babysit in the back seat. I was glad Joe came. It was the first snow that came to stay and the ruts were full. It was bumpy and Mrs. Scheidel was in so much pain. She kept saying, "Please hurry." In the back I could hear Valerie upchucking. She always got car sick. Poor Joe was having a time. We always kept newspapers in the car just for this sort of thing. We got Grandma to hospital, then went to a service station. While the attendant washed off the floor of the car Joe and I had coffee, which we badly needed. Our car smelled so much better on the way home.
Eric, in the wee hours of the morning, got a rush call from Andy Stepaniuk, who managed Imperial Lumber, to take his wife Helen to hospital. Eric pulled his pants on over his pyjamas, and they barely made it for Garry to be born in the hospital. Then there was a Frenchman, Briere, who always seemed to take ill suddenly. Eric had taken him to Elk Point many times, but this day I had to go. All the way he kept saying, "Me seek like a dog." I was scared but found out that he was often that way (sick like a dog).
Andy Boyd took ill one New Year's Eve. Eric and Jim took him to hospital and they had quite a time. The roads were bad and they had to go part way on the river. Walter Buck (now Dr. Walter Buck, dentist and M.L.A. at Fort Saskatchewan) was our babysitter and one of the best. Mrs. Johnnie Gregor (Margaret) could not make it to the hospital and I was called to the Rudolph Gregor home to deliver her baby. God, how I prayed there would be no complications. We did not have to worry too much. It was over soon. I got there at 5:00 a.m. and at 5:10 the baby came. Poor Margaret - not even an aspirin. She was so brave. Her baby weighed in at over four pounds and was named Velda Alice. That was the first baby I had delivered by myself. I had, however, assisted before. I phoned Dr. Miller and told him about it. He asked numerous questions and praised me so highly. I really felt good.
Then there was the time when permanent waves were hard to come by. No Tonis in those days. We had a friend in Fort Saskatchewan who operated a beauty parlor. She took a few days vacation from her shop and came to Heinsburg to do perms. She packed up her equipment, and Eric's sister and her husband brought her. In the meantime I advertised her coming, mostly by word of mouth. She was booked up almost day and night. We had collected rain water, a huge tank full. This had to be heated on a coal and wood stove and the reservoir was kept full. It was summer. My sister-in-law and some of the neighbors helped. We washed hair, dried it outside, and finished with the vacuum cleaner blower. The power was kept on for this deal. I cannot remember what the operator paid for this, if in fact anything. Ladies were all over the yard trying to dry their hair. In those days it was all machine perms. We were all happy to get our hair done. I don't know how profitable it was for our friend, the hairdresser. I got a perm out of it and was happy.
In the war days scrap iron was being collected. Gordon Rainey, who bought for Federal Grain, weighed and stored it until it was ready for shipment. I was Gordon's weigher when he was away, but it was weighed on U.G.G. scales. Eric often left me to weigh grain and look after the elevator, generally while he was out helping some farmer. Gordon and Eric were opposition but very good friends, and still are.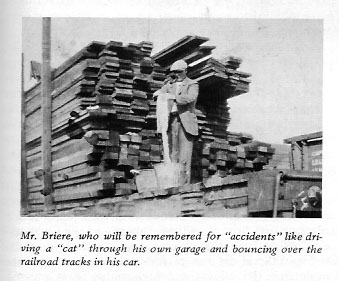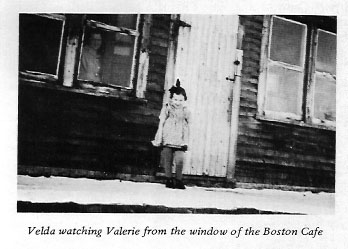 There were quite a number of boys in the service and we thought we should do something for them. The only way was to form an organization. That was the birth of the Auxiliary to the Canadian Legion. Leonard Coombe was a big help. We got Carl Heckbert from Vermilion, who seemed to know what it was all about. I would not know if there is one charter member left in Heinsburg. Mrs. Greenwood was president and I was secretary. Bingos were illegal, actually, at the time, but we had a lot of them. How else were we to raise money to send our boys parcels? Right now I must say all the merchants in Heinsburg were very generous, and without their support we could have done little. We had to draw the line somewhere, so to qualify to receive parcels the boys in service had to get their mail at Heinsburg. All the ladies worked very hard and we mailed a lot of parcels. We sent 100 cigarettes per month, I believe. With every parcel we tried to send a cheerful message. I received lovely letters from some of those boys.
Just before Christmas one year Eric presented me with the key to the Boston Cafe. He had bought Joe Fong out lock, stock, and barrel. I actually thought it funny at first, then I think I really wanted to cry. God bless Eric for his faith in me. Joe was good enough to show me what he could. Elsie Crook (Ralph's wife) had previous experience in cooking in a hotel dining room. She and I worked together. We cleaned the place thoroughly. I learned a lot from Elsie. I had never made more than two or three pies at a time so she showed me how to make huge batches of pastry. Ralph was transferred to Lone Rock, Saskatchewan, and Elsie had to leave. It was like losing my right arm. I worried and worried some more. Thanks to Elsie's trali4ing all went well. I had a roaring business. We had a station agent by the name of McDonald. He nicknamed practically everyone in business. I was known as "Chicken Loaf Sadie." One day I cooked a huge pot of raisins for pies and put them in the back porch to cool. Nick Ballas had a curious cow, and apparently hungry for raisins. She knocked the lid off and ate what she could before I got to her.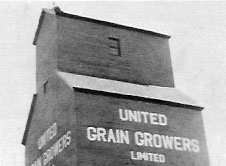 Eric on top of the elevator
The year we left Heinsburg we had an auction sale (March 1945). It was a lovely spring. I had gathered quite a few hats over the years, and the day before the sale we had a hat show. A few years after leaving Heinsburg, Eric went with the Canadian Wheat Board as an inspector, and he remained with them until his retirement in 1973. We live in Camrose, the Rose City of Alberta. Valerie was married to Ray Meyer in 1959. To this union two children were born: Beverly in 1962, and Glenn in 1964. In 1966 Ray was killed instantly in an accident in Calgary. In 1969 Valerie married Chester Forre. They live on his farm north of Bawlf.