ARCHIE DEWEY
I was born in 1909 in Minnesota, U.S.A. and my parents, George and Kittie Dewey, came to Youngstown, Alberta when I was a baby. I began my education at Rainbow School in Youngstown district and later a new district was formed within the district of Youngstown, called Lexington. Our home was a farm eighteen miles from Youngstown. I changed schools and went to Lexington. Sometimes I walked the two and a half miles, other times I rode horseback or drove.
I was thirteen years old when we left southern Alberta and came to the Frog Lake area in the fall of 1922. For two years we lived on N.E. 2-56-4-W4th which had belonged to Jack Lawrence. Dad rented it from Jack's widow, Mrs. Bob Peterson. Then we rented the N.E. 36-55-4-W4th, from Frank Holmes. We also rented fifteen milk cows from him on shares. I went to the Martin School where Miss Dorothy Tennyson was teacher. I went one term but Dad needed my help on the farm so I quit school.
We farmed with horses and machinery we had brought with us from Youngstown. Dad bought an Avery threshing machine from, I think, Vermilion. It was run by a 15-30 McCormick Deering tractor. At first I hauled bundles from field to machine. Later, I became separator man and took on the responsibility of keeping the machine in good running order. Articles such as rocks, hammers, wrenches, parts of binders and even forks or pieces of fork handles were caught up with the bundles and tossed into the feeder with disasterous results. Quite often Dad and I worked all night repairing breakdowns so work could start on time in the morning. Any stop was expensive and if we had to hold up too long the crew became impatient and the housewife disgruntled at having to cook for the men longer than the job warranted. I remember several times when we took the crew home with us for the night when a job was finished at suppertime and the next place wasn't prepared to give them breakfast. Mother seldom complained at cooking breakfast for anywhere from six to ten unexpected men. We tried to get the machine in operation by seven a.m. and worked until it was too dark for the men to find stooks in the field.
It was wonderful to have old friends from the dried out south visit us; to see and hear them enjoy the lakes and bushland of this north-eastern Alberta community. Harry Jenner and George Kinch were my first friends here. We spent so much time together that we were dubbed "The Three Musketeers of Frog Lake." We are still close friends and enjoy fishing or a friendly game of cards together.
I homesteaded the last quarter of land available for homesteading in this district when I was eighteen years of age, N.E. 35-55-4-W4th. I built my house on the homestead and set up batching. Later I tore the house down and hauled the lumber to use at Elk Point.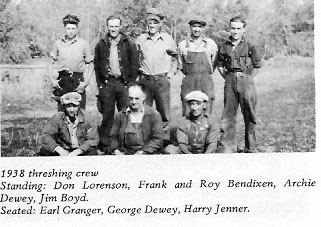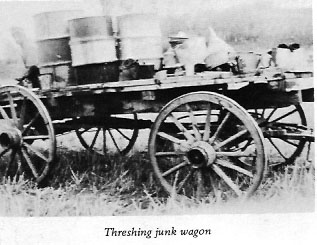 My brother Russell and I liked hunting and skating, and we joined the various local ball teams and other sports.
I helped Dad haul grain to Lloydminster by team. These were long, hard trips in all kinds of weather. We tried to pick nice mornings to leave but as each trip took almost three days we often had to travel in bitterly cold weather or over roads filled with drifting snow. Each winter we also hauled two loads of wheat to the grist mill in Lloydminster.
Dad puchased the S1/2 35-55-4-W4th from the British American Land Co., built a new house and this became their permanent home.
The winter of 1955-56 was one I will never forget. The snow came early in October and was still on the ground until late in May. Blizzard after blizzard, and the snow removal equipment the County had at that time was quite inadequate and we were snowed in for weeks at a time. It was October 29th and a terrific storm blew all day and all night. Dad had made arrangements to go to Whitecourt to work with Russell. The next morning he had to go to town to wire that he was coming as soon as possible, as we had no long distance phones at that time. Dad had shovelled the truck out and I came over to tow it to the main road with the tractor. We had almost reached the gate and I looked back. Dad was slumped over the steering wheel. He was gone by the time I opened the truck door. Heart attack!
In 1965 Mother sold her farm to Floyd Bendixen, I sold mine to Iver Bosvik, and we bought a house in Elk Point. There, I worked as carpenter in Macleods store and did other odd carpentry jobs around town. I also helped farmers during the rush seasons.
At time of writing, Mother has passed away and I am lining up to sell my effects. I intend to move to Whitecourt to spend my retirement years.