THE FRANK BROWN FAMILY
by Alice Jones
Frank Brown, born Lansing Michigan, U.S.A. October 9, 1882. Emma Shelsted, born Oslo, Norway, April 27, 1882.
Frank Brown, his wife Emma and eight children arrived by Model T. Ford car from Appleton, Minnesota on October 9th, 1920, purchased land in the Norway Valley district and tried to make a living for his family. To overcome some of the expenses of farm living in the early 1920's Frank would leave his wife and family to care for the farm and travel with the threshing crews throughout the Marwayne and Kitscoty districts, sometimes being away from home for as long as two months at a time.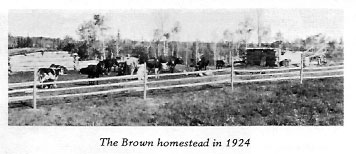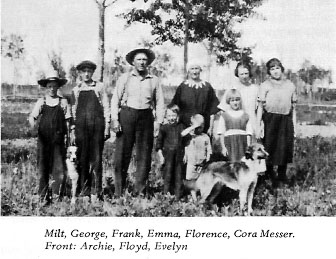 In 1921 another son was born. In 1922 Frank traded his land for cattle and took a homestead north-east of Norway Valley. The children walked or rode horseback five miles to Norway Valley, and later, Tulliby Lake schools. During the winter months the trek was hard on the children, lunches were often frozen and had to be thawed on the old pot bellied stove.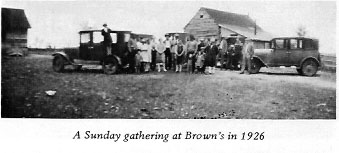 In 1929 Frank and his neighbors formed the Acomb school. Frank was one of the trustees. Miss Kinch was one of the first teachers at the new school. Frank loved to sing and often entertained at community dances and neighborhood gatherings. He farmed his land during the depression years until his death in 1935.
Emma and her sons carried on as best they could until 1940. Walter had returned to the United States to live, Milt had married and left the district, the remaining sons and their mother then moved to Smith, Alberta, where they bought another farm. Soon after this move, both Archie and Floyd were drafted into the Army. George was left to care for their mother and carry on with the farm work. Archie was wounded in Sicily and given an honorable discharge in December 1945. Floyd returned home from war in February 1946. Archie took over the farm and Floyd moved to Edmonton where he took a position with the R.C.M.P., a job which he still takes pride in doing. George also moved to Edmonton and worked with his brother Milt in the carpentry business.
Emma lived for a time in her own small house, near her son on the farm at Smith and then moved to the Senior Citizen's Lodge at Athabasca. She later moved to the lodges at Vermilion and Stony Plain. In her 80th year she was moved to the Jasper Place Park Lodge in Edmonton and passed away there in 1971. She was buried beside her husband in the Frog Lake Cemetery. Frank and Emma Brown are survived by their nine children, Walter of Restil, Washington, U.S.A., Hazel (Wilson) of Dewberry, Florence (Racher), George and Floyd of Edmonton, Milt of Courtney, B.C., Mabel (Hicks), of Islay, Archie of Smith, Evelyn (Thompson) of Dawson Creek, B.C., numerous grandchildren and great grandchildren.
My grandfather passed away before I was born and it is my great loss to never have known him personally, but having lived near my grandmother for many years, I knew her to be a generous, kind and patient person, whose entire life centered around her family. In her quiet Norwegian accent, she often related happenings of her earlier days to us, her grandchildren, whom she dearly loved and in whom could always find something to be proud of in each and every one of them. One example of her love and kindness was the care she gave her grandson, Dewey, who lived with her from a tender age until 1950, when he joined the U.S. army, returning to Canada and my grandmother, after serving three years in Korea.