THE BAKALA FAMILY
by Nick Bakala
My parents, Josephine (Josie) and Onufree, were married in Europe in 1901. They knew Fred Plishka who was already in Myrnam, Alberta, so, in 1905 they, too, came to Canada. There were eight children, all still living except Bill; who died of a heart attack while trapping at Gamier Lake in 1940 with Henry Kline, and Mary (Ballas), who passed away in the spring of 1969.
I was born in 1909. We attended Uhryn School. During the 1918-19 flu all of us were ill and I almost died. We were quarantined for three weeks and depended upon neighbors to do chores and bring needed supplies.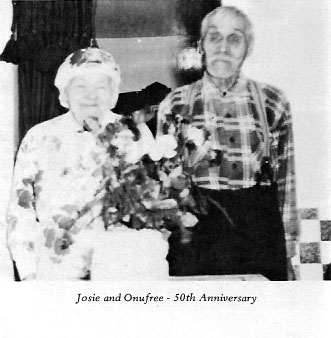 When I finished school I remained to help on the farm. In 1934 we moved to Primula where we rented from Pete Gochko's father. Two years later I bought land on Laurier Lake from Marsh Upchurch. My parents lived there with me until 1947 when they moved into Heinsburg. Mother died in January, 1959. My father spent most of his remaining years with my sister Mary. He passed away in April 1967 and was buried beside my mother in the Frog Lake cemetery.
On the Upchurch farm (N.E. 26-56-4-W4) I broke about 80 acres, using Morris Kuziw's steel-wheeled John Deere. I also broke land for Fred Bristow, Jack McGowan, Pete Lypowy and others in Primula. I kept about twenty head of cattle.
When I joined the Army (Seaforth Highlanders) in the fall of 1941 my brother John took over the farming of my land. After basic training at Currie Barracks, Calgary I went to Grande Prairie for advanced training. March of 1943 found me overseas, where I spent three months in England. On July 12 of that year we took part in the invasion of Sicily. From there we moved into Italy, where I spent two and a half years. As an infantryman I carried a Bren gun.
When Italy fell we moved on into France, Belgium and the Netherlands. Paratroopers were dropped to hold the river crossings until the infantry could get there. While in Holland two things happened to change my life: the war ended, and I met Elizabeth Triture.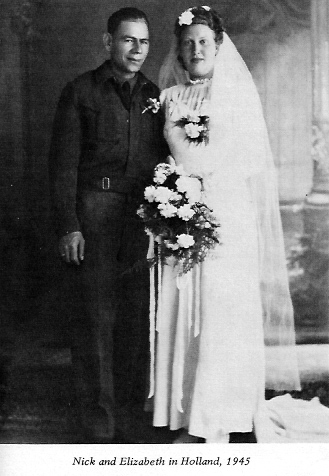 I took up cooking, and later all cooks were "frozen" or kept on the job rather than being sent home. We fed the repatriation troops. On July 12, 1945 Elizabeth and I were married. By April of 1946 I had been returned to Canada. Elizabeth followed about Christmas time with our daughter, also named Elizabeth. That summer of 1946 I worked on the Heinsburg ferry.
John was still on the farm but later moved into Heins- burg to do welding and blacksmithing at Walter Mykytiw's garage. He later worked for Vic Dennills in Dewberry.
Our family grew with the addition of Bertha, Niki and Karl, all born at Elk Point. During our years in the Frog Lake district we spent a great deal of time with Tom and Ivadeane Lungul, sharing such simple but enjoyable things as making homemade ice cream.
We left the farm in 1950. I rented first to Eric Younghans, then to Nick Ballas, and finally sold to Fritz Younghans. An ad in the paper offered employment at White's Lumber Camp at Dryden, Ontario, about eighty miles from Kenora. I signed on as a carpenter's helper, making cabins, sleighs, etc. After two years the company folded, and with it, my job.
For a few months I worked for the C.N. as a section man and relief foreman. Then for two years I worked for Jan Timber. In 1954 I went back to work as section man for C.N. and remained with the railroad until I retired in 1973.
I now live in a trailer in Dryden. My wife went back to Holland in 1969 but the children remained in Canada. Jimmy, Paula Anne, and Ella had been born in Ontario but in 1969 the two girls were the only ones left at home with me.
Today, in January 1976, all the children are married and I have ten grandchildren. Elizabeth, Karl, Jimmy, and Ella are in Dryden; Bertha in Winnipeg (about 200 miles away); Niki at Ear Falls, Ontario; and Paula Anne at Red Lake, also in Ontario.
My sister, Grace, was married to the late Dyle Norton, who was once a blacksmith at Heinsburg. She lives at High Level. She has two daughters - Annette (Mrs. Vernon Keast) of Millet and Joyce, of Blackie, Alberta - and one son, Stanley. John makes his home at Prince George, B.C. and Sophie lives at Meath Park, Saskatchewan. Margaret, Mrs. Tom Giesbrecht, is in Vancouver, and Annie (Spurgeon) lives in Penticton. Her husband, now deceased, was station agent at Heinsburg years ago.