MY MEMORIES
by Clyde Resler Sr.
I was born in 1885 in the town of South Bend, Indiana, 86 miles from Chicago. My father was a Mennonite Brethren in Christ Minister. I had three brothers who have all passed away. When I was between thirteen and fourteen years old I went to work in the Singer Sewing Machine repair shop. There were a hundred men working there; I had to look over their work and if they had missed any I had to give it back to them to fix. I worked there until the Indiana Child Labour Laws, that didn't allow anyone under the age of fifteen to work, caught up to me and my parents were told I could not keep working. When I was fifteen I saw the soldiers returning from the Boer War. That was a wonderful sight. At fifteen I went back to work in the repair shop.
I was about twenty-one when Henry Pleasant Parrot, who worked with me in the repair shop (I always called him Old Polly) said to me, "There's free homestead land up in Rudser, North Dakota. I'm going and you'd better come along." We took the train from Chicago to Williston, North Dakota where I stayed and worked while Old Polly went on to Rudser and filed on adjoining homesteads, one for him and one for me. We walked from Williston to Rudser, a matter of forty miles. One night we slept in a fellow's straw stack. He charged us for the night's lodging so I evened it up. I stole a hen and rooster. I stayed in Rudser three years until I proved up on the homestead. I then worked for old Dad Rainboth, whose son Ernie later came to this Heinsburg district. I met Alma Haase in Grand Harbor, North Dakota, twenty miles west of Devil's Eake. We were married in Williston in 1907.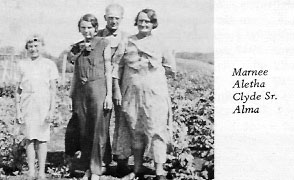 I came to Calgary, Alberta in the spring of 1908, and later Alma and our six month old daughter, Aletha, joined me. We lived in Calgary for several years. I recall that while hauling gravel for a sidewalk contractor by the name of McKibbon, I was taking a team back from the blacksmith shop. I tossed the haltershank over one of the horse's necks, thinking he would walk into the barn, but he was feeling good and let his heels fly, catching me on the jaw, which broke my jawbone. The fellows rushed in to help and asked if they should call an ambulance. I said "No, I don't need any ambulance," to which one fellow remarked, "If you could see yourself as I see you, you sure would think you need an ambulance." So they called one and took me to a doctor who set my jaw and sent me home.
In 1910 or 11 we decided to go homesteading in Youngstown, Alberta. I took the train from Calgary to Brooks where I got off the train without my shoes on. The first thing I did was step on a cactus so I put my new shoes back on and walked, I think it was forty miles, to Youngstown, crossing the Red Deer ferry on the way.
We had several years of good crops in Youngstown, although grain was worth very little. We were burned out twice within thirteen months and somewhat later the dry years came. In winters I worked in the Shearness coal mine. Charlie and Daisy Gibson, who came to the Frog Lake or Heinsburg district, had a homestead near us and Charlie also worked in the mine. Year after year we planted our garden, and sometimes the seeds never even came up. Once or twice the seeds we had planted the year before came up the following spring. One season after all our expenses were paid we had 12 or 13 bushels of grain left and the municipality seized that for taxes.
The government told us if we could find land up north they would pay our transportation, so Andy Boyd and I came to the Martin and Norway Valley districts. After arranging for the old Jim Howse quarter in Norway Valley, I went back to Youngstown. Shortly after my return Alma, the children and a young friend, Cy Pratt drove from Youngstown to Norway Valley in the buggy. They remained there for some time, then, perhaps because Alma got lonely for me, she caught a ride to Vermilion with George Dewey and took the train to Youngstown.
I loaded up our stuff into a hay rack and with a fine herd of horses and a nice flock of sheep we left the south. I had built a kind of manger on the side of the hay rack and put some hay in it so the sheep could eat on the way.
change from prairie wool hay to bush grass. Although the grass was up to their bellies, they got thinner and thinner and died. In fact, a team I was driving on George Dewey's threshing outfit dropped dead. They say it was swamp fever caused by the change of feed. We lived in the old Jim Howse log shack until we could build a better home. I went back south in the spring and planted my last crop there. Another failure. The municipality also seized it for taxes.
Our children went to the Norway Valley school. The wife had a spinning wheel and spun wool from our own sheep and knit warm sox, mitts and sweaters for the family. It was wonderful to have enough fire wood just for the hauling. We soon made many friends and often our house rang with the sound of young people who came to dance and sing while Alma played the piano. She could play almost any instrument by ear, but loved her piano best. While on the prairies she used to haul it from schoolhouse to schoolhouse to play for dances and concerts. When our home burned down in the first prairie fire she and her piano were away playing for a dance.
We planted a huge garden each year, which unlike the prairies seldom failed. Alma was always happy to load out friends and neighbors with armloads of vegetables, especially anyone from the prairies. We had brought some cattle with us, raised some fine calves, and increased our herd. We could even grow enough hay and grain.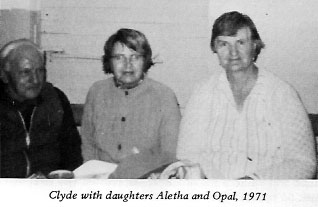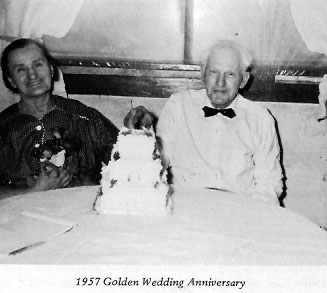 Alma passed away at the age of 70, a few days after receiving her first and only Old Age Pension cheque. Sometime after Alma went, Aletha began raising bees, which were quite successful. Also, a wild Canada goose stopped on the slough near our house and mated with our tame goose. I still have some of their off-spring to keep me company. I always liked geese and had one on the prairies that followed me around like a puppy dog.
On September 21st, 1974 I reached my 89th birthday. I am very fortunate that my wife and I could celebrate our golden wedding with our neighbors and friends, a few years before her death.
Our children - Aletha (Mrs. Elmer Grauman), Elk Point, Alberta; Opal (Mrs. Willford), Abbotsford B.C; Clyde, Drayton Valley, Alberta; and Eddie, who was seriously hurt in an oil drilling accident, and still at home under medication; Marnee (Mrs. R. Grant), Fort McMurray, Alberta. They are all near enough for us to visit back and forth. Last year I gave up driving my car although my eyesight and hearing are both very good for my age. I am still in good health. At present Eddie and I still live on the old homestead that Alma and I came to so many years ago.