A CHAT WITH EMILE DUROCHER
by George Kinch
I was born into a family of eight boys and two girls. My father, Fredrick Durocher, was born in Morinville, Alberta, but moved to St. Albert where he grew up. It was here he met and married Eliza Bruno. She had been raised in a convent. Sometime after they were married they left St. Albert to live in the Metis Colony at St. Paul de Metis. That is where I was born and spent my school years. When the colony broke up, Dad decided we had to move from there, so he took a homestead in the Beaver River district, north of Glendon. We lived on the homestead for maybe two years, then moved to Rife, by Moose Lake. Dad passed away there and Mother raised us the best she could with the help of my two oldest brothers.
After mother passed away a man from Kehewin put my two youngest brothers, Dan and Gabe, in a convent at Onion Lake. I went with my brother Harry, and got a job in a sawmill at Lac La Biche. They thought I was too young; I was only sixteen, but the boss said, "Try him. Put him to work." It was hard work; we loaded railroad ties onto flat cars. Everything was done by man-power; no big machinery like they use today. We worked in the sawmill for two months and with packs on our back we walked home to Rife.
Our sister had married Jim Gladue, and one night on our way home from Lac La Biche, we stopped with their family. Another night we stopped at the farm of a Ukrainian family to buy a loaf of bread. They let us have an extra big round loaf and gave us butter and eggs so we wouldn't go hungry. We insisted that they take the money for it. When we got back to Rife there wasn't much work to be found so I stayed with my brother Louis who was married. I helped him with the cattle and we did some trapping. Five dollars went a long way in those days.
When I came to Fishing Lake I was nineteen years old and I have lived here ever since. At times I went out to work. I worked for a farmer, Bill Davis, near Lloydminster. Most falls I went out threshing and I did a lot of trapping. It was the only way to earn a living in winter. I never had much luck hunting bigger game. I don't know why I could never hit a deer but I could hit a muskrat and small animals at anytime; "I never did like hunting."
I got married in 1925 to Isabel Delorme. She was born at St. Paul-de-Metis in 1903. She came to Fishing Lake when she was nine. Her father was Charlie Delorme. I first met her here. Her old man cut a trail from the Indian Reserve to Fishing Lake. When they first came they camped on the other side of Fishing Lake but the Indians wouldn't let them stay as it was Reserve land, so he moved camp to the other side of the lake where the cowboys are now. He was glad the Indians told him before he built.
This lake was named Fishing Lake because of the wonderful supply of fish. I wish the post office could have been called Delorme, since they didn't want to call it Fishing Lake, because Old Charlie was the first settler in here. The Indian name of the lake is Packe-cha-wanis.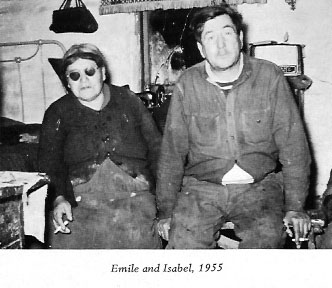 Old Man Delorme worked to get the colony here. He couldn't read or write but said, "Before I die I am going to try to get my people (Metis) a place." My brother Julian said to him, "Let us see what Joe Dion can do for us." They wrote to Joe but I don't know what he answered. Finally they went to Edmonton where they talked with Frank Buck, Dr. Cross, M.L.A., and Old Sam Berg, M.L.A., for this district. They dealt with Charlie and after he and Julian came back they held meetings.
There is supposed to be a ninety-nine year lease but they tell me they cannot find the contract. I dreamed that a man told me to ask Sam Berg about it. Later I met Sam at the Frog Lake store and asked him about the lease. He said, "Yes!" it is not a colony, but a reserve for ninety-nine years." I went to his house at Marwayne and met with him, Dr. Cross, and Ray Rierson, member for this district, and was told, "If you guys don't look for it, you will never find it." I know it is still there some place.
My brother Julian and I worked on the survey of the colony (donated work). One day when we were sitting eating our lunch the surveyor said, "Boys, you know this colony is for you Metis people and for no one else; you can stop anyone else from as much as cutting a little poplar tree on this land." Sam Berg had said the same thing to me.
Isabel was a good woman, and a good wife to me. We were very happy and had a good life together. It was hard to make a living in the thirties. I cut brush in the summers and in the winters I cut tamaracks and hauled them out to sell. The only way we had to travel was by team. Young folks today have an easy living. In my day I had to work long hard hours to get enough for my family to eat. We used to haul wood to the sclool instead of taxes, but now they have to pay a ten dollar tax.
The world is changing too much; not only people but the world. We used to have good summers and winters: summer seems short now.