BESS AND PHIL SILLEM
by Harry G. Jenner
Memories gathered from neighbors in the Frog Lake district.
Phillip 0. Sillem was a remittance man who had left, as he described it, a wealthy home in England; crossed the English Channel to the continent; spent some time in Russia and other European countries before going to Australia where he spent several years, then came to Calgary, Alberta. In 1912 he came north-west to Frog Lake.
Somewhere in his travels he met the widow, Mrs. Elizabeth Edwards, birthplace England. She had worked as a barmaid in the Yukon during the Klondike Goldrush before going to live in Calgary, Alberta prior to coming to Frog Lake to marry Phil.
Shortly after arriving at Frog Lake Phil filed a homestead on the S.E. 12-56-4-4. His knowledge of farming must have been very limited for he chose one of the rockiest quarters in the district. He bought a house from a homesteader who had given up the struggle and decided to look for an easier living. The homesteader, Bert Cowdell, had hired Ed Durett to build the frame house which Phil moved to the homestead, then sent for Mrs. Edwards (Bess). When she arrived she came to Inglenook Farm where she stayed some time before the wedding that took place in the Jenner home.
Their personalities were, in many ways, unsuited to each other; he being a quiet, retiring English country gentleman type, she, a decided extrovert, an outspoken person, fond of company and would give the "shirt off her back" to a needy neighbor. However they both were fiercely independent and asked for as little help as possible from their neighbors, refusing to accept anything they could not pay for.
Phil had invested most of his money in the Russian Breweries before coming to Canada and lived in the expectancy of receiving dividends that would help them develop the farm. These dividends never materialized and after the war of 1914-18 they tried hard to get their money out of Russia but were unsuccessful and lost it all.
They raised a fair number of cattle and shared a common love for horses; she loved dogs and he loved cats. Any animal they owned was a bit too well fed and their livestock was always overly fat. They had several large Percheron horses, one (Sandy), that weighed about 1800 pounds and Tom, about 2,400 lbs. They could never bear to dispose of their pets particularly the cats that increased until, at one time, they numbered over forty adults. They were always well fed; Bess boiled wheat in a big kettle for them and they always had all the milk they could drink. One which Phil called Nicodemus perched on his shoulder at mealtime and shared the food almost bite for bite.
Phil was a small, thin man and heavy farm work was too much for him so they hired neighborhood boys, or their Indian friends, to do the field work, always paying a generous wage.
Phil and Bess had no children but Bess had a daughter Mabel who remained at Calgary and married Stan McMurray. Mrs. McMurray came to visit her mother and Phil as often as possible, bringing her three children Mabel, Mary and Norman. These grandchildren loved the visits to the farm and the wonderful country meals that Bess loved to cook for them. The McMurrays were their only relatives in Canada.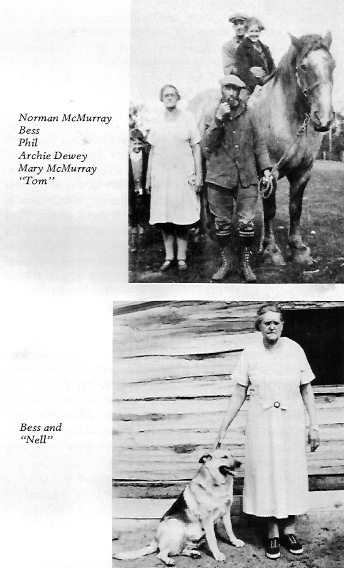 Bess took an active interest in everyone in the community. She was midwife and brought many babies into the world. She was available to anyone needing a helping hand especially in sickness, and during the flu epidemic she was precious. She was janitor of the Frog Lake Community Hall for several years, doing an excellent job for very little pay. A vigorous person, she loved to walk, but for longer distances drove a single horse and buggy. Wherever she went she was followed by her little dog, Shortie, and later by a German Shepherd she called Nell.
To say the least Phil was eccentric. He always wore a cap at the table; don't get us wrong, it wasn't his old work cap; he changed it for a special, clean, lightweight one before he sat down to eat. One evening we had been invited for supper and surprise of all surprises! Phil came in, washed and sat down to the table bare-headed. We had so seldom seen him without a cap that we rarely saw his nice hair that matched his neatly trimmed beard. At that time he did have a small bald spot. Nicodemus jumped up to his usual perch on Phil's shoulder and Phil fed him bite for bite. About halfway through the meal Phil gave his bald spot a rub with his forefinger, got up muttering, "domned flies.", put on his mealtime cap, sat down and finished the meal.
He seldom visited his neighbors and didn't enjoy it too much when they called on him, although he tried to make people welcome and, if one could get him to forget the impediment in his speech, was an interesting person. They lived on the homestead until Bess passed away in 1943 after a lengthy illness and Phil left the homestead to live in Calgary until he passed away.
They were often viewed with amusement by their neighbors and Bess, never at a loss for words, could be depended on to add a lively and cheerful conversation at local gatherings. They were well liked, respected and greatly missed in the neighborhood. Both rest in the Frog Lake cemetery.