MEMORIES
- by Alma (Bowtell) Johnson
When Marge was about four years old, Mom said she and I could take Dick (the horse) and buggy and go and see our neighbor. (Can't recall the name). She warned us not to be too late as I would have to go for the cows when we got home. However, if Mrs. -- asked us to have lunch we could. We had a nice time, and after the lady had given us some very treasured odds and ends of ribbon, lace, and fancy buttons, I said we would have to be going home. Then Marge spoke up, "Mamma said we could stay for lunch if you asked us." Embarrassing at the time, but I will never forget it. She was a cute kid!
Many fond memories of Mrs. Lawrence, later Mrs. Peterson, who came to live in the former store; her husband to help on the farm and Mrs. Peterson to help Mother. There were two children, Gerald and Susan. Gerald went to Victoria, B.C. where he passed away. He had a band of his own there, and the last time we visited them we went to a dance where he was playing. I remember he and Ina playing a violin duet at one of the Christmas concerts. Susan was never very well, but I remember the nice fancy work she did. After Mr. Peterson's death, Mrs. Peterson married Ed Brandt. He was a bridge builder and for several years the family was together, Mrs. Brandt cooking for the gang. Their last years were spent in Aldergrove, B.C., where Herman and I had the pleasure of visiting them several times.
The best oatmeal cookies I've ever eaten were those Alice McGowan gave me when I'd cut through their yard walking home from school.
Then there was Mrs. Sillem. To me she was a real character; she had cats by the dozen, or so it seemed at that time. I still have a beer stein that she gave Mom.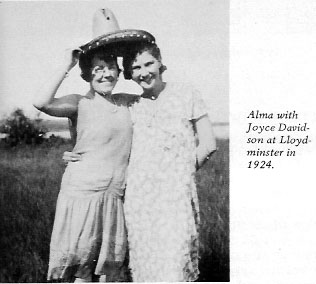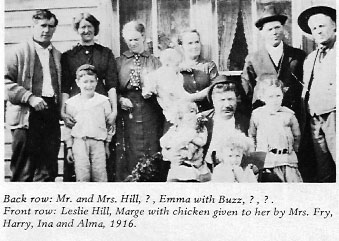 There were the Kjenners, Browns, Litchfields, Halls, Grangers, Taylors, Jenners, Nichols, Tandys, McGowans, Bristows and Upchurches. Mr. Rahall owned the store on the hill. Later the Vaseys, Ernest and Mabel, built a home on the hill near the store. They had two children — Cecil, who was a baby, and Alma arrived later. Mabel became a real personal friend, and we visited and corresponded throughout the years to follow. They moved to Marwayne, where Mabel ran a boarding house. I would help her during the summer holidays.
Billy Jamieson always seemed to find the time and way to meet me and bring me home, as did Trygve Kjenner on many occasion.
Looking back, it is hard for me to even imagine how Mother did all she did — telegraph operator, postmistress, and mother (with so many other things thrown in). She was a devoted mother, and wanted the most for her family. The cooking alone, without the modern conveniences, was a full-time job. Besides the family, there were always hired hands and people travelling through to Cold Lake who made Bowtell's their stopping place. I do remember Mother cooking a supper late in the evening for freighters, bedding them down in any available space, and next morning cooking them a hearty breakfast before they continued on their way.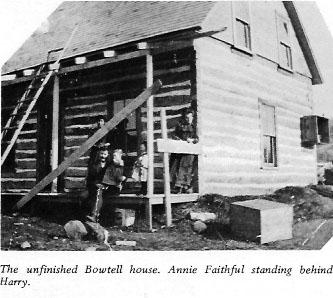 Dad was away a great deal of the time, and 'tho Mother had help, the responsibility along with the work must have been overpowering at times. Mrs. Quinney, whose husband was a teacher on the Frog Lake Indian Reserve, was a great help to Mother. She would do the washings - again no conveniences like today. I can also remember a native girl, Annie Faithful, who attended the Indian Residential school at Onion Lake, helping out many times.
Seems that memories always have associations of one kind or another with Mother; she was always around. She never said "No" to anyone wanting assistance of any kind. To me she was the district's nurse, lawyer, social worker, along with all the aforementioned jobs. It seems she was always writing letters to the government on behalf of some one wanting assistance of one kind or another. As one grows older memories are many; some happy, and some sad. My one big regret is the great resentment I felt when arriving home from school to have to do dinner dishes before getting, or helping to get, supper. What a little thing, looking back, for all that was done for me! Not until we grow older, raise families of our own, do we realize the many little things we might have done to make life easier. Another time I was sure Mother didn't love me. She made arrangements for me to attend high school in Vermilion. Always doing something for the betterment of her children, and all too late we realize this.
Happy times? Yes, many. July 1st picnics, our yearly fill of bananas and ice cream. Christmas school concerts, church in the summer months, 'tho not always able to attend, and an outing to Laurier Lake once or twice a summer.                  -
Having gone away to school at the age of fourteen, and working some summers, I was home very little in the years that followed. Leaving school after Grade XI, I went to Calgary for a business course, where I worked for my room and board. Uncle Fred backed a bank loan for the course, which I later paid off myself.
My first jobs were with Dr. Cook, a Lloydminster dentist, and at the Co-op creamery. Mother contacted the Craig family and secured a job for me in their store at North Battleford first, then Turtleford and Vermilion. Later I worked for the Co-op at Landis, Saskatchewan, and finally for Larson and Byers at Eston, Saskatchewan.
I married Herman Johnson, formerly from Nebraska, who farmed near Eston. We sold the farm and moved to Saskatoon. Herman looked after a curling rink in the city and helped prepare for Pion-era. I was active in Red Cross, I.O.D.E" and Third Avenue United Church work.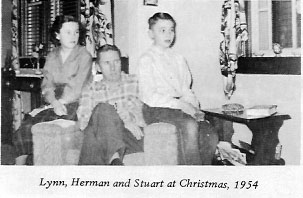 We moved to Red Deer for a time but are again back in Saskatoon. Herman works for Sportsman Trailer and Mobile Homes. Both of us are involved in lawn and alley bowling, serving on provincial and dominion lawn bowling executives, and have been in Dominion playdowns.
Our daughter, Lynne, married Alan Johns of Lloydminster. They live in Lacombe with sons Dale and Michael and daughter Karen. Lynne nurses part-time in Bentley. Our adopted son, Stuart, lives in Port Alberni, B.C. and is single. His work is involved with the chemical processes of a pulp and paper company.