ALEX BUCK
by his son, Paul
My parents came to Canada from Poland in 1912 with three children, Rose, me, and six-month-old Mike. We came to Vegreville, Alberta, then stayed with my uncle, Eli Buck, at Two Hills. In 1913 Dad filed on a homestead (S.W. 34-55-5-W4) in the Primula district. After building a log house with a sod roof, and buying a team of oxen, a wagon and a cow, he packed up the family and moved to the homestead. That year he broke about three acres.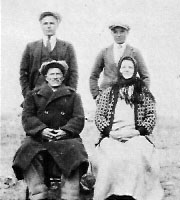 Back: Paul and Mike Seated: Mr. and Mrs. Alex Buck, 1929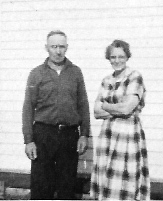 Rose and her husband, Carl Starcheski, in 1963
The following year we had a crop and a garden, and we were away to a new start. Dad worked for Mr. Avery in the Ellsworth district for about thirty-five dollars a month. There was no school at first; then in 1914 one was built, but there was only money enough to pay a teacher for one month. In 1915 we had a teacher for three months, and for six months in 1916.
At that time there were no roads, only trails. That first year Dad walked from Two Hills to the homestead, a distance of about fifty-eight miles, which took about two days one way. For the 1918-19 term I was sent to school at Vegreville, living in a boys' home there. When the 'flu broke out the school was closed and we seven Primula boys were sent home. We came by train to Vermilion, but country people were to stay away from the towns, and no one was there to meet us. We had to walk the fifty miles or so home — quite a hike for a group of ten-to-fifteen-year-olds.
My father passed away in the 1940's, having rented his farm out a year before. My mother lived 'til the 1950's, spending time in my home at Heinsburg, and with Rose at Round Hill. Both are buried at Gratz. I later bought the farm for taxes, then sold it to Sam Sass.