THE RIACHS
William Riach, born in 1878, married Elizabeth Cairne in Scotland. In 1905 they moved to Edmonton, where they resided for five years. During this time they had two daughters, Jessie in 1907 and Mae in 1909. Their home in Edmonton is still referred to as the Riach house. Mr. Riach worked with a crew preparing the grounds for erecting of the Alberta Legislative Building.
They next moved to Peachland, B.C., where Mr. Riach cared for Governor Bulyer's orchard for four years. They had two more children while there; Anna in 1911 and Hector in 1912. It was then that they developed a desire to try farming. In the spring of 1914 they moved back to Alberta and bought a farm ten miles southwest of Hughenden. This brought many new and trying experiences as they sought to cultivate the land with ox-drawn equipment to try to make a living. That was also the year that World War I started, and many early settlers of the area were called to go overseas, leaving wives and children on the farms. Fortunately Mr. Riach was not called and was able to continue farming.
In time there was need of a school in the district, and in 1916 the little Poplar Site schoolhouse was built. It was located less than three miles from the Riach home, so it was fairly easy for the children to attend school. Now the family was up to six, with the addition of Dorothy in 1915 and Ivy in 1916. During the past few years all six have talked over their happy memories of the little country school, which still stands in the same place.
Early frost in 1918 ruined all the crops, and during the following year cattle prices dropped low. Many settlers tried keeping their cattle over winter, and feed had to be brought in from Saskatchewan. Greenfeed sheaves were sold for twenty-five cents each off the stock cars. This brought severe hardship to most of the settlers.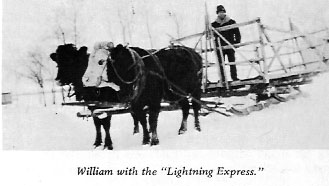 1918 and 1919 brought the flu epidemic that hit the country, almost wiping out some families. The Riachs escaped the disease, even though Mr. Riach kept busy doing chores for ill neighbors. He used to tell of a man who had been helping others, too. Finally he became ill, himself, but would not heed the doctor's advice to go to bed.
Just before he left for town the doctor asked the man how tall he was. When asked why he wanted to know, the doctor said he just wanted to tell the undertaker, so he could be prepared when the man's time came. Needless to say that man did as the doctor recommended.
During the late 1920s Mr. Riach and Hector made trips to Cold Lake each fall for white fish, which they hauled back south and sold. They took a liking to the country so in 1936 they bought a farm in the Frog Lake district (N.E. 36-56-4-W4). By this time most of the family members were on their own. Mr. and Mrs. Riach made the farm their home until 1944, when they decided to get away from the cold Alberta winters. They moved to Victoria, where they enjoyed life for eleven years. Mr. Riach cared for the grounds and did gardening for well-to-do people in the Oak Bay area. Although his sight was failing, he could tell the plants by the feel of their leaves.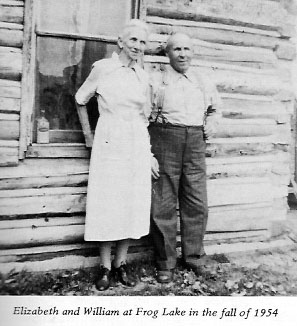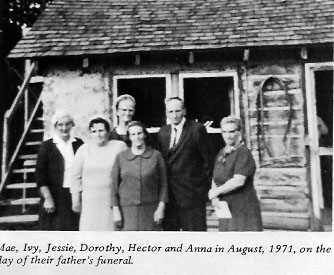 Hector and his wife, Eunice (Lingrell) were now living on the Frog Lake farm. By 1955 Elizabeth's health was failing, and, since both were nearing their eighties, they thought it best to move back closer to their children. They resided in Bonnyville until Elizabeth's passing in 1959 at the age of 83. Through the years their home had been open to numerous ministers of the gospel, and Sunday morning fellowship meetings were held there.
Mr. Riach enjoyed good health for several years longer. He lived with Hector, Eunice and two granddaughters at the farm. For about ten years he shared a small house in the yard with Claude Schnerringer. Claude, with his brother Carl, had farmed in the Primrose district. Hector now owns that land. Mr. Riach passed away at 93 years of age in 1971. Within three days of his death, Claude, too, was gone - a victim of cancer.
Jessie married Tom Brown at Hughenden. Their stone house still stands as a landmark. They had one son. Years after Tom's death Jessie married Dawson Smith of Entwistle. He, too, passed away, and she has since married Albert Strand. Dorothy (McWillis) is on a farm at Magnolia, Ivy (Inoy) is at Nelson, B.C., and Anna (Cameron) lives with her son Eldon at Lindbergh. Mae (Pedersen) is on a farm near Ardmore, and Hector is still at Frog Lake. Eunice passed away in November 1972. Her parents spent several years in her home. At present Wanda, a licensed taxidermist, is with Hector, and Darlene is secretary to a Lacombe optometrist.