THE LIFE OF NORMAN JASON HOWARTH
by Winifred (Nichols) Howarth
Norman was one of the four children of James Howarth of Lancashire, England, and Jane Baymon, who were married in 1901. James came to Canada in 1906, living first in Lethbridge, then Michel, B.C., where his wife and two children joined him. A daughter, born in 1909, died soon after birth. Norman was born October 22, 1913 at Bank- head, Alberta, where his father worked as a coal miner.
His mother died in 1917, and his brother Leonard during the 1918 'flu. Because he was so young Norman spent time in the home of friends and in the Salvation Army Booth Memorial Home in Calgary. His father had filed on a homestead in the Halcourt district, near Beaverlodge in 1915, and returned to it in following summers, proving up in 1920. In 1925 Norman, his brother Harold, and his father moved onto the homestead.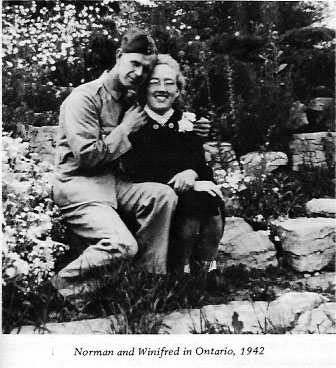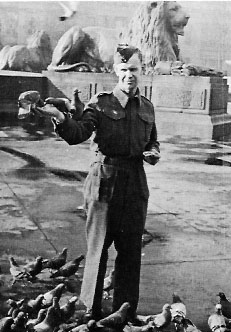 In May of 1940 Norman joined the Army, with the Royal Canadian Corps of Signals. He was stationed in Edmonton, where I was working at the Royal Alexandra Hospital. As a member of the hospital staff I attended a Legion dance and this is where I met him. We were married on August 2, 1941. He was transferred to Camrose, but I continued to work in the city. Later he was sent to Cornwall and Kingston, Ontario, and I accompanied him.
On July 17, 1942 Norman left my parents' farm at Frog Lake to go overseas and I went back to work at the Royal Alex. He served in England, France, Germany and Holland, coming very close to being shot once. In September of 1945 he came home in poor health, and he was discharged two months later. We were at the farm at Frog Lake until February 1946. At that time Norman went to Beaverlodge to his father's funeral, and later began work at the Experimental Station there. In April I followed him, and he continued at the station until October. Then we moved onto the farm, a mile from his brother Harold and wife Helen. Our daughter, Gail, was born on October 14, 1948.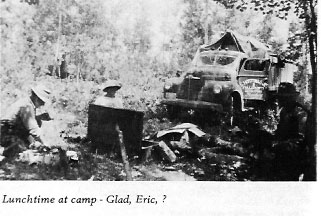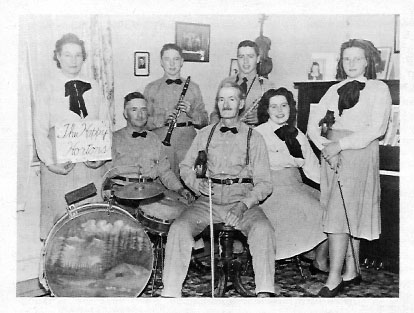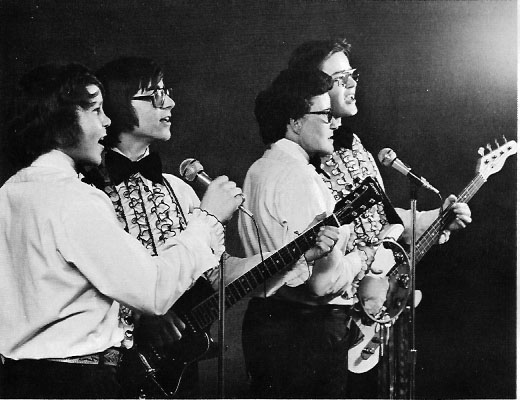 Gladstone Nelson, Brian McDonald, Joan Belsheim, Kevin Nelson
Due to poor health Norman left farming in October 1956. He applied for and received the position of postmaster at Heinsburg, replacing Leonard Coombe, who was retiring to Vermilion. He was sworn in, in November. He served as school trustee for a year before the County of St. Paul No. 19 was formed in 1962. After his resignation as postmaster in September 1963 I took over the position.
Norman began driving the County bus in 1964 and drove for the last time the morning of May 12, 1967. That day we attended Gail's graduation exercises, banquet and dance at Elk Point. Shortly after midnight we arrived home. As he proceeded to walk to the house he fell dead. He was buried in the Frog Lake cemetery. Of his family only Harold of Beaverlodge is living. His father is buried at Halcourt, his mother at Calgary, his sister at Michel, B.C., and his brother at Wayne, near Drumheller.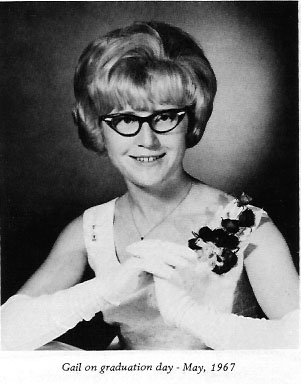 Following her graduation Gail worked at the Innisfail Hospital for a year in preparation for her future studies. In September 1968 she married Raymond, youngest son of Martin and Ida Aarbo of Elk Point. Ray had trained at S.A.I.T. in Calgary as a steam engineer for two years prior to their marriage. Gail trained in Medical Records at S.A.I.T. for a year, and Ray was employed at the gas plant at Crossfield. Later Gail went to work at the Calgary General Hospital. Ray was sent to Forestburg, this time employed at the Alberta Power plant. They moved to the town of Forestburg in August 1973. Since then Gail has sometimes worked at the Galahad and Daysland hospitals. Their daughter, Andrea Rae, was born September 4, 1974, and son Jason Robert Allan arrived on March 3, 1976. They have purchased a home in Forestburg.
I am still postmistress in Heinsburg. For a number of years Oscar Vinge was my assistant. Since his death that position has been taken over by Dorothy Nelson.
During his time as bus driver Norman experienced the usual chuckles and problems of such an occupation. When the Milton Nichols family visited from Ohio the girls rode on the bus at night with him. Out of innocent curiosity they wanted to see what Indian children looked like. Then there was the time when one of the older girls was chewing snuff and spitting on the bus floor. Norman saw to it that she, not he, cleaned it up!