FARM, FERRY AND MAIL ROUTE -
by Walter Sawak (1974)
As this account is being written I am retired in the home we built on the farm in 1957. There is almost no snow and it reminds me of such a time in the 1930's. We could still use wagons on New Year's Day, and the next summer our wheat crop was very short.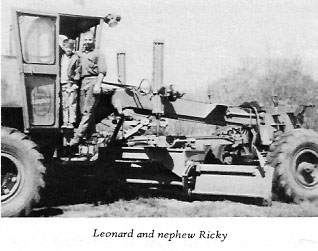 Leonard, our eldest son, is single and living with us. He farms, operates a grader for the County of St. Paul, and plays guitar with the Heinsburg Old Timers Orchestra. Albert, our youngest, is trucking in Edmonton. Olga, our first child, worked at the Heinsburg Hotel after leaving school, then married a neighbor boy, Mike Chmilar, in 1951. Their daughter Gail is married at Red Deer. The two oldest boys, Randy and Ricky, work in Edmonton. Roland, the youngest, lives at home in Edmonton and works for Gill's Transport.
I was born December 24, 1908 in Poland. There were four boys and four girls in the family, five of which were born before the family left Europe. My parents worked for a landowner, but in 1910 immigrated to Canada. They took out a homestead on the Battle River between Vermilion and Wainwright. After a few months there a horse rancher, named Frank Meyers, told my father that, because of the river, he had only eighty acres of land. As a result we gave up that homestead and eventually moved to Angle Lake, near Derwent. My schooling was very limited. For two summers I walked four miles to Angle Lake School, and for one summer I boarded in Vermilion. I went on my own at thirteen or fourteen, to work out. In the fall we'd stack thresh from 7:00 a.m. to 10:00 p.m. for one dollar and fifty cents a day! In the following years stook threshing with a team and wagon paid three dollars a day.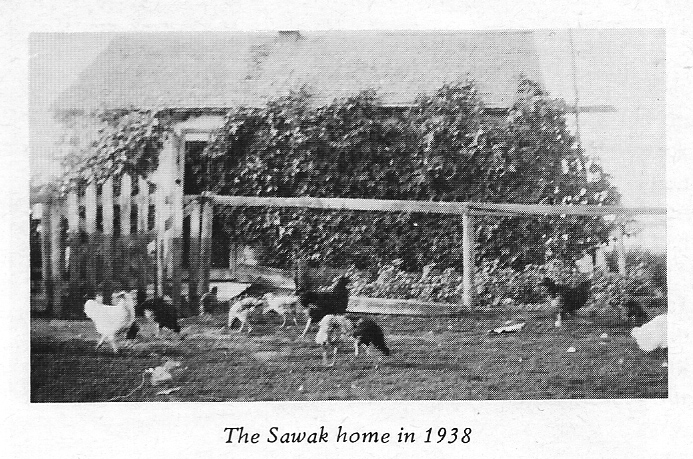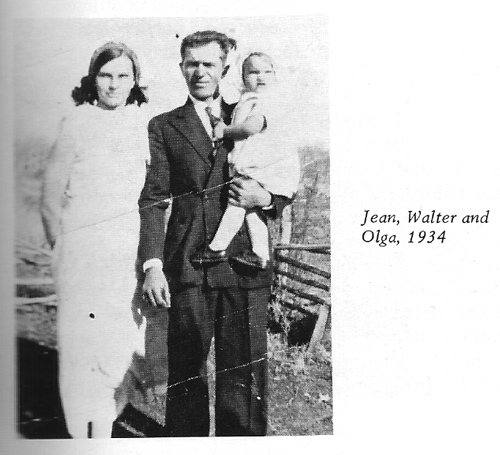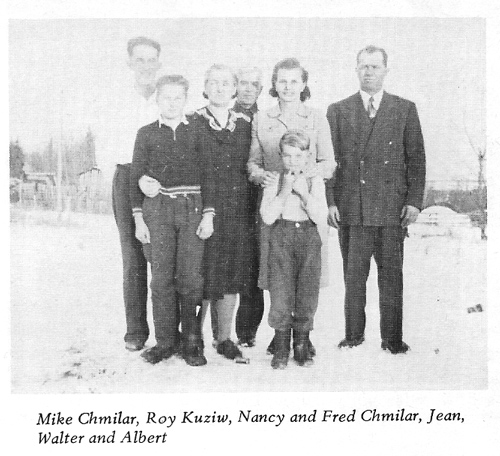 In 1928 I filed on a homestead — S.E. 1/4 6-56-4-W4, but I never lived on it. It is across from the island a mile north of my present home. Three years later I took over the mail hauling to Frog Lake and Norway Valley. In March, 1932 I acquired a C.P.R. quarter, S.W. 33-55-4-W4. Seventeen acres were on the north side of the river, but I gave that up and it was added to the quarter over there. Two months before I had married Jean Gorash from Myrnam. I had a sister living there, so this is how Jean and I came to meet. During her schooling she had been a pupil of William Smith for three years. At the age of fourteen, after passing to Grade IX, she had worked for her parents and other families. We spent the summer of 1932 in my brother Steve's granary, then built a log house. I gave up the mail contract at the end of 1934. By that time we had Olga and Leonard. We continued to farm, and milk anywhere from five to thirteen cows. Albert was born in 1944.
In 1947 I finished the ferry season as a replacement for Gib Evans Jr. Two years later I was awarded the contract for the mail route, which I had until 1954. That year I also went to work as assistant ferryman. While I worked my shift Jean and Leonard would haul the mail. I became head ferryman in 1952 and held that position until the bridge opened in 1963. Today, as I approach my sixty-sixth birthday, I think about the changes I have seen in my lifetime. I look at the pictures given to us by the grandchildren, and other children as well. I wonder what changes they will see in their lifetimes.
Note: Jean passed away in February 1976.