THE GRAHAMS
Hugh C. Graham was born 1862 in East William Township, Ontario. As a young college student in London. Ontario, he learned telegraphy and the Morse Code; when he finished his education he obtained employment as an agent for the Grand Trunk Railway. He left the Railway in 1885, joined the army and headed west intending to do his part in quelling the Riel Rebellion. The trip was one of hardship that taxed both strength and patience. His unit travelled by railway between the gaps in the unfinished railroad, and covered the gaps by marching overland or by barge wherever possible. After travelling some distance into Saskatchewan they received word that the rebellion was over so they returned to Ontario. In 1886 he married Martha Elizabeth Robinson, born 1867 in McGillivray Township, Ontario.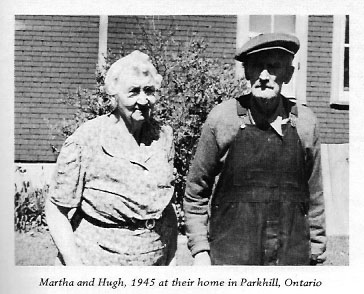 They came to Alberta from Aika Craig, Ontario in 1906, first to Kitscoty and then to their homestead which they called Lea Park. The district was given the name Lea Park and the Grahams, in those early days, ran the post office in their home. Later it was moved to the North Saskatchewan River, near the south shore. Theirs was a mixed farm and besides being a farm housewife, (no small task) Martha taught at the Tring and Riverton schools. In 1935 they moved north of the river to the Heinsburg district, onto a farm west of the mouth of Frog Creek. By then Hugh was in his seventy third year but they were both quite active and besides raising turkeys and chickens, lived an active outdoor life. Their foster daughter, Mary Jensen, who was with them at Heinsburg, also enjoyed the river and outdoor living.
Mrs. Graham was very deaf but despite this handicap she was an interesting and gracious lady to visit. A lover of nature she loved to ramble in the great outdoors. She was a talented writer (a portion of one of her stories appears elsewhere in this book). Every day possible, from spring to fall, she swam to the island in the river. She told of being active in the Women's Institute and helping to form the first W.I. in Alberta. In 1941 they left Heinsburg and returned to Ontario, this time to Parkhill. In 1949 Mr. Graham passed away at the age of eighty-six and in 1951 eighty-four year old Martha joined him. After the Grahams left Heinsburg the house they lived in was purchased by Bob Smith and became the temporary home of Bob and Hilda when they were first married. Mary Jensen still keeps in touch with folks she knew in Heinsburg. She is presently living in Ontario.