GEORGE KECK FAMILY STORY
by Gertrude (Keck) Blacklock
George Keck was born on February 19, 1895 in Hermaringen, Germany. He was the youngest son of George and Margareta Keck. His mother passed away at the early age of 43 when he was four years old and he was raised by an aunt. After finishing his schooling he took a barber's course and graduated at the age of seventeen. He could have opened a barber's shop but he preferred the wide open spaces. On May 26, 1912 he arrived in Edmonton, Alberta and from there he went to Anselmo, Alberta to join his cousin Willie Kastler, who had come to Canada in 1910. He then filed on a homestead at Anselmo and in between times worked at whatever he could find, such as the railroad.
In 1925, after having proved up his homestead, he sold it and came to the Mooswa district (now Lindbergh) and purchased the N.W. -30-56-4-4 from a Mr. Fred Raetz. On March 17, 1927 he married Anna Sutter in Edmonton. She was born in Bassersdorfrin, Switzerland on July 23, 1903 and was the daughter of Maria and Wilhelm Sutter. They raised a family of four daughters and one son. Hilda, Margaret and Walter reside in Edmonton. I live on a farm at Dewberry and Alma lives in Hayden Lake, Idaho, U.S.A.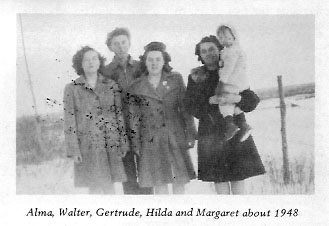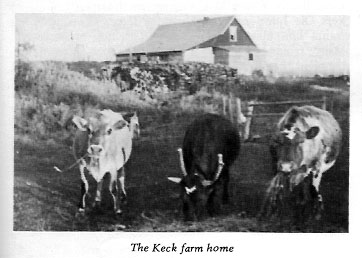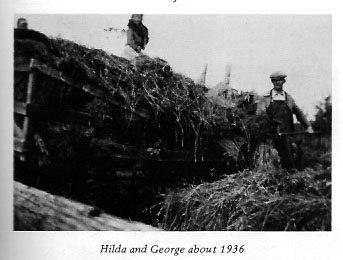 They worked very hard on the farm, raising cattle, pigs, and chickens, and farming with horses for many years until they could afford power machinery. They sold cattle for as low as $10.00 for a cow and calf, but they were determined and stayed with it. Gradually things improved as they did for everyone else. Nearly everyone helped work on building the roads in order to pay off their taxes. Dad served as road boss for a time and I can remember once when working with a team and fresno the handle flew up somehow and cut him under the chin. I can still see him walking home bleeding. Mom bandaged it up for him and as near as I can remember he went back to work that same day.
School was also another problem, since we lived four and a half miles from it. When I was seven years old and my sister Hilda was nine, we started attending Lake Whitney School. Twice a day we walked the four and a half miles, and needless to say we were none the worse for it. Sometimes during a severe cold spell we would miss a couple of weeks of school. Miss Gladys Sweheim was our first teacher. Hilda and I took all our schooling there, but in later years a school was built two and a half miles north of home and named V-Day School. Walter and Alma finished their schooling there, and by the time Margaret started to school, centralization had taken place and she attended school at Heinsburg and later at Lindbergh.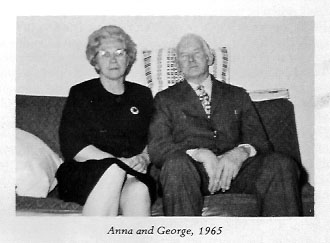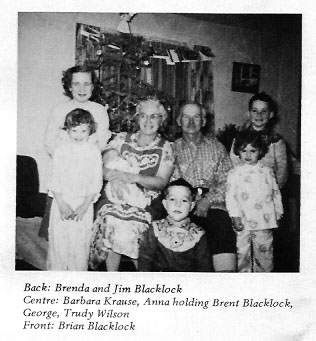 My father is a very quiet man. He worked very hard and seldom ever went anywhere. In fact I can't ever recall as a child coming home and him not being there. My mother is a much more outgoing person and finally in 1958 she was able to take a longed-for trip back home to see her remaining brothers and sisters. In 1964 they sold the farm to Alex Blacklock Jr. and retired to Edmonton in December of that same year. Since then they have been able to take two trips back to their homeland, once in 1965 and again in 1971, which they enjoyed very much. They reside at 9916 - 157 Street, Edmonton and are both still quite active. Dad is nearly eighty years old and is still able to look after their garden and yard. Mom does all her own housework. They have fourteen grandchildren and two great-granddaughters.
Note: George Keck passed away in the spring of 1976.