HARRY AND EMMA BOWTELL
by Lois Nichols, with the help of their children and family friends
Harry, called Mih ku stiqwan (Redhead) by the Indians, played a prominent part in the early history of the Breage, Vermilion, and Frog Lake areas. By virtue of their varied occupations and interests, both he and Emma met many people. Their lives, as they touched those of their children, friends, neighbors, and the public in general, are revealed in the following story.
John Bowtell, his wife Elizabeth (Adair), four sons, and two daughters, left Collingwood, Ontario to arrive at Lacombe in May of 1892. Henry J. had been born back in Collingwood on August 26, 1874. The family settled on land east of Lacombe, and while there the father died.
In 1902, while Harry was still seventeen, he and brother Fred went to work on the C.N.R. survey between North Battleford and Edmonton. People in the area south of the North Saskatchewan River were seeking a railroad. Steel was laid to Vermilion in 1905, but before that it was believed by many that the railroad would follow a different route.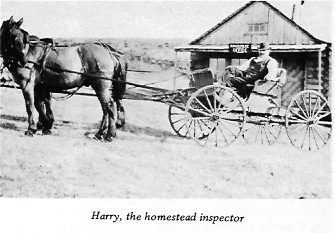 While working in the area northeast of what is now known as Vermilion, Harry decided that was the place to settle. He homesteaded on Sec. 36-50-6-W4 at a place later named Breage. It appeared to be the logical location for a railroad divisional point on a line through the Territories of Alberta and Saskatchewan.
On his homestead, Harry put up a two-storey frame stopping-place with a lean-to on the back. It was constructed from logs taken from the Vermilion River valley. His land office opened in 1904. His duties included guiding settlers, and while doing so, pointing out C.P.R. and H.B. Company land, and school sections. Dr. Barris also used Harry's office, and paid for the rent by doing some work for him.
A Presbyterian Church was started with Harry holding an office. He became interested in the settlement's educational problems. When a school was built on N.E. 36 it was named Bowtell School. It opened in the spring of 1906 and operated until 1946. It is the oldest existing school in Vermilion River County and is now used as a community center.
When the new townsite of Vermilion started up, Harry secured a patent and moved his office there. The Dominion government created a sub-land agency and he was appointed agent. He later resigned that position to become homestead inspector. His stopping-place was moved from Breage; timbers ware borrowed from a bridge project and a wagon placed beneath each corner of the building. He also put up a livery barn.
Harry's first office was in his house, to the east of the highway leading up the hill from the Vermilion River bridge. His mother kept house for him and Frank, Fred, or Art, whoever happened to be in town. A strong Liberal, he was a delegate to a convention at Calgary in 1905. The delegation favored Edmonton as the provincial capital rather than Calgary. The Bowtells were hauling mail and freight from Strathcona to Vegreville, Vermilion, and Lloydminster. Harry handled the east end of the haul. At Lloydminster was a young telegraph operator destined to become his wife.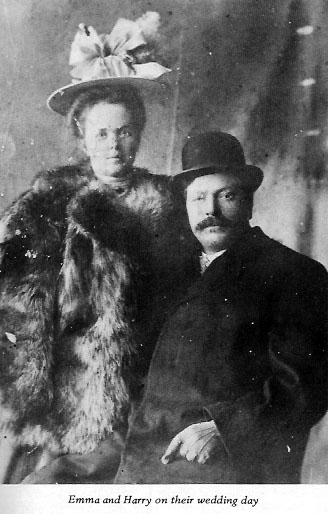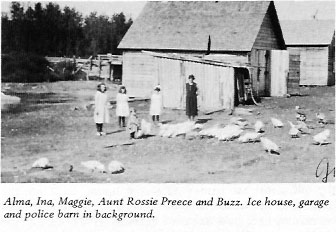 The land office from Breage was situated in the area where Little Implements later stood. At Vegreville, Bill Lorenson was land guide for that area. With their knowledge of the country, he and Harry would be worth a small fortune to an oil company today. Besides his guiding and inspecting duties, Harry was also a real estate agent and town clerk.
Emma Alexandra was the daughter of Herb McCleneghan, a field telegraph operator at Onion Lake. She was born at Baggot, Manitoba on March 27, 1883.
Her blind father taught all his family telegraphy. There was Willie, who was operator at Birch Island, B.C.; Cecil; Mrs. Hamilton of the U.S.A.; and Rose (Rossie), who married Leonard Preece, a Saskatchewan provincial policeman. In later life she was head of a private school, Qualicum College, on Vancouver Island. Emma relieved the telegraph operator at Fort Pitt and taught school at Onion Lake for six months or more. In 1904 she took over the small telegraph office in Lloydminster, and later trained Harry's brother Art. On November 27, 1906 she married Harry at Onion Lake.
The Bowtells continued to reside in Vermilion, where daughter Alma was born in February, 1908. Buster was born in November 1909 at Onion Lake. Harry acquired N 1/2 of 8-56-3-W4 at Frog Lake from the H.B. Company. Green logs were got out for a home to be built later on Frog Creek. The land was rocky, but there was a very adequate water supply for livestock. And again, railroad prospects played a part in Harry's choice of land. If the proposed railroad from St. Paul was laid through Ferguson Flats and southeast, Frog Lake would be a divisional point. As history verifies, this was not to be. The railroad continued to Elk Point and Lindbergh, and the choice was made to follow the North Saskatchewan River to what is now Heinsburg.
Harry proceeded to establish the Frog Lake Trading Company on a point at the south end of Clearwater Lake, about half a mile east of the actual 1885 massacre site. In June 1910, Fred joined Harry in the running of the store.
The family had moved to their farm, and Emma was to have another responsibility. There was a single telegraph line from Onion Lake to St. Paul de Metis, but in 1910 an operator was needed at Frog Lake. Emma was the logical choice. In 1911 she also took over the post office, which she ran until the 1930s. On at least one occasion she put an insistent drunk out with a buggy whip. 'Tho small in stature she was not short of courage. For years she registered births, deaths and marriages for Indians on the nearby reserve. Once the priest brought a young couple with him. "Aren't they very young to be getting married?" Emma asked. "Yes," replied the priest, "but they're fruitful!"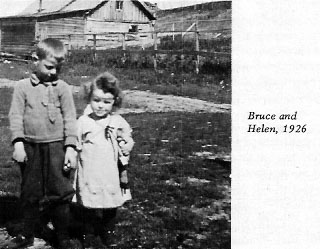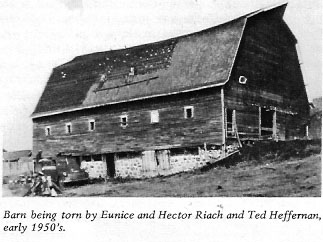 The home became a stopping-place for dozens of people passing through during the years. When the family got up they never knew who might be there. Doctors, ministers, policemen and others simply put their horses in and bedded down where there was room on the floor of the house. When the police barracks was in the Bowtell yard, the children came to know the men very well. Marge used to brush the bald head of an officer named McCleary with a stiff brush. Another man named Souzi taught Ina to sing in French. One night a man came in and asked to stay the night. He was told there was no place to sleep in the house except with the hired man. "Are you lousy?" Harry asked. "Oh, no, Mr. Bowtell," was the reply. "Well, you sure will be by morning!" said Harry. That man went out to sleep in the hayloft.
Ina was born in September 1911 and the next month Buster died following convulsions. Margaret (Marge) was born in 1913 and a second son, Buzz, on December 29, 1915. Four years (to the day) later he died of diphtheria, in his mother's arms. Arthur, born in February 1918, lived only eight days.
1918 also brought more sadness. The "killer" flu was running rampant. In the Bowtell household all were ill but Harry and Ina. The caring for the sick had to be handled at home. Doctors were few, and they had all they could handle where they were. Dr. Charlebois was at St. Paul, Dr. Matheson at Onion Lake and Dr. Hill at Lloydminster. Harry and M.P. Pete Lessard travelled about the country taking food and brandy to stricken families. At one home, five of the family, including the mother, were dead. The only survivor was a baby boy crawling on the floor.
Back at the farm, Halvor Snaunes took over the cooking and caring for the sick. A small house across the grade leading to the bridge was used to house patients. One night an ill stranger drove in, came in to send a telegram, and collapsed. He was put to bed there but by morning was dead. Some identification was apparently found on his person.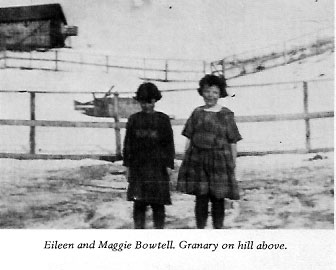 A fourth son, Bruce, was born in August 1920, and Helen, the last child, arrived in March of 1924, the year the steel bridge was built on Frog Creek. During those years many cattle were being fed on the farm. At one time there were as many as thirty-two milk cows. A truck came around to the farms to pick up the cream. The separating, done by hand, was a formidable job twice a day. The names of many different people who helped out on the farm and in the home will be mentioned in other stories.
The mail contract for hauling from Heinsburg to Frog Lake via Norway Valley was in Harry's name from 1936 to 1939, and then in Bruce's name until 1949, when rural mailboxes came into use. During the early years of Heinsburg, Harry had a butcher shop where Mazepa's garage stood. He also had a bulk oil and gas service located on the flat by the railroad tracks in the area where Kapjack's Gulf station is now. Fred and Bob Sidener recalled that Harry brought gas out to them when they were breaking land at Tulliby Lake.
At one time there were many buildings along the creek. Two, which could be called landmarks, will be dealt with in more detail. Among the others were a machine shed, ice house, garage and police barracks barn. Along the foot of the hill across the road were a root house, built into the hillside, a hen house, and the Clearwater Lake store and warehouse later used as police barracks. It was easy to get up on the hillside building. Emma's heart must have skipped a beat one day when her young daughter sat on a small chair astraddle the peak and called to her mother to look at her.
The barn, situated south of the house, was 75 feet by 52 feet, standing on stonework built up high enough that the space underneath was fully usable. Names of those involved in its building include Henry, Litchfield, Holley and Gabe Cross. One summer a severe hailstorm broke every window pane out of the west side. In that barn were housed cattle, horses, and mules. Many will remember the bay mules and the larger black one who could make every mail trip during the week, and haul hay on days between, during the winter. The horses of those attending social functions in the Bowtell granary were housed there, too.
That granary, on top of the hill across from the old store site, served many purposes. It was about 62 feet by 20 feet, two storeys high. At the south end on the ground floor were bins. The north end served as a short-term home for various families, as a temporary store for Lewis and Clark, and as a shelter for a survey crew awaiting tents to replace those burned. The top floor was one large room reached by an outside stairway. Sunday school and other recreational activities were provided by men such as Messrs. Jenner, Colpitts, Thorpe, Overbow, and others. It was there that dances were also held (including the Vrolson wedding dance). At one dance a young lady came into the hall with a bottle of her father's "recipe" tucked in the front of her dress. During the course of her movements the bottle slipped out and slid across the floor. Some people watched where she hid bottles outside and later took them. She would collect the price asked, then tell the customer where to go to find his purchase.
Harry passed away in the Elk Point Hospital on October 27, 1939. Two months earlier, a sixty-fifth birthday party had been held in the Frog Lake Hall. He was a great one to talk about who he was related to, including those by mariage, and who they, in turn, were related to. He also was known to play more than one practical joke.
One thing had happened in his home that he did not consider a laughing matter. He had told Emma that if she ever got her hair cut he'd shave off the mustache folks were so used to seeing. One night as the rest sat at supper Emma came home from St. Paul, haircut and all. Without a word Harry got up, left the room, and presently returned — minus the mustache. In a picture taken on the Lea Park ferry he is without that mustache. The car bears a 1918 license plate.
After Harry's death, Bruce and Helen continued on the farm. In 1943 Bruce married Marion Blakely, and Emma moved into a small house across the road and a bit north of the old home. In 1951 Bruce left the farm. Kinchs rented it, and later Donald Nichols rented, then bought, the half- section. Since then, one hundred and seven more acres have been broken.
Bruce worked on Cohn Campbell's farm near Edmonton one year, then moved to Hay Lakes to work for Pacific Pete (oil company) for four months. He then signed on as field foreman for Petcal, holding that position until 1966. The family lived north of Armena. While working at the Red Earth field his health was not good. A change to a job at Swan Hills meant an even worse situation with asthma because of the many spruce trees. Getting away from there brought improved health and he worked for Husky at Lloydminster until the fall of 1968.
The family moved to Vermilion where they still reside. He is contract operating for Great Northern Oil and  Canadian Hunter Explorations. The family consists of Sandra (Mrs. Gary Peterson of Armena), Harry (married to Linda Saul) of Lloydminster, James (married to Karen Bauer) of Vermilion, Dawn (Mrs. Bill Ermantrout) of Vermilion, and Terrial, John and Danna, all of Vermilion. There are five grandchildren.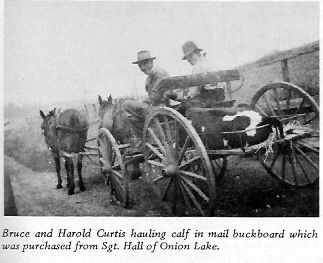 Helen (Toots) married Dean Logan in October 1944. At one time he worked for Muttart Lumber, but is now in business with his son, under the name of Arcadia Drywall Limited. Their daughter Lee married Victor Kostiw, a science teacher in the city. They are now on a farm at Westlock, Vic's home area, with a son, Travis, and a daughter, Nicki. Lane and his wife Pauline (Lavoie) live in Fort Saskatchewan. They have two boys, Steven and Richard.
Marge worked with Ina at the Elk Point Hospital in the late 1920s. She married Hugo Wenzel and raised ten children. While living on the farm in the Primrose district their home burned. They later lived at Elk Point, Heinsburg, and Revelstoke, B.C. Marge now works in Edmonton.
Lance, the oldest, and wife Gladys live at Shaunavon, Saskatchewan. He saw quite a bit of the world while employed with an oil company. Norma and Keith Sievers, Ken, Doug and Sharon (Botting), Bob and Bill, the twins, Pat (Parenteau) and Brenda and Bert Tessier all live in Edmonton. Doug and Ken both have machine shops. Donald's wife, Jean, and children live in Vermilion. Sheila, married to Ronald Lorenson, makes her home at Riverview townsite at the Lindbergh Salt Plant. Both she and Ronnie work at the Plant. Hugo spends his time in and around Elk Point and Lindbergh. There are fourteen grandchildren.
Ina married Bob Maxwell. Their story is contained in the Heinsburg - Lake Whitney, chapter. Emma's small house was moved into their yard in Heinsburg in the 1950's. Her health was not good. She had suffered several strokes and for years a rare eye disease had been reducing her eyesight. She entered the Bethany Nursing Home in Camrose where she died on December 10, 1958. Both she and Harry were buried in the Frog Lake cemetery.
She enjoyed a good laugh and visits from old friends, white, Metis and Indian alike. She talked Cree, especially to Reserve oldtimers. Some of the changes she saw she didn't like. Shorts on women were outrageous! She even disliked tables without cloths and cups without saucers. There are many, many more incidents that could have been related, as is the case with all families. This story cannot accommodate all of them, but I'm sure more will be learned from what other people have written.