A TRIBUTE TO ELMER AND ALETHA GRAUMAN
Elmer Grauman, born in Alberta in 1908, came to Raft Lake in the Wellsdale (renamed Clandonald) area at the age of three years. When he was perhaps, nineteen years old, his leg was seriously injured by a horse. For some reason the injury defied all medical treatment and remained a painful open wound. Despite his handicap he had a cheerful disposition, always ready to give his neighbors a helping hand. His ability as a blacksmith was a welcome addition to Frog Lake and Norway Valley districts. He came here and settled on the N.E. 4-56-3-W4th shortly after he married Aletha Resler in 1950.
Elmer and Aletha both loved farming. They raised cattle, sheep and poultry also a few hives of honey bees. They grew enough grain and feed for their livestock. Elmer managed to drive the tractor and, thanks to his knowledge of welding, was able to repair the machinery. Their neighbors and relations helped them when possible, but they were an independent couple and always wanted to pay. During the second World War Elmer remarked to my husband, "It almost makes me cry everytime I see a load of scrap metal leave this district. It is thrown back at our boys as shrapnel and believe me, it could be put to a much better use."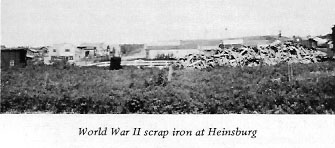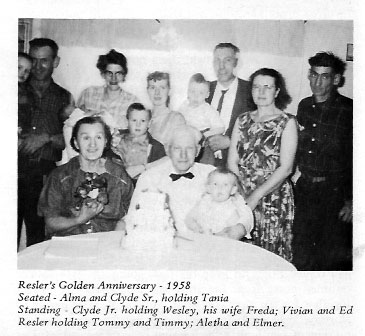 As time went on his leg grew steadily worse Aletha attended to more and more of the outside work, as well as caring for Elmer, and the time came all to quickly when they decided it was necessary to leave the farm. Elmer had to spend much time in hospital at Edmonton and Elk Point. They sold their farm and moved to Elk Point where Elmer passed away in 1971. Aletha still lives at Elk Point where we keep in touch with her. She often visits her ninety year old father, Clyde Resler, and brother Ed who reside in the Norway Valley district. It is a privilege to have had them as neighbors. - Sincerely, Jean Kinch.