MIKE BUCK'S STORY
by Iryne (Kozak) Buck
Mike was born in Poland and immigrated to Canada with his parents, brother Paul and sister Rose. He spent his childhood on a farm in the Primula district. After taking some of his education there he went to live with his sister in Round Hill and attended school there for awhile.
He did various jobs as a young boy, his first being in Fuller's Store, located where the Heinsburg ferry shack later stood. He was chief cook and bottle washer there, and also did the cream route for Fuller. Later he worked in the post office for Fritz Kjenner for awhile. He often mentions the good old depression days, when teachers were a dollar a dozen. Heinsburg had advertised for a teacher one year and received a mailbag full of applications, so the school board decided, rather than read them all, they would pick the best handwriting. It turned out this person was black, so he was not accepted. Talk about your discrimination!
Later Mike worked at Round Hill in the coal mines, where he managed to have a hand smashed between two coal carts. This proved to be the first of many such mishaps his hands suffered, especially in later years when power tools became popular. For a while he and his buddy, Mike Andrus, now in San Francisco, logged in the mountains near Natal, B.C. When Paul established a general store in Heinsburg Mike stayed there and helped wherever he was needed; mostly he drove a big truck. It was during this time that I met him and made him realize that that business couldn't support two families. He took a welder's course, came back, and started a garage business with the late Walter Mykytiw. This didn't turn out too well, so the partnership was almost dissolved when Mike got his call to the army.
He enlisted in July, 1942 in the Tank Corps and received his basic training in Camrose. We were married in November that year, and immediately he was sent to Camp Borden, Ontario. So, the honeymoon was short, as was everybody's in those days. I followed at Christmas time and picked up residence in Barrie, Ontario. We lived there about a year and a half, and this was where our first daughter, Karen, was born. Soon after Mike was moved to New Market, Ontario - about thirty miles away. He was a wireless instructor, and it was about here that he picked up his knowledge as a radio technician. In 1945 he developed Lupus Vulgaris (T.B. of the skin), was discharged from the army, and we returned to Alberta.
We bought a house in Heinsburg, and Mike set up a radio repair shop. But again this didn't keep us too well provided for, so he picked up various jobs and learned the electrical trade on his own, with a lot of help from his good friend Mac McNeil. He did most of the rural electrification in the district and worked part-time for the Canadian Salt Company (later Windsor Salt Company) as their maintenance electrician. When wiring was slack he built houses, kitchen cupboards, and many boats. In 1955 school bussing became big business so he bought a bus, taught me how to drive, and I drove it most of the time for fifteen years.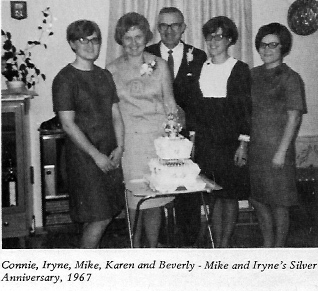 After living in Heinsburg for twenty-four years Mike decided he was too old to be getting up nights and fixing furnaces in 30-degree below weather. He got full time employment with the Windsor Salt Company, sold our home and school bus in Heinsburg, and bought a house at Riverview (Salt Plant) where we live at the time of this writing. He has a large workshop, with good equipment, and for a hobby builds custom furniture, kitchen cupboards, etc.
During our stay in Heinsburg we were blessed with two other daughters, Connie and Beverly. At present they are out seeing a bit of the world. Connie is nursing in Bermuda. Beverly worked for Food and Drug in Toronto and Ottawa, and later was sent to Guatemala, where she assists in underdeveloped countries. She has learned to speak the Spanish language there. Karen married Dean Stults, a local boy. They live in Edmonton, where she has been teaching school.