MEMORIES OF FROG LAKE -by Olaf Lunden
(literally translated for this book from recent writings in Norwegian)
My story for "Land of Red and White" was cut short by a stroke which I suffered recently. One of my eyes was pulled out of kilter and my sister Sigrid warns me against reading and writing too much. However, I have some thoughts and stories about the early years which I should like to share with our readers.
As most settlers in this area know, my farm was next to the Cree Indian Reservation, so I had many dealings with the Red Men. Their honesty and integrity always impressed me and would put many white people to shame. A story about my brother Ingvald will illustrate. Ingvald Lunden had a homestead eight miles west of me and a mile and a half from de Delley's, an early homesteader. This is now called the Lindbergh district because the railroad came in on the same day that the famous "Lone Eagle" flew the Atlantic.
Ing and his friend, Anderson Broth, had traplines from Moosewa to Frog Lake and earned good winter spending money that way. Often Ing would tend the traps and spend the night with us before heading back. One day he caught a black fox which brought him $600. Furs were a good price and he caught many muskrats, coyotes, and other fur- bearing animals. On one of these trips he found a coyote in his trap but both were hanging up in a tree. Whoever had found the animal could just as well have kept it and nobody would have been the wiser. However, the next day Old Stanley, a sharp old Indian, came to my house and said he had killed the coyote and hung it in the tree. Ing gave him several dollars for his honesty as coyote pelts were bringing about $20 at that time. I slapped Old Stanley on the back and told him how much we appreciated good people like him. Stanley pointed to the heavens and said, "Each step I take in this world there is one who sees all I do, whether it is good or bad. Whenever I am tempted, I think of that and I know that it pays best to be straightforward and honest."
Most of the older Indians were like Stanley and I appreciated their friendship very much. Fryingpan came often to our house with his salute: "Hwa, hwa! Pikkepayou!" And then he would point at Hilda, my wife, "Maniasskwa!" (White women I helped). Hilda would fix him some food to take along and he would be most thankful. She was a good cook and one of her specialties was fish balls. The Indians would bring fish and she would prepare fish balls for them. It got to be almost too much of a good thing since she had also much housework to do. But they liked us so well you can be sure she got many a salute "Hwa hwa! Miasjen maniasskwa!" An Indian couple who came often was Joe and Margaret Kechino. They lived only several miles from us. She was Fryingpan's sister, and their father was Old Bum. Old Bum always tried to weedle some butter, cream, or bread from Hilda. He was very old and had been in the Frog Lake Massacre. His daughter knew all the details but couldn't speak English. However, with sign language and a few words, we were able to make out most of the gruesome story.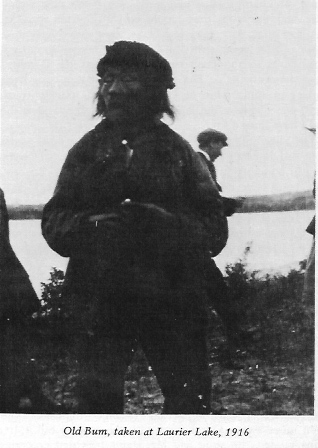 One day Hilda came running out to the field where I was working and said there was something funny coming toward the house. She was scared and insisted I come home with her. When we got to the house we saw the most laughable sight you can imagine. It looked like a cross between a saint and a scarecrow. It was spindley, bowlegged Old Bum in a white nightgown which was longer than he was and he was holding the hem with one hand so he wouldn't stumble. After we had laughed ourselves out of breath, we filled the little sack with food, which he had hanging from his waist and he went sailing down the path, white cloth billowing around his crooked frame. Later, we found out it was Harry Bowtell who had dressed Old Bum in Mrs. Bowtell's nightgown and sent him out to model it. It was four miles down the road but Bum walked all over the neighborhood. He was too old to get on a pony but he was always around. I am sending along a picture of him. However, he lived many years after that. He finally died when he fell into a bonfire they had built to keep warm. He was over 100 years old.
We found the Indians to be kind and good neighbors. They kept us stocked with moose meat and venison as well as fish from the lake and berries in season. Francis Sillyman used to work for me. He said if I would loan him my rifle he would give me a hind quarter from every deer he shot. It had snowed a little and apparently hunting was good because two days later here came Sillyman with team an sleigh and proceeded to bring in eight hind quarters. I protested that it was too much but Sillyman said he had run into ten deer in a bunch and with luck had knocked down eight of them. He had given meat to all his friends, he said, so he was holding to his bargain with me. After we had given him some bacon, sugar, oats, and several boxes of "Snus", he was well satisfied. There were two Sillyman brothers, Francis and Jim. They and the Stanley brothers were a big help to me. They were good workers and if we did them a good turn they always returned the favor. White Neighbors, Too:
I must not forget my many white neighbors in Frog Lake. Mr. and Mrs. Kelly Hall with their five children were my nearest neighbors. We saw each other almost every day and often worked together. They were very pleasant and kind. Mr. Hall was Irish and had a good sense of humor. He always had a good story to tell. When he went to town after mail he would bring ours also. Then you can be sure we heard all the neighborhood news. The Halls came from Ontario. Kelly had been a logger all his life, so he gave me much help with oxen and canthook. He was a number one ox skinner. All the white neighbors were like one big family. We often had parties and we were a happy bunch. Some had instruments which they brought and many were good musicians. There were accordians, violins, guitars, and mandolins. With singing and dancing and good fellowship we whiled away the long winter evenings and were satisfied.
Most of my relatives lived near Norway Valley. There was 'my sister Gurty and her husband Everett Helgerson who homesteaded with my brother Aslak. There were also my brothers Harold and Gunder and my parents. My father and Aslak (Alec) built a blacksmith shop on the road from Kitscoty to Cold Lake. They were good blacksmiths from Norway so found plenty of work coming to them. It was a good life. My sister Sigrid and her husband Gerhard Gunderson also had their homestead in Norway Valley. Their family also grew with the years. After the flu epidemic of 1918 I lost heart for my homestead for a long time and worked with Everett and Gerhard. Gerhard and I had farmed together in Minnesota for several years so now we logged and freighted fish from Cold Lake to Kitscoty. We hauled up to 8,000 feet of lumber with double teams of horses each. It was a hundred-mile trip and sometimes the temperature hung at 40 to 50 below zero for weeks. It was no place for weaklings. Later, Gerhard and I logged together. We were good lumberjacks and would average 100 logs per day. It was a hard life but at least we got plenty of food and clothing for ourselves and our families. The Flu Epidemic:
I try not to think of the horrible Spanish flu which hit our community in 1918. Like a thief in the night it spread death and terror all over. Neighbors were afraid to help each other for fear of catching it. We wore masks over our noses and mouths to prevent its spreading, but still it went its course. I got it first. I was plastering up the house for winter when I began bleeding from the nose. The next day I ached all over but wouldn't give up. After all, Hilda was expecting momentarily. The third day my wife came down with it and also my daughter Avis and son Omar who was only two years old. Then we heard the flu was all over. I tried to get help but no luck. Everybody was afraid. That day Hilda also told me the baby was coming. She said we must keep up our courage and God would help us. Haldor was born that day. He was a big, fine boy and we were mighty proud of him. My mother came up from Norway Valley and helped us for three days but Hilda got pneumonia the day after the baby was born. A doctor came several times but he didn't seem able to help much. Mother took baby Haldor down to my sister Gurty (Mrs. Everett Helgerson) which was a big help. It seemed as if the end of the world had come for me. On the ninth day after childbirth Hilda died and three days later Avis passed away. But in my hour of sorrow I found I had many friends. My brothers-in-law, Gerhard and Everett, moved me and my little boys to Norway Valley where my sisters and Mother nursed us back to health. Omar fitted into the group with his cousins, Harold and Cora Helgerson. Haldor was given the best of care but later died.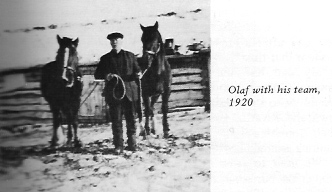 Well, my story must end. I hope before I get too old and feeble I shall have the opportunity to meet again the many fine Indians and white oldtimers I used to know so well at Frog Lake.
NEAR THE FROG LAKE RESERVATION- by Haakon Lunden
(A Tribute to Ole Lunden)
Near the Frog Lake Reservation
Many long years ago,
A young man took a homestead for his own.
This farm home was his castle,
No more he longed to roam,
For near the Frog Lake Reservation
The land became his home.
Many long years he laboured
In those years of long ago,
Some were good and some were bad
He was always on the go.
He had only horse and wagon
With which to get around,
To haul so far the grain he grew
Forty miles into town.
Many times it was in winter
At forty-four below,
Near the Frog Lake Reservation
Many long years ago.
On the Frog Lake Reservation
The Indians knew him well,
He met them all with kindness
And stories they would tell.
In his young life there was sadness
He learned to live it well,
Near the Frog Lake Reservation
Tis a story I can't tell.
This homesteader lived a life so free
'Til his days turned bitter and cold,
He relived his love in secrecy
But his sorrow can't be told.
God in mercy spared him one son
To help him on life's way,
For years they worked together
And now he is old and grey.
Tho' his working days are over
His golden dreams live on,
Near the Frog Lake Reservation
On that homestead he called home.
This man's name is Ole Lunden,
He worked his very best,
Near the Frog Lake Reservation
The home he can't forget.