EDWARD (POP) SANDERS
by Ross Sanders
Edward Potter Sanders, youngest of five, was born in Quincey, Massachusetts, U.S.A. on February 23, 1881. He took his schooling there and became an ornamental designer "silver smith".
On November 22, 1905 he married Mary Elizabeth Nicholson. She was born October 3, 1884 and was raised at Hunter River, Prince Edward Island. At an early age she went to stay with her older sister, Alice, in Concord, New Hampshire. She worked as a telephone operator there.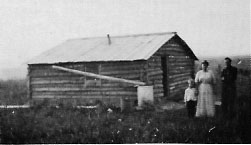 Homestead house: George, Mary, Pop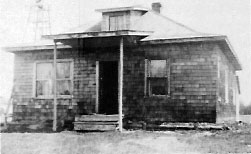 Their next home
My brother, George Alexander was born July 25, 1907 in Concord, New Hampshire. In 1912 Pop, because of his health, came west, homesteaded, then in 1913 went to North Battleford and worked on the section and also threshing outfits. He hauled the water supply for the steamer and Mom cooked for the crew of twenty men.
They came back to Lea Park just at freeze-up. While waiting for the river to freeze so they could cross, they lived in a tent. Mom cut up some of Mr. Hovey's (the storekeeper's) supply of fence posts for firewood -- thinking that the pile was for that purpose.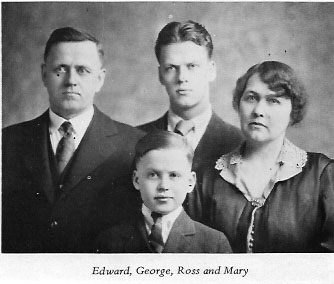 In the Norway Valley district they homesteaded on N.E. 1/4 -18-55-3-W4. Pop chose this quarter because of the scenery — it looked so much like the White mountains of New Hampshire. Not being a farmer he didn't take other things into consideration as to the farming end of it. Mom's first visitor was Mrs. John Thorson. She, at that time, spoke no English and Mom spoke no Norwegian, but they got along very well. She often said, "Those were the happiest days of our lives." First Pop walked to Lea Park for their mail; later it came to Frog Lake. Then in the early 1920's the mail came to Norway Valley. Pop's first team was a pair of oxen; then gradually he graduated to a team of horses. In the fall of 1915 their first home was burned to the ground. Everything was lost. That fall, October 2nd, I was born. That winter we spent in Edmonton. Mom sewed with a double-needled sewing machine making tents for the army.
Between 1915 and 1931 we spent most of our time in the States. Pop's work took him to New Jersey; Concord, N.H.; Toledo, Ohio; and Chicago, Illinois. In 1931 we came back to Norway Valley planning to stay until times got better.
In 1933 Pop went into the store business. He left the farming to George and myself and started a general store in Heinsburg. He began with a stock of $300. His hours were long — he would be open early and late, and often the farmers would come and wait in the store until the train left at 7:10 in the morning for Edmonton. Many a cribbage game was played in the store, especially in the winter time. In 1939 he sold the store to Meiklejohn and returned to the farm. In the mid-1940's the community started the Co-op store in Heinsburg, and Pop was asked to manage it. This he did for a year or so, and then moved to Vancouver.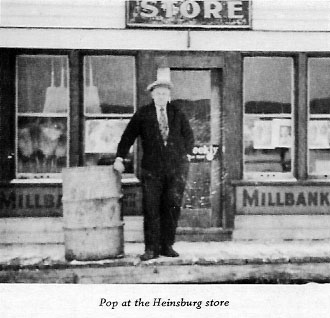 In 1949 they came back and built a cottage and settled down on the banks of Frog Creek. There they lived until Pop's passing November 18. 1963. Mom stayed there for a couple of years and has been a resident of Rosehaven in Camrose ever since.