THE PALYNCHUK STORY
by Annie Palynchuk
I was born Annie Surkan at Insinger, Saskatchewan on December 8, 1902. Insinger is northwest of Yorkton, and before the railroad came through it was called Laurier Post Office. My parents had come to Canada from Chernovetz, then in Austria, now under Russian control. Mike, my father, spoke German, Russian, Ukrainian and English. The homestead had been turned over to the four sons by my grandfather. Later my father had a half section of his own near Theodore, Saskatchewan. On it he raised our family, four boys and six girls, of which I am the oldest. During a few summers of schooling I finished Grade IV. I was home until the time I married.
Our family grew hemp, which provided clothing and oil. After the seeds were removed the stalks were soaked in water. Three or four days later the woody parts could be removed. The remaining thread was soaked, washed and bleached before it was ready to use. To get the oil the seeds had to be pressed. A log was placed horizontally on supports. A portion was hollowed out and small holes drilled in the bottom. Over these holes was placed a piece of cheescloth. The oil that was extracted, greenish in color, drained into containers underneath. It was strained, ready to use, and very tasty.
John Palynchuk, born in 1898, was living at Gorlitz, a more prosperous area, about forty miles east of my home. A number of people in that district had cars. We met at a dance held in a granary on my Uncle Pete's farm. He (Pete) also had a store there. When the matter of an engagement came up, John brought his brother-in-law and a friend to our home at Christmas to see if my parents were agreeable. On the first visit the matter was talked over and after a second meeting the announcement was made. The date for the wedding was set - June 19, 1921. As that day was nearing I contracted pneumonia. Home remedies were tried. In spite of everything, on the wedding day I was too weak to carry my seven month old brother, but, I had to get to the church. Afterwards there was a heavy rain. Driving the forty miles to John's home district by horse and buggy did nothing to improve my health.
We lived on the farm until 1927 when we moved to Lindbergh, Alberta. Bill Jurak, a brother to Nick and Mike, the twins, was already in Alberta. He was married to Lena Stetsko. When he wrote to John, everyone was certain of the railroad continuing to Lindbergh. Even then a quarter of land was not enough, but John decided he wouldn't buy any more. He left me in Saskatchewan and came to Lindbergh. Thurman Henry and his father, George, built the store and living quarters. It cost $600 for labor. There was no insulation, so we burned a great deal of tamarack wood in our oil drum stove in the store part.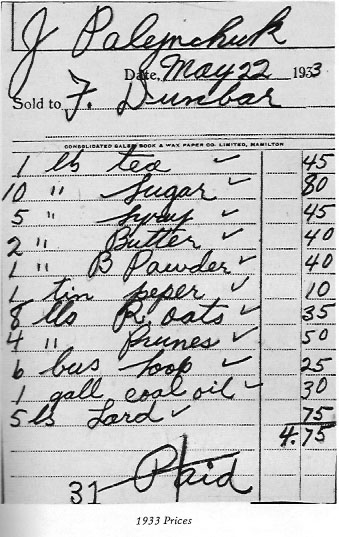 About Easter, I came and we ordered a few groceries to stock the store. At our opening dance, held out front, there were no Ukrainian people, because it was Lent. We were surprised to see Leo Edwards fencing on Easter Sunday, as it was not our custom to work that day. The railroad came in the fall and our business picked up, mostly because of sales to railway employees. Ed Davis moved his store from Mooswa to the new townsite. Art Bowtell left the telegraph office. Red Carrier built a pool and dance hall. George Henry had a two-storey home back of the Davis store. It was planned as a rooming house or hotel, but George died, and after a short period of use it was torn down by Vic Ramsbottom.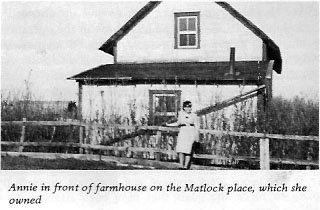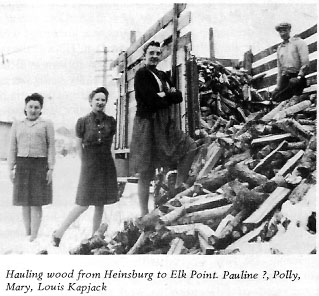 Some people ran up bills of a hundred dollars, which was a lot in those days. We took cows as payment on some bills and as a result were milking three. In 1929, cows sold for five or six dollars, and it cost us two or three dollars each to have Jackie Taylor (Mildred Pasmore's husband) winter them. Worse yet, three head died. The years went by, and in 1943 I bought a hall from Fred Kowal in Heinsburg. I started a store in it and also bought the Markstad store in Elk Point (1944). Fedyk's made a down payment on the Lindbergh store but he was taken ill and the deal did not go through. In 1946 Karl Heinemann bought it. When the store closed out the building was purchased by Russell Bazian and moved to the farm.
In 1939 John returned to Saskatchewan. He had a store at Bjorkdale, then one at Porcupine Plain, along with a machine agency. Our son, Alec, went with him. Our daughter Polly, and I operated the Markstad store for two years then sold to Shewchuks. From September of 1940 to the fall of 1945 my oldest daughter Mary ran the Lindbergh store. That July she married Louis Kapjack, then in September they took over the store at Heinsburg. From 1940 to 1945 I was at Heinsburg with Polly and my youngest son, registered Dan Walter, better known as Dmetro. In 1947 I bought two buildings in Rosthern, Saskatchewan. One was a beverage room; the other contained rooms and a restaurant. I had a heart attack, so one building was sold and the other was rented out.
In 1951 I bought a hotel at Calder, Saskatchewan for Dmetro, and I operated one at Stenen. Two years later he was taken ill. We were depending on hired help and problems were many. I sold the Calder hotel and traded the one at Stenen for two homes in Saskatoon. In December of 1973 I was struck down by a car while crossing the street, with the light, a few blocks from my home. My injuries were serious, but by the following June I was sufficiently recovered to begin driving again, around the city, only. Although still suffering from effects of the accident, I am thankful that I can be up and about, tending to my business interests and visiting my children.
John left Saskatchewan in 1947 after his brother Steve died. While in Vancouver he was struck by a car twice. The second time resulted in paralysis and he was confined to a hospital there for a year. Then he was brought by ambulance to Edmonton where he entered an Auxiliary Hospital to spend another six years in a wheelchair. He passed away on April 30, 1972.
Polly is a senior accountant with a large law firm in Seattle, Washington. She was married to Gordon Winter. Their son Tom, wounded in Viet Nam, is now married and a university graduate. Morris, the youngest, is also attending university.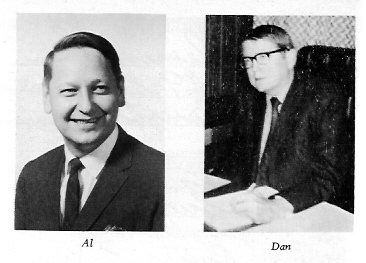 Dan Walter (Dmetro) was born in 1930 while we were at Lindbergh. He attended school there and at Heinsburg, and then at Rosthern, Saskatchewan, beginning in the fall of 1946. Health reasons forced him to give up university at Saskatoon in 1950. Later he joined me in the operation of a chain of hotels. In November 1952 he married Mary Adam and a few months later was stricken with polio. After months in an iron lung he recovered sufficiently to resume our business, which at present is a real estate holding company. My son has only a portion of one lung functioning and is confined to a wheelchair. He has the use of two fingers only on his left hand, but manages to write. His wife Mary attended secretarial school while he was in the iron lung and now works with him.
It has taken great courage and fortitude on both their parts to reach the goals that have been attained. In the 1960's Dan was back at university in Saskatoon. Mary or I drove him to classes. He now holds B.A. and L.L.B. degrees, having graduated in 1970. At the graduation ceremony Mary, also dressed in cap and gown, was presented with a silver cup for the help she had given Dan. He was the only graduate in a wheelchair. A job offered to him in Ottawa would have meant long hours of work. By being his own boss he can work when he feels up to it. His office is in Saskatoon next to my home, where his practice is limited exclusively to commercial transactions. This, along with family real estate interests, makes for a busy life. Amateur radio and travelling are two of his main pastimes.
Note: Dan's wife Mary passed away in June, 1976.
Alexander was born in Saskatchewan in 1927. After graduating from Porcupine Plains High School, in Manitoba he studied engineering for two years. In 1951 he graduated from the University of Saskatchewan with a B.A. in Economics and Political Science and a B.Sc. in Mechanical Engineering. He first worked with Canadian Industries Ltd. with explosives and fertilizer production, then in 1955 transferred to Edmonton to work with petro-chemicals.
In 1957 he joined Alberta Phoenix Tube and Pipe Ltd., working his way up from plant engineer to chief engineer for Canadian operations in Edmonton, Calgary and Port Moody, B.C. After developing new equipment and processes for pipe manufacturing, he took out patents in Canada, U.S.A. and Russia. 1963 saw him leaving Alberta Phoenix to establish a consulting firm, and later developing a new oil field pumping system (the continuous sucker rod systern). Corod Manfuacturing Ltd. of Edmonton was formed and later a second plant was opened in Texas.
Al also organized Western Instruments Ltd. (ultrasonic high test pipe testing), with a plant in Edmonton. In 1972 he established Edmonton Engineering Ltd. which was a return to the consulting field. He also has interest in peat moss processing and agricultrual operations. He married Leona Beth Day of Morden, Manitoba. They have four sons and a daughter; the oldest son is also a graduate engineer.