THE BENJAMIN BENDIXEN FAMILY -
by Frank Bendixen and Frances (Bendixen) Evans
Our dad, Benjamin Bendixen, was born in Hoarsen, Denmark June 29, 1869, into a family of three boys. At the age of sixteen he came to New York. In the next year or so he headed west to Ringsted, Iowa and about 1897 landed in Chicago, where he took up the profession of painting and interior decorating. Shortly thereafter he moved again, this time to Gilman, Illinois, where he met Mother.
Grace Starr was born in Gilman on March 26, 1881. There were two boys and one girl in her family. She and Dad were married September 27, 1899 in Gilman. He stuck with the occupation of decorating until about 1903 or 1904, when he quit his job and went farming.
In the fall of 1907, with the prospect of a homestead, they moved to Kitscoty, Alberta and rented a quarter four miles north of Kitscoty. The next year he homesteaded a quarter a mile and a half south-west of Marwayne. They lived there until, in the spring of 1920, they sold out and went back to Gilman. 'Dad took up his occupation of decorating again until they bought property in Onarga, only four miles from Gilman.
October, 1929, they left Onarga in two Model T Ford cars with seven of their nine children, to come to Frog Lake, Alberta; this time to settle on N.W. 31-56-3-4, which had earlier belonged to Howard Taylor. It took nearly two weeks to make this trip, but the weather was really good for the time of year, so in that respect we were lucky.
Part of our family stayed at the Parker farm at Kitscoty and the rest at Charlie Bendixen's (no relation, just friends) farm at Marwayne until our furniture arrived so we could move into our own home. All the household furniture, etc. came by boxcar to Marwayne, and from there friends helped deliver it to Frog Lake. This was around Christmas.
Mother took an active part in the Community Club. She liked cooking, sewing and visiting with her many friends. Dad was more of a stay-at-home type, but liked friends stopping in, which many did, often staying several days at a time. He was a wonderful gardener, so we always had more vegetables than we could use. He took great pride in his flowers, which were many and varied.
We were only half a mile off the Frog Lake Indian Reserve and the Indians would bring berries from their reserve to trade for milk, eggs, butter, clothes, or whatever we had. One year the Fiddler family even dug potatoes for a supply of milk for their family.
In 1934 I, Frank, bought the E 1/2-26-55-4-4, north-east of Heinsburg, known then as the Martin half-section. We all lived there until 1941, when Dad bought the N.W. 26-55-44 and they moved there.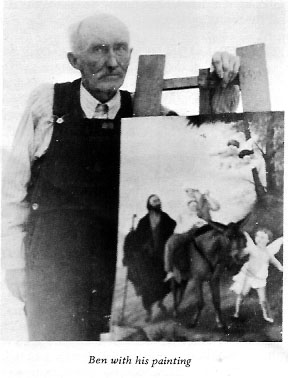 When he was seventy years old Dad took up oil painting, which was a gifted thing with him. His earlier experience with interior decorating helped and he mixed all his own paints. He kept up this hobby and painted many beautiful pictures until shortly before his death.
On September 27, 1949 our folks celebrated their golden wedding anniversary. They received many gifts plus a purse of money from the districts. They also received a beautiful gold, satin-bound blanket from the T. Eaton Co. Ltd., as they were real good Eaton customers.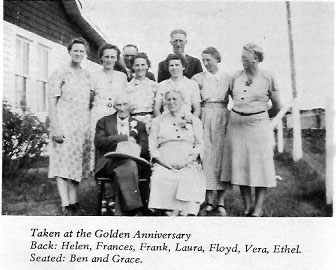 Dad passed away on August 30, 1951. On October 30, 1951 the house burned down, cause of fire unknown. Mother never recovered from the shock and passed away on November 8, 1951. Brother Floyd now owns the family farm, although he doesn't live on the land.
In closing I, Frances, just want to say that I came from a wonderful family and have always been proud to have Benjamin and Grace Bendixen as my parents. In our family there are Ethel (Mrs. Ernie Rooks), who lived in Vermilion and passed away in June, 1974; Inez (Mrs. Otten), who lives in Seattle, Washington, U.S.A.; Helen (Mrs. Bert Parker) of Kitscoty, Alberta; Frank of Marwayne, Alberta; Leroy (Roy) in Penticton, B.C.; Vera (Fakeley) living at the Salt Plant near Lindbergh, Alberta; Laura (Keast) of Stettler, Alberta; Frances (Evans) of Vermilion; and Floyd of Heinsburg.