WILLIAM AND GARNET GREGOR
by Garnet (Bowers) Gregor
Bill was born in Europe in 1889, and came to Canada at an early age. The family was in Saskatchewan, then moved to Manitoba. He worked in Winnipeg for five years. Later he worked around Islay and Vermilion here in Alberta. In 1914 Bill's father came to Frog Lake and built a one-room house. Three years later, when his mother and sister Martha came, a bedroom was added. During the 1918 flu Bill's mother cared for Mrs. Madvid. In the spring of 1926 Mr. Gregor died, and that fall Bill came to care for his mother. Martha was out working. The following year a living room was added to the old house. In the late 1920's and early 1930's Bill and his brother Johnnie built a booth, a dance hall, and a few cabins of logs at Laurier Lake. Music for dances was supplied mostly by the Old Timers. In 1932 the fish died, from lack of oxygen, Bill said. This had a very adverse effect upon the business. Johnnie left, and Bill continued on his own.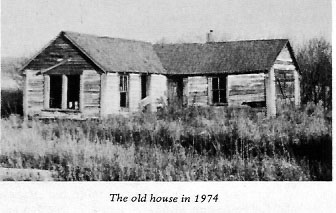 I was born in 1905 in Allan, Nebraska, the youngest daughter of John and Minnie Bowers' eight children. My education began in the States. My father's sister and her husband were already here in Alberta. Dad came up to Wetaskiwin with a carload of horses, and in the fall of 1911 the rest of us followed. There were no homesteads available, since all the land had been taken up. My father took three crops off rented land at Wetaskiwin. He took out a homestead at Buck Lake but never proved it up.
In the winter of 1913-14 he took out a homestead at Monitor. In the spring, after the crop was in at Wetaskiwin, he worked on that homestead. In March of 1915 our family moved there. The boys attended Neutral Hills School. None of us had the flu in 1918. I was an old friend of Thelma Sharkey, who was living in the Heinsburg area. I wrote to her asking if she knew of a job I might get. Through this I came up in 1939 to work at Gregor's, caring for Bill's mother and helping at the booth. Bill and I were married on November 12, 1942 at Elk Point by Mr. Pringle. His wife and son were witnesses. When Bill spoke of Elk Point he'd say, "That's where I lost my freedom." I'd answer, "I guess two of us lost our freedom!"
Bill's mother went to live with her daughter, Emma Brett, at Dewberry. My mother came to stay with us, and remained for seven years until her death in July, 1950. She had been totally blind for thirty-eight years. On December 9, 1943, our only child, a son named Frederick William, was born at Elk Point. He only lived two days. In 1950 we built a new log house. The old house was left standing. It had been made into a garage with double doors in the south end. One day we burned the yard off. That night, when I came out of the barn from milking I thought I smelled tarpaper. We found that it was not tarpaper, but some old rags smouldering in a corner where the logs had rotted. If we had left the place, everything would have burned, including the truck parked in the old building.
We used to milk eight or nine cows. Compared to 1975's dollar a pound for butterfat, our dollar to one dollar and fifty cents for a five-gallon can of cream seems a very poor reward for the time and effort involved. In 1951 we took a trip to the coast in our 1938 Ford truck. The next year we bought a new Chevrolet truck, and again travelled to the coast. In 1957 we took a trip by train to visit my sister, Mrs. Scott Rogers, in Denver, Colorado. Three years later, on December 2, 1960, we left the farm and moved into Heinsburg. Our house, located near the community hall, was purchased from Paul Juba, former elevator agent.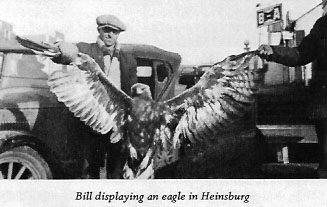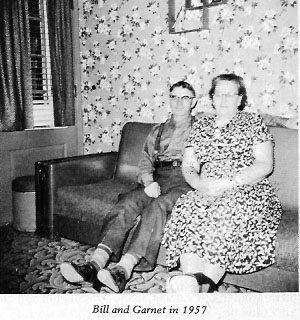 Bill had suffered a serious bout of shingles while we were yet on the farm. At Edmonton's University Hospital the doctors said they didn't know any more about shingles then than they had fifty years before. Bill later underwent a major operation. This was not to be the end of his afflictions, for he suffered a stroke next. He passed away at Elk Point Hospital on January 27, 1961. He was buried at Frog Lake cemetery near our son. I continued to live in Heins- burg, and had a number of renovations done to the house. I helped with Community Club activities, and became very interested in Artex work. A number of times I went out to Riach's to help Eunice with the canning, butchering of chickens, and other jobs. Grandpa Riach would greet me with, "Come on in, Garnet, and have a couple of chairs." We joked back and forth, and he heard stories about his fellow Scotchmen.
When Lois Nichols was in Edmonton for Reed's birth, I took care of the house for Donald and the other three children. When I told Brent, five,that I had eyes in the back of my head, he walked around behind me trying to see if there really were eyes back there. Linda had her heart set on a sister, so when she heard that she had another brother, she really cried. Later, after the baby was home, I saw her at the car outside of Kapjack's store. When she asked me to come and see the baby, I said, "Well, what do you think now? Would you trade him?" The baby had apparently won her heart, for her answer was a very definite "No!"
The evening of February 12, 1974 I fell to the floor in my home. My leg was broken, and because of the position I landed in, I was unable to get up. I laid there for fourteen hours, until 10:00 a.m., when Tom West came from Dewberry with fuel oil and heard my cries. Fortunately I had not yet turned down the thermostat, as I always did before retiring. I was taken to Elk Point Hospital, and from there to the University Hospital in Edmonton. I later had therapy at Glenrose Hospital (the old Royal Alex). I came to stay at the home of my brother Marvin and his wife Charlotte in Ardmore in July 1974. Now, in July 1975, I am a patient at St. Louis Hospital in Bonnyville.
Note: Garnet passed away peacefully in her sleep in the early hours of July 30, 1975.