ROSCOE E. SANDERS
I was born on the homestead in Norway Valley and spent most of my youth in the States. My first teacher at Norway Valley was Alex Peterson. He stayed with my folks while teaching there in 1921. I went to school in Jersey City, New York; Toledo, Ohio; and Chicago, Illinois. When we came back in 1931 I attended school in Norway Valley with Gus Brocke as teacher. I also spent a winter at Vermilion School of Agriculture and have been farming ever since.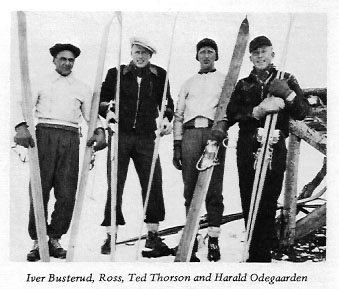 The school was the center of community life, with picnics, ball games, and Christmas concerts. There were dances and whist drives held regularly, with music supplied by the people of the community. Skiing was also a great pastime. The ski jump was on the river hills at John Thor- son's. There Ted Thorson, Iver Busterud, Iver Gunderson, Harold Qdegaarden, Bjarne and Halvor Johre, myself and several others spent a lot of time. Halvor Johre was a jumper who would on occasion land on his skis, and on other occasions he would use his head. When this occurred you could be certain that under the cloud of snow, flailing arms and legs, and flying skis, Halvor would carry on to the end. We had many good times and many happy memories.
On October 21, 1944 Agnes Rinde and I were married. One night in November our neighbors and friends came to "shivaree" us. It was a cold night. With the usual noises, horn blowing and pounding on anything available to arouse us, there is one person who will always remember that evening. Iver Gunderson was holding a disc blade with his thumb in the middle, and because of the cold he didn't realize he was striking his thumb as well as the blade. We cleared the chairs and table to one corner of the kitchen and danced the rest of the night.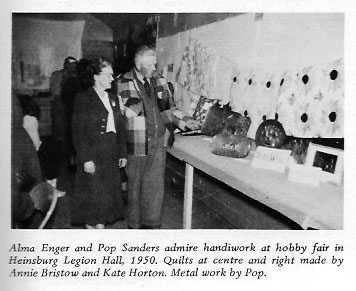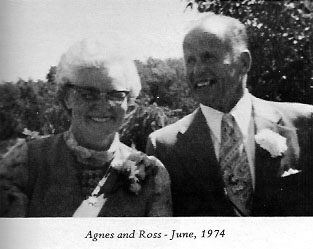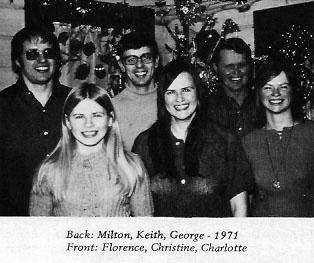 We farmed in Norway Valley until November 1951, when we moved to the Rinde farm. We raised six children with only a few mishaps — one broken arm and two broken fingers, plus bruises, scrapes, stitches, and running noses. George Edward married Else Larsen of Skibby, Denmark on July 7, 1973. Keith Everett married Arlene Moger of Bow Island on August 1, 1970. Milton Rinde married Gwen Klassen of Tofield on August 26, 1972. Charlotte Marie married Tommy Engstrom of Stockholm, Sweden on June 29, 1974. Christine Rose married Raymond Ference of Elk Point on August 25, 1973. Florence Avril is still at home with us, and is attending Heinsburg High School.