FRED GREGOR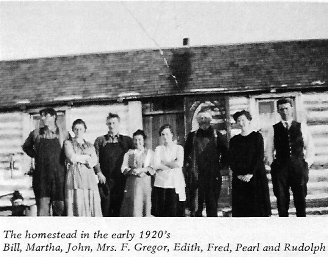 Fred Gregor moved from Winnipeg, Manitoba and took up a homestead in the Frog Lake district on the eastern shore of Laurier Lake in 1913. In 1917 his wife Amelia and daughter Martha joined him on the homestead. A short time later Martha married and moved to Saskatchewan to make her home. A living was made by farming until his death in 1925 which was caused by cancer on the lip that spread into the throat. Amelia continued to live on the farm with sons Bill and John. They farmed and ran a summer resort on the shore of Laurier Lake; it consisted of a dance hall complete with concession stand, also had some cabins for rent. There were several types of sport facilities such as tennis court, ball diamond, diving pier, slide and spring board in the water, also boats for rent. John married, thus going his own way leaving Bill with the farm. There were twelve children in the family namely, Gus, Bill, Adolph, Rudolph, John, Julia, Ernestine, Pauline, Emma, Martha, and two died as infants, names unknown.
As her health began to fail, Amelia went to live with her daughter, Emma (Mrs. Brett) of Dewberry, but after awhile became restless and hard to look after, so went to Winnipeg with daughter, Ernestine (Mrs. Walsh) who ran a nursing home. She passed away in 1944.
At the time of writing there are three members of the family still living. Mrs. Emma Brett, Dewberry, Alberta; Mrs. Martha Philp, Swift Current, Saskatchewan; Rudolph of Heinsburg, Alberta; and numerous grandchildren, great grandchildren and great great grandchildren.