THE NICK BALLAS STORY
I came to Canada in 1909 with my parents, Mr. and Mrs. Wasyl Ballas, from the Ukraine. I was thirteen years old then. We lived in Vegreville a year or two, then homesteaded on a farm at Willow Range. In 1914 I bought my own little farm in the Primula district, but soon was called away to the war. I served three years in England and France. When I came back I batched a while, then my grandmother came to live with me, and we stuck it out about seven years. Things were tough, so I sold the farm and went to Drumheller, where a married sister was living. I got a job in a coal mine and worked there for twelve years.
Next I went into Edmonton. I bummed around, as the depression was on, then an old shoemaker talked me into helping him mend a few boots and some harness. This is where I got my training in shoe repairing. In about 1940 I came back to this part of Alberta and worked for a year in Dan Windiuk's shoe shop in Elk Point. I decided I'd do better on my own, so I moved to Heinsburg and started my own shop in a small shack belonging to John Maksymuik. This is when I met Mary Bakala, who worked in Maksymuik's meat shop.
I bought a lot, built a house on it, and Mary and I were married. A bit later I bought the farm that surrounds Heinsburg on the north and east side. We kept a few pigs, chickens and cows. For a few years we sold and delivered milk to the townspeople, but pretty soon regulations became stricter. We either had to build a dairy barn to government specifications or quit, so we gave up the milk business. It was about now that Mary decided to take over the phone office, after Maksymuik's place burned down. She looked after the telephone from November 1957 until the office closed due to Dial Conversion, effective October 1968. During this time our six children Alex, Donald, Judy, Bill, Joanne and Joyce were nearly all grown up and gone their separate ways. When Mary died in 1969 there was nothing left to hold me in Heinsburg, and my health was poor also. I decided to move to Sunnyside Manor in St. Paul (1972), where I still reside.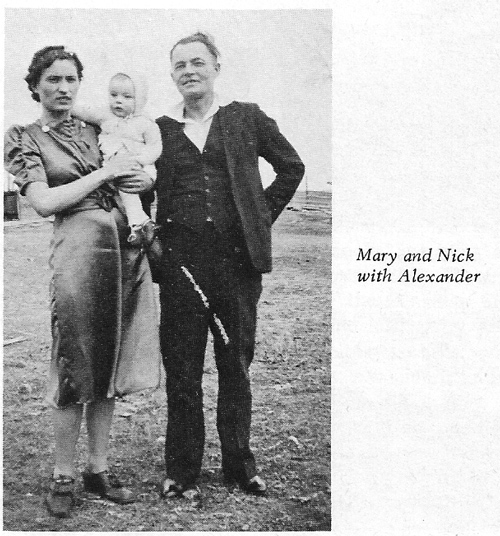 This will summarize what and where each of my children are: Alexander was married to Constance Edson in 1961, has two children, lives in Williams Lake, B.C., and works for B.C. Railway as a Road Master. Donald married Darlene Gamier of Dewberry in 1965. They have two children and live in Edmonton. He works for Western Mack Truck as a heavy duty mechanic. Judy married Lloyd Jenner in 1967. They have three children and live in Heinsburg, in the former Mike Buck home. Lloyd works at the Salt Plant as a fuse plant operator. Bill married Debbie Anderson of Lindbergh in April 1976. They live in Elk Point, but he works as a car salesman for Zarowny Motors in St. Paul. Joanne married Greg Halldorson in 1974 and lives in Edmonton. He is employed by the Edmonton Public School Board as a teacher. Joyce married Wayne Spence in 1975. They live in Swan Hills, Alberta. Wayne is a driller for Mountain Well Services.