THE LOUIS de DELLEY FAMILY
by Therêse (de Delley) Craige
Louis de Delley, born June 4, 1877; died 1955, June 3. Born into a family of eight in Delley, Switzerland. They raised garden produce and tame fruits such as plums, apples and grapes. They had quite a herd of milk cows and sold the milk, however they made their own cheese. They also made their own wines.
His parents died while he was in his teens. He went to his eldest brother who was then working as a butler and chef in Paris, France. My dad trained with him, mostly waiting tables. Dad liked traveling and went with one of his bosses on a two month voyage on the Mediterranean Sea, leaving June 1, 1900.
This trip was quite an experience. The following is based on some parts taken from his diary:
Leaving Paris for Marseilles June 3, then on to Sicily. Docking only for needed supplies and short sightseeing, they travelled quite steadily. In some ports they did mountain climbing, also visited a deep mine on the Island of Crete south of Greece. Seas were rough so they decided to go sightseeing, hired a horse drawn coach, met a French interpreter and bought their supplies seven miles away. All homes that they •passed through were ruined the year before in 1899, in the war between Turks and Greeks. No one was working in the fields, nothing to be seen except graves and monuments, all very sad looking.
Next stop was the island of Kastro. This city was completely destroyed by an earthquake in 1882, had been all built new, and was governed by the Turks. Next they came to an island of old monasteries of one thousand monks who were of great wealth; no female, human or animal, was allowed on the island. They all made a tour of gardens, kitchen, shrines and church. There were plenty of fresh fruits and which they were given some when they left their boat. They saw an eruption at Mt. Stromboli which lasted for one hour, lava rising in great flames every three minutes. They collected coral at Capri. All the crew were sunburned nearly black on the trip, by the time they returned to Marseilles. Back to Paris for a three day rest then each returned, some to their old jobs, some taking on new work.
They had a good voyage with only one mishap. A man slipped and fell on a wet deck while carrying two lit oil lamps. He began running around the ship's deck, screaming, his clothes on fire. Men grabbed him and threw him overboard, then fished him out again. He was not badly hurt.
"Happy is he who can travel, Happy is he who can help mankind."
Louis joined his brother in Paris and continued his job as butler and valet, which he liked best. While there he waited table, on different occasions, for Enrico Caruso, the renowned Italian operatic tenor, who was a guest in the house where Dad worked. Then he came to New York and New Jersey, U.S.A., continuing at the same work.
He came to Vermilion, took a homestead at Borradaile, didn't like it, so went back to New York. On his way up he heard the conductor on the train call out Vermilion so he took his luggage and got off. Nothing to be seen but Indians and a few lumber jacks. He had got off in Vermilion, Ontario, instead of in Alberta. He then went to a lumber camp for about three days or more till the next train came west to Alberta, where he took up a homestead at Tyrol.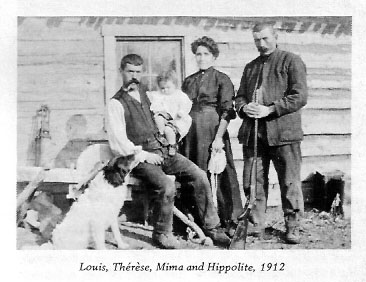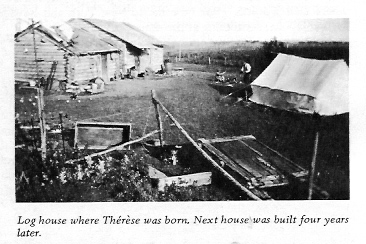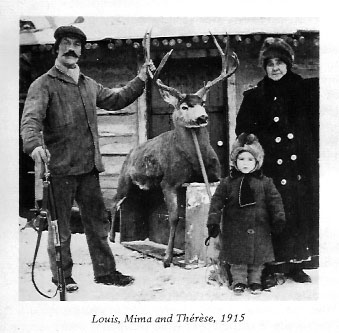 Mother and Dad met in New Jersey in 1909, were married in 1910 on March 17, and came west by train to Vermilion, Alberta. They stayed with his eldest brother and family at Borradaile. They came out to Tyrol in the fall and lived there till 1919 when they rented out the farm. They bought a quarter section at Dewberry, sold it after three years, and moved back to the homestead until he sold it to Mr. and Mrs. 0. Dennison in 1946. They sold it in 1974 to Walter Scholarchuk. I hear it's still called de Delley's corner when anyone wants direction at the crossroads.
Dad liked hunting, making three trips north to Primrose and Fox Lake, once with his brother, Hippolite, next with his nephew, then with Rex Hatchard, Fred Raetz and Lance Littlewood. Fred's horse picked up a snag and died so that left only three horses to bring home two wagons and wild game. They hunted moose and caribou on these trips.
In the year of 1912 Mother, Dad and I, a baby, were coming home by ox team from Vermilion, crossing at Lea Park. A heavy rain came up so we camped at the river overnight. On arriving home next evening the old sod roof had leaked, about four inches of water lay on the floor, five trunks of clothing, also bedding were soaked, clothing and linens in trunks were a sad mess. Instead of Dad bailing out the water, he took an inch auger and bored holes for the water to go down in the cellar which was deep, not minding the dampness afterward. When garden produce, potatoes, turnips and a few carrots were harvested a pole floor had to be put down on account of the mud. I can still remember some poles in the potato bin when we returned in 1922 from Dewberry.
Mrs. Louis de Delley (Mima Williamson) was born August 27, 1868 - died 1949 (July 29) at 81 years, eleven months. She was an only child as was her mother. Both were born in Lerwich, Shetland Isles, north of Scotland. Their home was far enough north that twilight remained all night. The northern lights (aurora borealis) were very bright. Mima's mother died when she was very young and her father was lost at sea, on a fishing trip.
Her grandmother, who lived up on the moors, raised her until she became of school age. Then she came down to the seaside village of Lerwich to live with an aunt and her three cousins. The eldest, Arthur, was older than my mother. He was a violin maker, as was his dad, and a great violin player. In 1925 he sent me one of his violins (it was old then), complete in a wooden violin case that he made. I still have this violin but don't play it now.
Mother could fish for herring from the pier, at the end of their street, using a string and bent pin. Cod and halibut were the main fish. When she finished her schooling she went out to the country to be with close friends who had three daughters. In later years these three girls worked, sometimes at the same homes or close by, where mother worked, when they moved out to earn their own living at Brighton, Edinburgh and London.
Mima learned dressmaking and millinery and took a course in home nursing (governess) for children in private homes, going with the family wherever they travelled; staying from one year to five and six years, beginning when the child was six weeks old.
While in Edinburgh she had an operation to remove a growth under her right arm pit - "cancer." Hospital was free, also the doctor. The doctor lectured her case to three hundred students in the gallery, only one woman among them. There was no recurrence of the cancer until three months before she died.
Following this operation she went to the seaside to Harve, France, working later at Cannes with an English family. She stayed with them for five or six years looking after two small boys. She was very fond of travelling and sightseeing, such as museums, castles, monuments, churches, Fand Nimes (pronounced Mines) gardens. She usually went to one of the large cathedrals to church.
About 1900 she returned to Edinburgh for a visit. Her girl friends had left and were working in Boston, U.S.A. and New York. She joined them, working at dressmaking, sometimes taking on a governess job. Sewing in those days meant fitted clothes, rows and rows of buttons and with all those button holes done by hand, and rows and rows of tucks. I still have a three piece dress, skirt and jacket with big mutton sleeves, and white lace blouse with tucks. She wore this in 1903. I took prizes in our Centennial Year wearing these same clothes with brooch and watch.
She made all her own clothes, monogrammed pillowcases, table cloths and table napkins. I still have some of the real ostrich feathers in white, black and brown that had been used on hats in the early days. She brought enough clothes with her to last thirty years and linens a lifetime. She was a great knitter, could knit and read and never drop a stitch all evening. She remembered, as a little girl, seeing old ladies walking home from the moors leading small, long haired, shaggy donkeys. Each donkey carried two cradles or baskets filled with peat to burn in the hearths that were their source of heat. While the old ladies were walking they were knitting heavy socks for men to wear fishing as they used open boats with no motors, all oars. Even men's underwear was hand knitted, also sweaters. Sheep was raised for the wool which was dyed and spun. Mother tried riding one of these donkeys; they had such long shaggy hair and a lady never rode astride. I can remember her taking her first pony ride on my school pony in 1929. She never let loose of that saddle horn and the horse was only on the walk.
She liked concerts and opera. She saw Mr. and Mrs. Harry Lauder on stage a few times, crooked cane, kilt and all. He was a good tenor singer, his wife played the organ. They were Scotch and his songs, with Scottish accent, were popular on the old Edison gramophones with cylinder records. Mima had taken up home economics and cooked for big fancy meals, called dinner parties in Canada. Home economics was of no use to her, coming to a sodroof shack with no floor the first year.
Travel was by oxen in those days of going to Vermilion once a month for supplies via Elk Point on the Hopkins Ferry, or crossing at Lea Park. Times were hard in the early days, very little wild game. One forenoon Bob Chandler, an ex-North-West Mounted Police, came by and said he had tightened his belt to the last notch. He was hungry and going hunting. That evening my parents heard a thump on the roof, then a rap on the door. In comes Bob asking for a big game hunting license, as Dad was game warden. Bob got his license and went out, pulled down an elk (I believe) leg off the roof of the shack. Well, he had his license, then produced the goods. Nothing could be said to the ex-policeman. That animal must have been toothless, it was that tough, I was told.
In 1915 or 1916 a man came through our yard from the west, pulling behind him a surveyor's chain. He was looking for a route for a railroad from the west, to south of Frog Lake somewhere. He had come through north of the present site of the Salt Plant to our place, north of Hooky Lake, northwest of Whitney Lake on the narrows joining Laurier Lake, through the pines towards Ross Lake, between Ross Lake and the east end of Laurier Lake. Dad told him that route was too sandy with some muskeg, and to try north of Laurier Lake on solid ground through Black- lock's and Kjenner's. He saw no other men with him although they could have gone through. We heard no more of that survey until the present railroad came through along the North Saskatchewan River in 1928.
My parents moved to Dewberry in 1946 and lived in our old house as we were building a new one. Mother passed away in 1949. Dad went to Vancouver to his brother's for one year, came back and then went back again and remarried. Betty did not like Alberta's cold weather so they went to Vancouver two years later. Dad had a stroke in 1955. Betty passed away in 1960. She was Welsh. Both my parents are buried in the Dewberry Cemetery.